Anchor texts are very important to search engine optimization (SEO). It's one of Google's 200 ranking signals and a constant feature in Google patent updates.
In "
The Anatomy of a Large-Scale Hypertextual Web Search Engine
," published in 1998 by Sergey Brin and Lawrence Page, you'll find this quote: "Google makes use of both link structure and anchor text" which shows how central anchor texts are to search engines rankings. 
In the early days of SEO, people have tried to game the system by manipulating anchor texts in a way that was doomed to fail. Beginning in April 2012 with the 
initial Penguin Update
 announced in April 2012, Google started implementing updates that penalize websites that attempt to game anchor texts. In this article, we're taking a close look at the best anchor text practices for SEO. We'll also attempt to clear up some of the confusion that exists around the anchor text and deliver consistent best practices. Let's get started:
What Are Anchor Texts?
Any text highlighted as part of the link is what we refer to as the anchor text. They are also called "link text" and "link titles". For example, the following text "common SEO mistake" is an example of Anchor text: 
common SEO mistake
. It links to an article we've published somewhere else on our blog.
What's the Difference Between Anchor Texts and Hyperlinks?
Hyperlinks and anchor texts are closely related. Hyperlinks correspond to the link itself, while the anchor text is the clickable text used to describe the link. Hyperlinks can link to an entire document, or to a specific part of a document. For example, the table of contents items of this blog post link to specific sections of this post.
Does Anchor Text Affect SEO?
Yes, the anchor text affects SEO. Here is how:
1. It gives more details about the page content
The link text contained in backlinks and internal links may help search engines understand why a linked page is useful. For instance, if I'm linking to a page that contains some statistics, I may go about it like this:
Over 50%
of so and so. The link text tells the search engine that the page is relevant because of the quoted statistic. Your anchor text may influence the algorithm's understanding of the page. It's so powerful that
Matt Diggity,
contributing to a roundup post, said he had witnessed cases where the anchor unintentionally reshaped a page's topic.
2. It impacts user experience & generates traffic for other pages
You probably publish articles around the main topic. For instance, we're an
SEO blog
, and many SEO topics are interrelated. We use internal links to connect the pieces together. By interlinking, you can allow people to dive deeper into specific topics. This results in a much richer experience and having more of your pages noticed. Using links even when writing content creates the perception that it's well-researched and backed by evidence. It's also been said that the anchor text can help people easily scan through your content.
3. It gives search engines context about downloadable content and PDFs
If you provide downloads for your users, you need to pay particular attention to the anchor text. That's because audio, videos, document attachments, and PDFs may not have available textual information for indexing. So, the link text serves as textual information. For instance,  "click here for the PDF on the best SEO practices". By the way, we've addressed whether 
PDFs are bad for SEO
 in another article… check it out!
How many types of anchor text are there?
Before we get started with optimization techniques, let's have a look at the various types of anchor texts.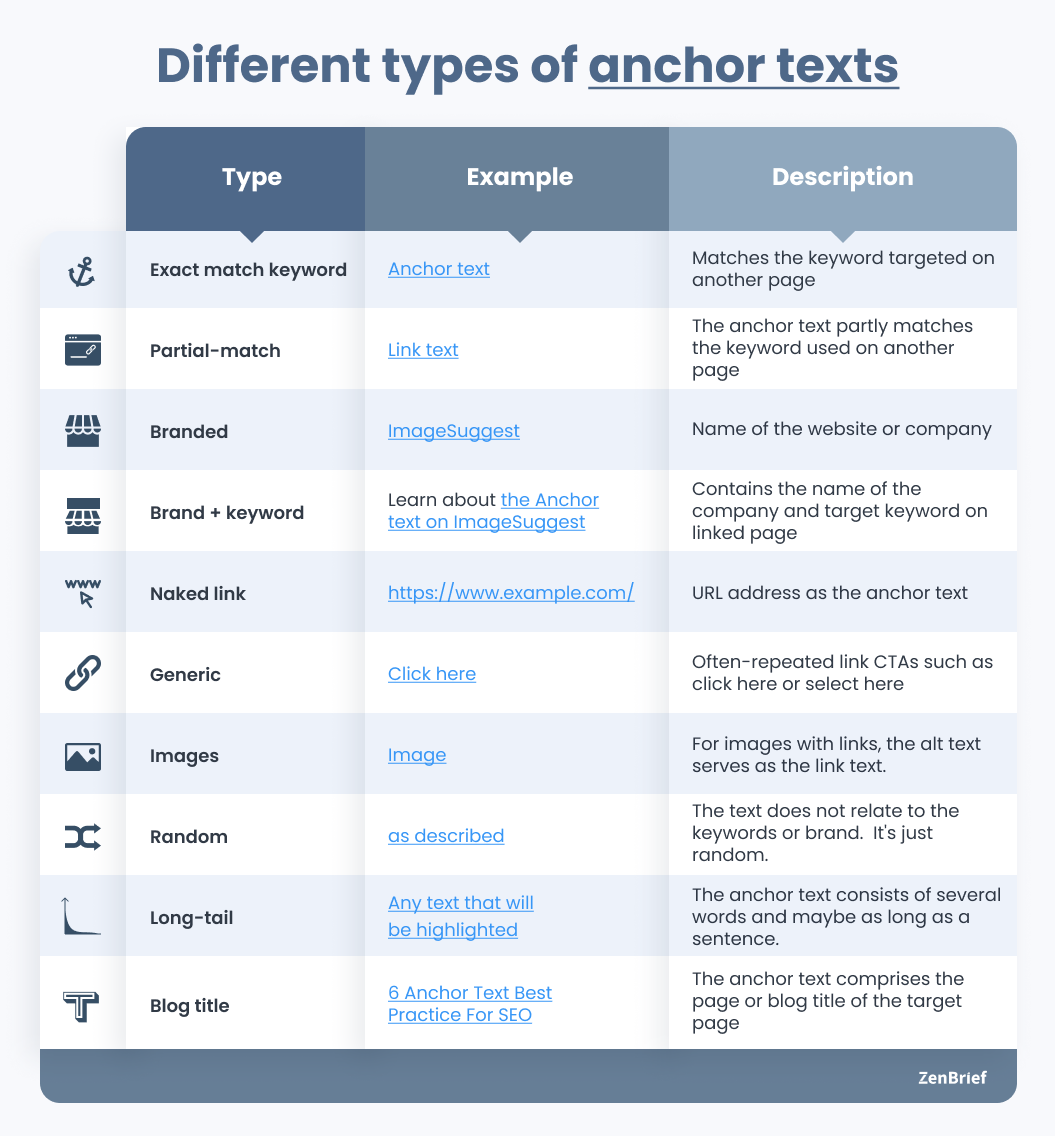 How Do You Optimize an Anchor Text for SEO?
Anchor text optimization is all about implementing the best practices that will ensure that the anchor text contributes towards the understanding of the linked page. By optimizing the anchor text, you aim to help indexing crawlers understand the page better so it will perform rank for your target keywords. Many people take anchor text optimization as a signal to keyword-stuff their link texts. It may be problematic as the search engine may view
this behavior as spammy, which is a common SEO mistake.
For example, back in 2011, Google released the Panda update to penalize websites that rely on keyword stuffing. So, what's the best way to optimize the link text? Consider the following six tips:
1. Don't over-optimize
The first best practice is a warning against optimizing your link text too much, particularly for your internal links. Or during link building. Now, you may not have control over how other websites link to your text. But if their links develop naturally, chances are, they will not be similar. Okay, so what's an example of over-optimization? If you have a page targeting the keyword "Link Text," a clear case of over-optimization may involve over 80% of backlinks being an exact match anchor text. Google and other search engines won't like it. The consensus is that branded anchor text carries less danger than exact match anchor text. For instance, if you take a look at the anchor text profile of Apple.com, which is the list of all anchor texts used by people to link to the Apple site, many backlinks will be using the branded anchor links "Apple". This is fine. However, if your website is "buycarinsurance.com" and most of your backlinks are using the exact match anchor text "buy car insurance", Google will most likely penalize your website. Now, remember that there are no guidelines about the best way to use the anchor text. So don't worry if our advice doesn't seem ultra-specific. Most likely, before Google decides to penalize your "over-optimized" pages, you may have also exhibited other tell-tale signs of a spammy site. Penguin updates have had the most damage to poor-quality websites that are highly dependent on anchor text optimization.
2. Be clear and descriptive (With examples)
Think back to the user. Your content should first educate, inform, and build them up. Your anchor text should be a continuation of your mission to serve them. Rankings are secondary. Page 1 ranks will come after you give your users the best experience. Excuse the rant. How can you be clear and descriptive with your anchor text? Consider these examples. They all deal with a backlink leading to an article on
31 SEO statistics for 2021.
P.S. The anchor text doesn't exist in isolation. The previous sentences should add to the anchor text. And you should not link for the sake of it.
Backlinks result in better chances of ranking, but few websites have backlinks. You should click here to find out more about the topic.
Why it's wrong:
First, it's not clear where the hyperlink takes readers. You don't know what you are getting on the other side.
Backlinks result in better chances of ranking, but few websites have backlinks. Read more: 31 SEO statistics for 2021.
Why it's wrong:
The previous sentence doesn't provide enough context about why someone should be clicking on the link. It's still confusing.
Backlinks result in better chances of ranking, but few websites have backlinks. Over 55% of pages don't have a single backlink.
Why it's right:
The anchor text is highly descriptive. It contains statistics that people may want to verify by clicking on the link.
Why it's also right:
It describes the information that users may look out for when counter-checking the linked page.
Backlinks result in better chances of ranking, but few websites have backlinks. See actual statistics that reveal that most pages don't have backlinks.
Why it's okay:
The anchor text is descriptive (it's a partial match anchor text) and tells the reader what to do and expect.
3. Consider the surrounding text & link relevance
The text surrounding the anchor text and backlink may play a role in how search engines understand the content of the linked resources. Of course, this has not been confirmed, but SEO specialists have drawn key insights from a
Google Patent
filed in February 2019. Google claims a method of using text within a predetermined distance of an outbound link to a target document as an annotation – essentially, as a note of explanation.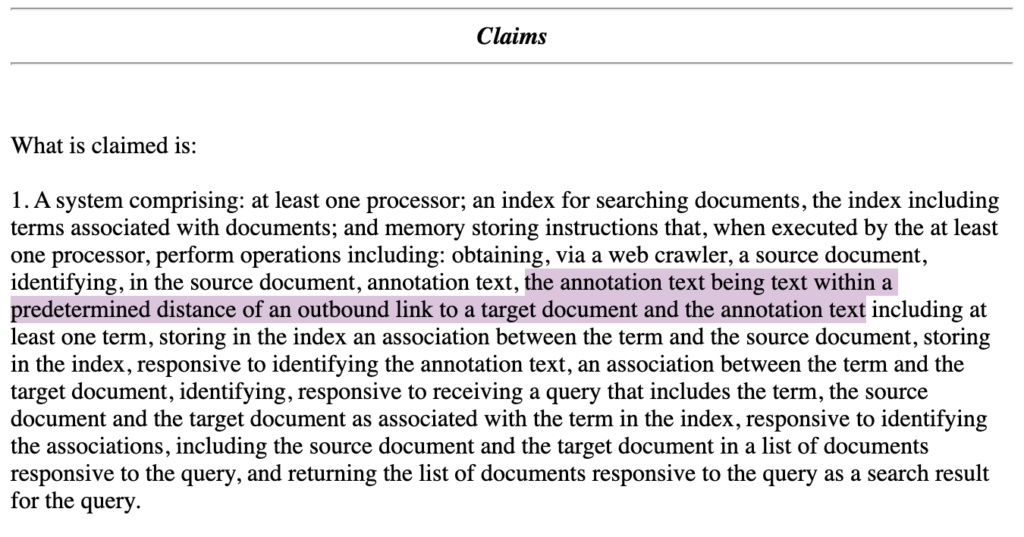 So, that means that if you use a generic anchor text text like "Click here", it may be possible for the crawler to check for the meaning from the surrounding text. Google has previously advised against generic anchors, and their LightHouse SEO audit tool
flags generic link
text. Another point that you need to focus on is the link relevance. The target and linking pages must be somewhat related. If you want to use internal links in a smart way for example, make sure to organize your content into silos (or clusters) in order to 
strengthen your topical authority.
4. Allow the anchor text types to develop naturally
We recommend to apply the following
anchor text distribution ratios:
25% to 50% = Branded Anchor Texts
25% to 50% = Partial Anchor Texts
10% to 25% = Other types of anchors (Generic anchor texts, naked anchor texts, exact match anchor texts, etc)
These anchor text ratios are not set in stone, but they should avoid being penalized by Google. Branded anchor texts help you build your brand recognition, hence why they get a big chunk of the distribution. Partial anchor texts help you gain topical authority and be the go-to "web pages" for your target keywords. G
eneric anchor texts are still helpful to the readers as they provide a concrete CTA ("click here", "see this blog", "download this"). 
Naked anchor texts are good
 because they are less likely to be considered spammy by Google. 
They are often used as sources to back claims made in a post. Finally, exact match anchor texts should be used carefully as you don't want your site to appear as over-optimized. 
Some SEO experts opt for a more natural anchor text profile, by combining different anchor text types. For example, instead of using "anchor SEO text tips", they'd use "anchor SEO text tips by Zenbrief". This combines branded anchor text with partial match anchor text. We've called it Brand + Keyword anchor text type in our previously discussed infographic. 
More sources have published similar distribution ratios. However, an
article on SearchEngine Journal
concluded that there might not be enough data on anchor text ratios to show why a site may be ranking. The end goal is that you should aim for a healthy mix between anchor text types. And it starts by recognizing the available link text options, for instance, branded text, long-tail keyword, etc. Our advice is that you allow the link ratios to develop naturally. Don't force it, and don't stress about it too much. If you try to game the system, your web pages will come across as spammy.
5. Choosing the right length
This will be a short recommendation. More words in the anchor text don't mean more value to the linked page. We've seen that Google may look at the surrounding text. So, if possible, keep the link text short. It also improves your reader's experience.
Wrong:
Once a sneeze starts, you can't stop it.  
Right:
Once a sneeze starts, you can't
stop it. 
6. Keyword variation through keyword clusters & LSI keywords
An exact match link to your internal pages is very powerful. And that is the direction you may take. Now, to avoid appearing to over-optimize your links, consider using variations of keywords. The straightforward way to do this is through LSI keywords. Latent Semantic Indexing (LSI) keywords refer to words that may share meanings and are closely associated with the target keyword. For instance, a quick way to find LSI keywords is to head over to Google Search, and start typing. The keyword "blogging" may be related to "blogging sites or blogging platforms."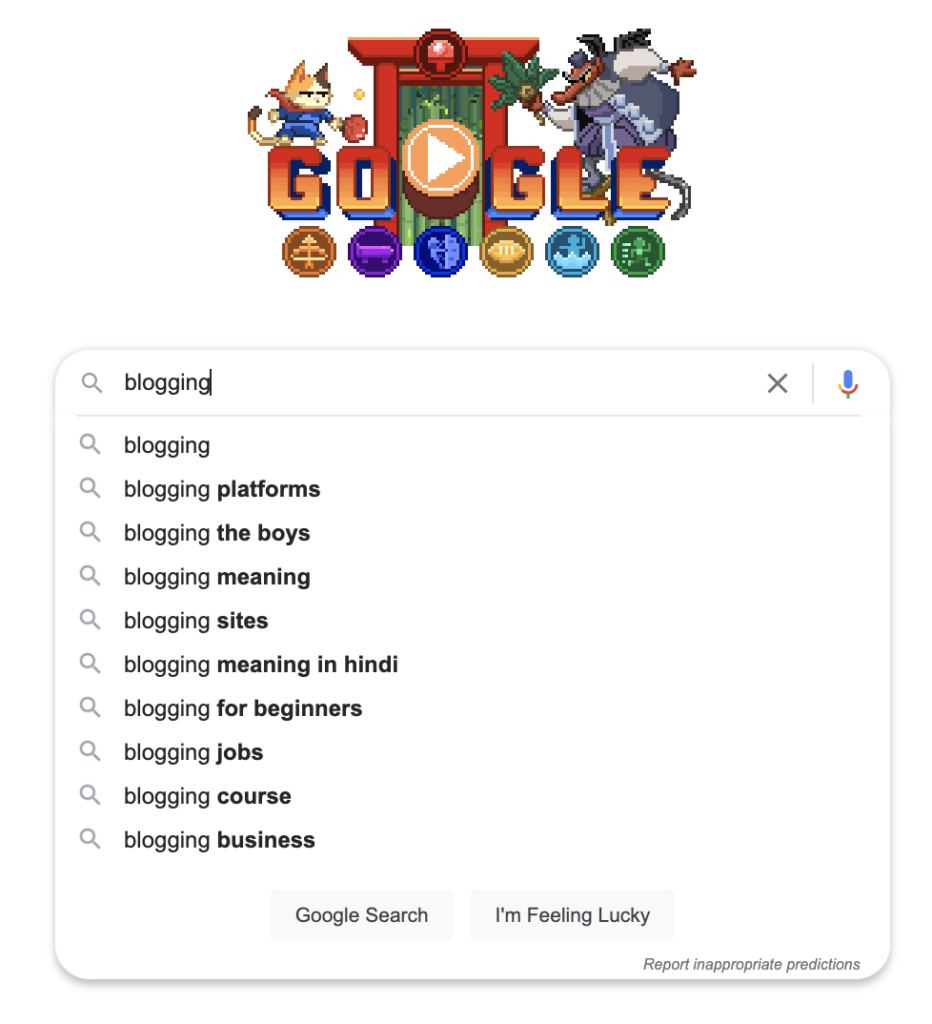 So, if you published an article listing the top blogging websites, you can use the LSI terms when creating internal links. Another good way to find variations of keywords is to analyze the search queries that appear in your Google Search Console. Those queries correspond to what people looked for when your website appeared in the search engine results pages. Since 
15% of search queries
 made on Google are new, chances are you'll get a few relevant ideas of keywords to boost your internal linking profile. In you need to dig deeper, we've written about 
how to use Google Search Console for SEO
.
7. Grouping keywords together using keywords clustering
Keywords clustering takes the concept further by allowing you to create groups of interrelated LSI keywords. Your clusters can include keywords with less competition. They can serve as the anchor text to articles that may be targeting highly competitive keywords. By doing this, your linked articles may have a better shot of showing up for multiple keywords. And this keeps your anchor text fresh, particularly for internal link optimization. Chances are you didn't get a lot of what we said. Well, keyword clusters require a more detailed explanation. We covered
keyword clustering in an elaborate post.
P.S. We also have a
free keyword group generation tool
that you start using to generate clusters.
Was this helpful?
Let us know if you liked the post. That's the only way we can improve.