SEO encompasses the collective efforts you take to increase the likelihood of your website appearing in search engine results for targeted user queries.
An SEO mistake is when you're doing certain things wrong. You may be ignoring proven strategies, failing to cover some key bases, or making basic errors. This may be one of the reasons why your website isn't getting any traffic.
Our mission today is to expose common SEO mistakes and what to do about them. You can use the advice to improve on any website and in any niche.
The first part deals with strategic mistakes. Part 2, 3, and 4 deal with common on-page, technical, and off-page SEO blunders.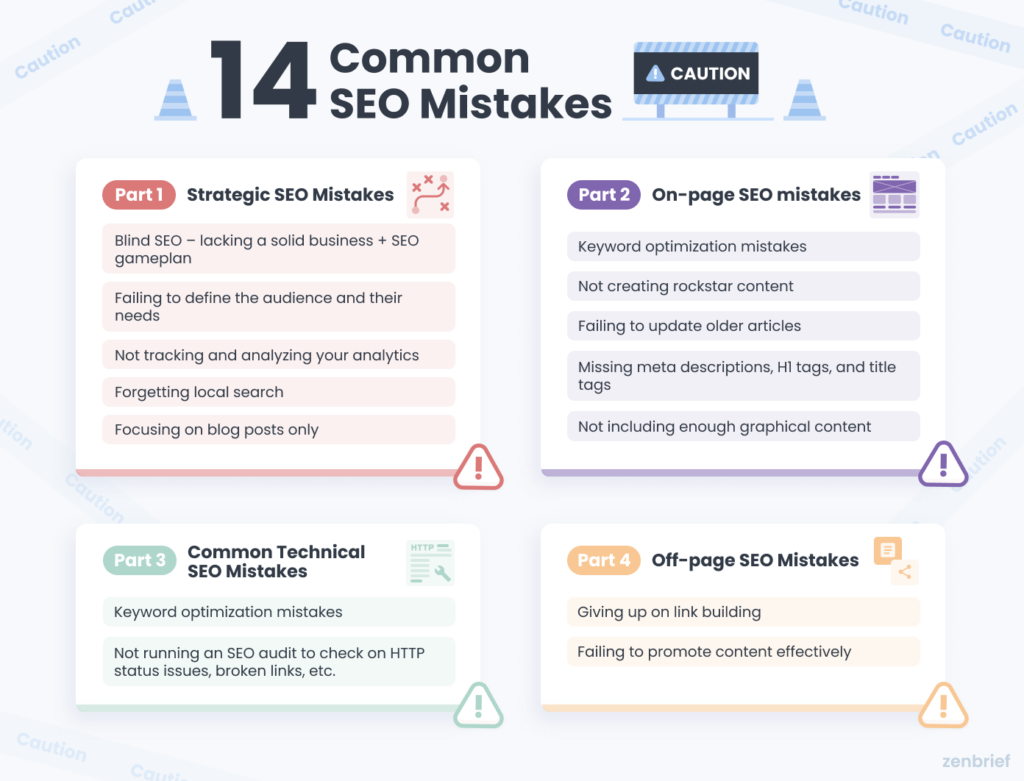 Let's get started:
Part 1: Strategic SEO Mistakes
Forget about mistakes with writing headlines, titles, or meta descriptions for now. We'll first look at the biggest SEO mistakes that many sites make.
1. Blind SEO – lacking a solid business + SEO gameplan
How did you first get into SEO? For most websites, the journey begins by hiring an SEO agency or deciding to venture into blog posts.
Your content strategist would typically research potential keywords, laying the groundwork for the writer.
Little attention is given to how content can draw the right audience and meet buyers at various stages of the buyer's journey. It's "blind" because it places a narrow focus on content creation and publishing content to drive traffic.
As a consequence, it becomes hard to attribute SEO and content marketing efforts to real business goals. So, within a relatively short time, the business may stop investing in SEO entirely. According to The CMO Survey published in 2020, only 35% of senior marketers could quantify the impact of their marketing efforts.
How to strategize your SEO efforts:
The best solution to blind SEO is to adopt the inbound methodology as defined by HubSpot. It breaks down your marketing efforts into three stages: attract, engage, and delight.
At the attract stage, you focus on drawing your targeted audience by creating valuable content. Now, this content is not just created blindly without clear goals and objectives. You tailor the content based on the buyer's journey stage.
Hubspot defines the three stages as:
| | |
| --- | --- |
| Awareness stage: Prospect experiences the symptoms of a problem or recognizes an opportunity | Potential content: Educational, expert, whitepapers eBooks, editorial, research, analysis. |
| Consideration stage:  Prospect can clearly define their problem or opportunity. | Potential content: Guides, live interactions, webcast, podcast, video, comparisons,  whitepapers |
| Decision stage: Prospect decides on the strategy, method, or approach to exploit an opportunity or resolve the problem. | Potential content: Competitor comparisons, product comparisons, case studies, trial downloads, product explainers,  or live demos |
You can learn more about the inbound methodology approach from Hubspot Academy through their beginner Inbound Course or Inbound Marketing Course.
2. Failing to define the audience and their needs
Failing to understand your audience means that you cannot create content directly targeted toward their needs. It could have a significant impact on the success of your SEO efforts and the achievement of business goals.
How to focus on the audience and their needs:
It's likely that your business targets multiple audiences. Spend the most resources and time tailoring your content to the segment with the highest business potential. Modify the tone of voice, illustrations, or vocabulary to their preferences. Ideally, these guidelines should be included in every content brief.
3. Not tracking and analyzing your analytics
Investing in SEO but failing to track the analytics is one of the most common SEO mistakes. Analytical data gives you insights about your performance and progress.
How to keep track of your analytics:
You may be collecting analytical data through Google Analytics. If not, take time to set up the tracking code. You should have rules in place about reviewing your analytics. Perhaps, you can conduct reviews every two weeks. Save time during the audit process by creating custom reports in Google Analytics.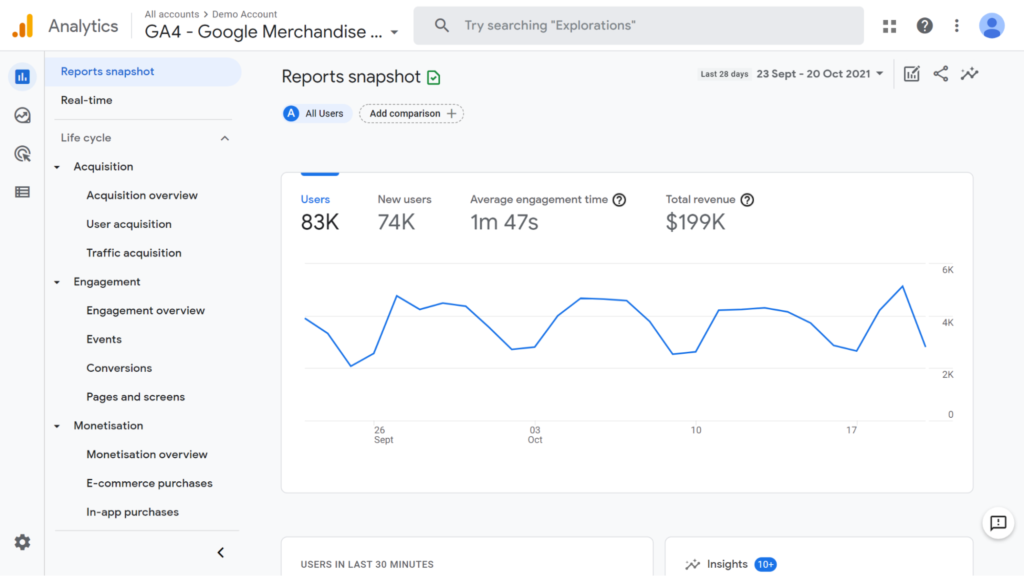 Remember to track your keyword positions using paid tools or through Google Search Console.
4. Forgetting local search
Another strategic mistake you may be making is entirely ignoring local search. Google has noted that queries with terms such as "near me," "closest,"  and "nearby" have been increasing in popularity every month. The majority of local searches come from mobile devices, 80% in Q4 2014. A ReviewTracker's study further reported that 50% of all mobile searches are local. So, ignoring local search may impact your bottom line if you market to local customers.
How to leverage local search for SEO:
Local customers can benefit every business, including service firms and home-based firms. How can you improve your local SEO today?
Start by creating a Google My Business Account. It gives you greater visibility on Maps and Google Search through a local listing panel, which is one of the ways for your business to appear in the Google Knowledge Panel
Ask and encourage customers to leave reviews;
Write your content in a conversational way to optimize for voice search. As of May 2016, about 20% of searches on Google App were done by voice, with 50% of all mobile searches involving  local business queries;
Cover local news stories, activities, or events;
Focus on local keywords during keyword research;
Optimize your "About Us" page with local details, including store hours, address, phone number, parking info, and testimonials.
5. Focusing on blog posts only
The mistake here is simply focusing on writing blog posts while ignoring the vast array of other content types. Recognize that a sizable portion of your audience may prefer getting their information from podcasts or videos. For instance, YouTube attracts over 2 billion users every month.
How to choose the right format for your content:
Determine the best format for any piece of content. For instance, it's better to create a video to explain software features. A podcast may be better at presenting an interview or narration. Someone looking for in-depth information may gravitate towards long-form articles.
Content types per format for digital marketing
| | | |
| --- | --- | --- |
| Written text  | Video  | Audio |
| Ebooks, Whitepapers, Blog posts, Product guides, Customer success stories, Case studies, Comparisons, User-generated content | Product videos, Tutorials, Testimonials, Stories, Interviews, Service announcements, Brand films, Company culture videos, Documentaries,  Demonstrations. | Podcasts, Audiobooks, PSAs,  Audio ads, Interviews |
Part 2: On-page SEO mistakes
On-page SEO deals with optimizing the website content to give it a better chance of featuring among the top SERPs. So, let's consider some common mistakes with on-page SEO:
6. Keyword optimization mistakes
Relevant keywords increase the page's relevance for a search term. For instance, if an article mentions the keyword "fashion ideas," Google may determine that it is relevant to appear on SERPs for search phrases such as "fashion trends or outfit ideas."
How to avoid common keyword mistakes:
Here are more frequent keyword mistakes and what to do about them:
7. Not creating rockstar content
The problem here is self-explanatory. Your content is not good enough or better than what competitors are publishing.
Perhaps, you're not covering topics exhaustively. Your content repeats what has been said with slight modifications. Some sites even use machine-generated or spun content. Articles may further contain spelling or grammatical mistakes.
How to create better content:
Aim to create rockstar content that's 10 times better than your competitors. It may mean creating longer content with better ideas, expert opinions, or new research. If you're investing in third-party writing services, don't be afraid to splurge on a better writer. Another golden tip is to use smart content optimization tools such as Zenbrief.
8. Failing to update older articles
It's quite easy to get into the habit of chasing new content to expand your search visibility. Over time, older articles lose their top rankings to more recent articles on the topic. You can increase organic traffic by up to 111.3% after updating old content. So, Ignoring older articles can mean losing out on a potentially easy traffic source.
How to update older articles:
Update your existing content by adding new information, research, or graphics. You should review the articles for any grammar and spelling mistakes. Don't focus on one or two pieces. Improve the overall freshness of your entire website.
9. Missing meta descriptions, H1 tags, and title tags
When SEMRush analyzed over a quarter million websites from different niches using their site audit tool, they encountered rudimentary mistakes that sites were making with their meta descriptions, H1 tags, and title tags. Some of the top mistakes included:
Multiple pages sharing the same title tags and meta descriptions;
Missing H1 tags affecting Google's understanding of the page;
Lack of meta descriptions;
Duplicate H1 tag and title tags.
How to add meta descriptions, H1s, and title tags:
Take time to write your meta descriptions properly. You should consider writing a different title and H1 tag. It allows you to describe the content better and optimize for multiple keywords.
10. Not including enough graphical content
Most blogs nowadays have a featured image. It's pretty much a standard.  Now, the featured image may not be enough.
How to improve your articles by adding more visual content:
Find more opportunities to create visual content to accompany your blog post. You can adapt articles into infographics or checklists. If you are publishing a data-heavy blog, you may create graphs, charts, and illustrations.
If you don't have the design skills, you can hire a graphic designer to produce unique illustrations. Similarly, you may use graphic design tools such as Canva and data visualization tools, e.g., Google Charts. FusionCharts, and ChartBlocks.
Part 3: Common Technical SEO Mistakes
The technical aspect of SEO considers factors that impact how search engine spiders crawl and index website pages. It also considers under-the-hood factors that can impact the site performance and user experience. So, which mistakes are websites making in regards to technical SEO?
11. Slow page speeds
Google is obsessed with making the internet faster and now considers site speed as one of its key ranking factors. Pagespeed is also crucial as it may impact the user experience and contribute towards page abandonments.
Don't assume that your site speed is fine. Google determines your site speed relative to other search results. It essentially means: If you have similar content with a competitor, you can lose a top position simply because they have the faster site.
How to make your website faster:
Various strategies can help speed up your site. The goal should be to achieve a load speed of 2 to 3 seconds or less:
Run your website through PageSpeed Insights. If you're not particularly techy, you may need to work with a developer to improve technical factors such as reducing unused javascript.
Compress images before uploading them to your website;
Host your website on fast servers with adequate bandwidth;
Enable caching using plugins;
Opt to host multimedia and static files on a content-delivery network;
Find plugins that can help minify your website code, including HTML JavaScript, and CSS.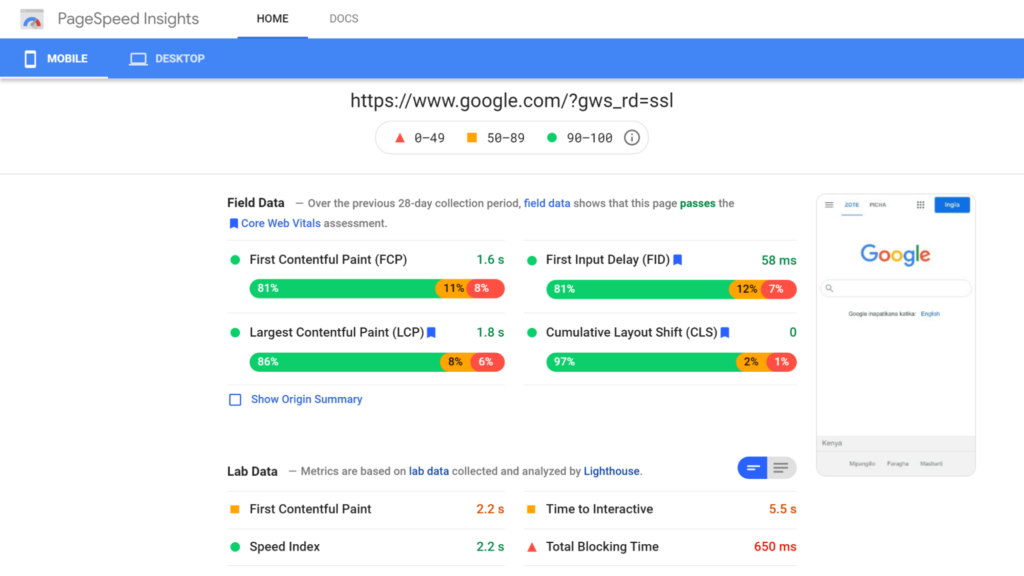 12. Not running an SEO audit to check on HTTP status issues, broken links, etc.
Technical SEO encompasses many technical factors, including crawlability, site performance, missing alt tags, internal linking, duplicate content, and HTTPS status.
Save yourself the trouble of going over each technical factor that could be wrong.  Instead, perform regular SEO audits using an audit tool.
How to run an SEO audit to find technical site issues:
You will have your pick of various site audit tools such as Moz, Aherfs, SEObility, and more. Most are paid but provide free features. For instance, SEMRush provides free audits restricted to the first 100 pages and one URL.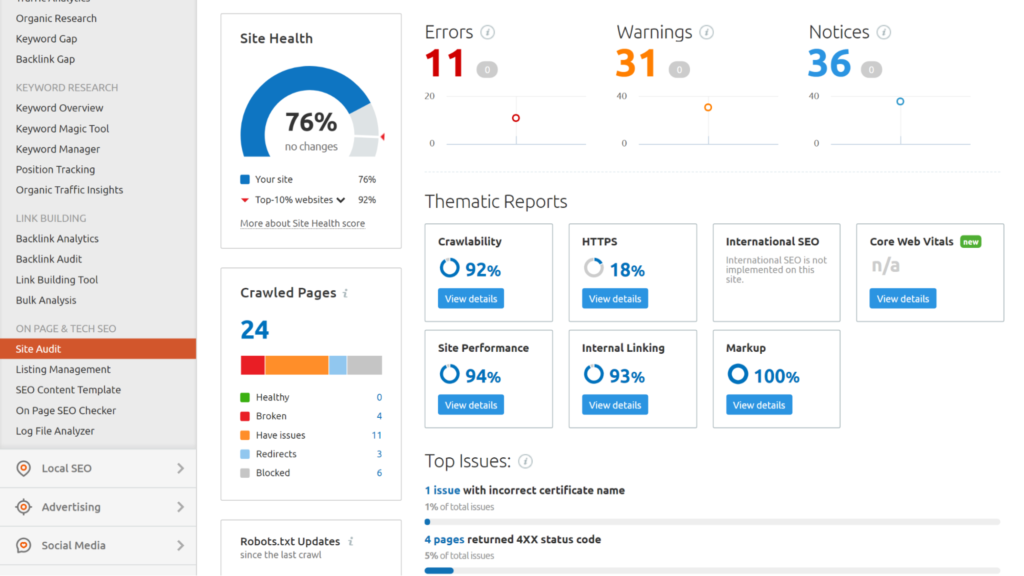 Create a free account and a new project. Go to the site audit section for the site analysis results. The tool reports on multiple technical factors, including crawlability, internal linking,  load speed, JS errors, crawl budget utilization, backlinks, and more.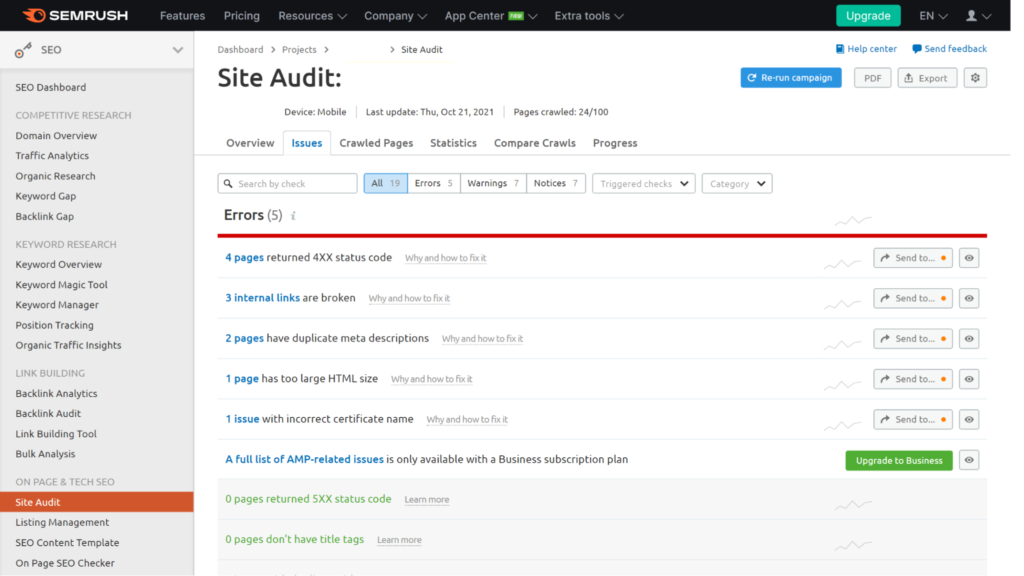 For individual page analysis, you can consider using SEOptimizer. It provides a detailed overview of the page, including any usability issues and a final score.
Part 4: Off-page SEO Mistakes
Off-page SEO refers to the techniques that show Google that your website is essential, authoritative, and valuable. It touches on social media, link building,  brand mentions, forum posting, press releases, online answers, and directory submissions. What are the most common off-page SEO mistakes?
13. You gave up on link building
Link building is not a walk in the park, particularly if you implement strategies such as sending cold emails. Still, there are some well-known things you should avoid with your link building efforts, including:
Buying and selling links;
Generating nofollow links only;
Building too many links within a short time;
Spamming forums, blogs, and answer sites;
Earning low-quality links from spammy sites.
How to earn backlinks after giving up:
You can still earn high-quality links the natural way and with less effort.  Some techniques that you can use include:
Creating useful free tools;
Publishing link-worthy content such as embeddable infographics;
Trying to come up with original interviews, case studies, or statistics. You may even run an online poll and report on it;
Guest blogging on high-quality sites.
As you earn links through guest blogging, ensure that the anchor text used is not overly optimized with your target keyword. It's recommended to maintain a healthy balance of generic, exact-match, partial-match, and branded keywords.
14. Failing to promote content effectively
Do your promotional efforts end after publishing your articles? Off-site SEO provides more opportunities to generate a buzz about your website and content.
How to promote content to boost off-site SEO:
Start using social marketing platforms such as Missinglettr to create and schedule social campaigns for each published piece of content.
If you're promoting your website on Quora or forum sites, don't come off as spammy. Generate enough interest by making insightful contributions. People may view your profile and find your site.
Additionally, find ways to capture emails, such as using eBooks, and launch an email marketing campaign where you send weekly roundups or newsletters.
Conclusion
You're now aware of common mistakes websites make with their off-site, on-page, and technical SEO.
To summarize:
Focus on strategic SEO mistakes that are easy to ignore but highly damaging in the long term;
Carry out a regular site audit to help identify technical SEO mistakes before they cause indexing issues;
Don't forget about off-site SEO, and keep building backlinks naturally.
That's all for today. See you next time 🙂
Was this helpful?
Let us know if you liked the post. That's the only way we can improve.