If you want the best articles, you must create great content briefs for your writer, creative team, or personal use. But what qualifies as a good content brief? First, it has to be built right. That means including all the essential details that give the writer clear instructions and context. We'll go over key elements to include in the SEO brief. Second, it must be consistent with the best practices. For instance, detailed but not too long. You'll learn more best practices as we'll cover 3 examples of effective content briefs. Without further ado, let's get started.
What is a Content Brief?
A content brief is a guide or set of instructions prepared for content writers to give them direction and information on how to go about creating an assigned piece of content. Content briefs are sometimes called
creative briefs
even though creative briefs are not limited to written content and can be used for videos, infographics, landing pages or ad copies. Before we dive into several examples of content briefs, it's worth noting that there's no standard approach on how to write a brief. A quick message to the content writer with information about the title and word count may qualify as a brief. For instance, a well-meaning content strategist may say:
Hey Tommy, we need a quick 1500 article on Best Headphones for pianos. Do your best, mate! 🙂
This is sparse information for many reasons:
It fails to tell the writer about the company or what it does.
It doesn't tell your writer which topic should be covered or which question should be answered.
There are no details about the site and its products or services. Perhaps the company produces its range of headsets and requires a mention in the article.
On the content marketing side of things, it doesn't brief the writer on the company's objectives. For instance, which stage of the buyer's journey does the content hope to target?
Finally, the article may fail to bring any SEO traffic as the brief doesn't provide any guidance on critical SEO information such as which keywords should be used, how long the content should be, or which internal links or external links to include.
We could go on and on, but let's shift gears and remind ourselves on what should be included in a good content brief.
What should be included in an effective Content Brief
To recap on from our article on "
What should be included in a content brief
," here are some of the most important sections of a comprehensive content brief (check out the article for a full list of all the elements):
Company description & details: this is particularly important if you are not working with an in-house content team. Tell your freelance writers or the content agency your work with about the company and its backstory. You can touch on its mission, vision, or unique selling points. This helps in writing the CTAs. You can also share links to the website, social media pages, press mentions, etc. This will give your content creators a good perspective on your overall content strategy.
Topic description: what is the content going to talk about? You may also list the various subtopics that will be covered.
Target audience: it's all about describing a few qualities of the intended audience. Simply ask: Who do we want to read this article? Where are they located? What's the best way to speak to them (tone of voice)? What are their pain points?
Content purpose: the article may be purely informational. Or its end goal may be to promote the company's services or products. Share the content marketing objectives for the piece of content to ensure that results conform to your expectations.
Buyer's journey stage: prospects go through multiple touchpoints with a company before becoming customers. A good content marketing strategy should be aligned with the buyer's journey. During a typical buyer's journey, they may research their problems (awareness), consider solutions (consideration), and reach a final decision about how to address their challenges (decision). For instance, a blog post that talks about their problems targets the awareness stage.
Search intent: this requires you to think about how people will stumble upon the article. What will they search for? And why will they use those particular search terms? Your article may have a transactional, informational, navigational, or in-person visit intent.
Tone of voice: tell the freelance writer the style of writing you prefer. If you love to keep your communications conversational, you may inform the writer to use second-person pronouns "You or your" and adopt a conversational tone of voice If you want your blog to be more personal or develop a personal brand, you may also request writers to use first-person pronouns such as "I, we, and us." and a witty tone of voice. Some industries (legal, supply chain, accounting, mining, etc) may command a more formal tone.
SEO Keywords: optimising a piece of content with relevant keywords gives you a better chance of ranking well on search engines. An SEO content brief should contain a well-researched list of main keywords and related keywords. For example, you may decide to focus on keywords your site already ranks for, or use competitive keywords analysis to find out keywords your competitors rely on.
Content outline: writers don't mind if you provide headings and sub-headings.  It gives them a format to follow and allows them to cover all the important topics with no need for never-ending revisions.
Word count: length is an important consideration for any blog post. The article should be of sufficient length to cover the topic in depth. Long-form content tends to outrank shorter articles as the article appears more thorough in the eyes of Google.
Title: providing the title in the content brief template gives the writer an ideal starting point, even if it's not the final title you'll settle on.  You may even specify the keywords to mention, leaving the writer to figure out the title.
Links: you may indicate a few sources that the writer should rely on. You may also list a few existing articles on your site to which you'd like your writer to create internal links.
Here is an example of Content Brief generated using Zenbrief, our 
content brief software
.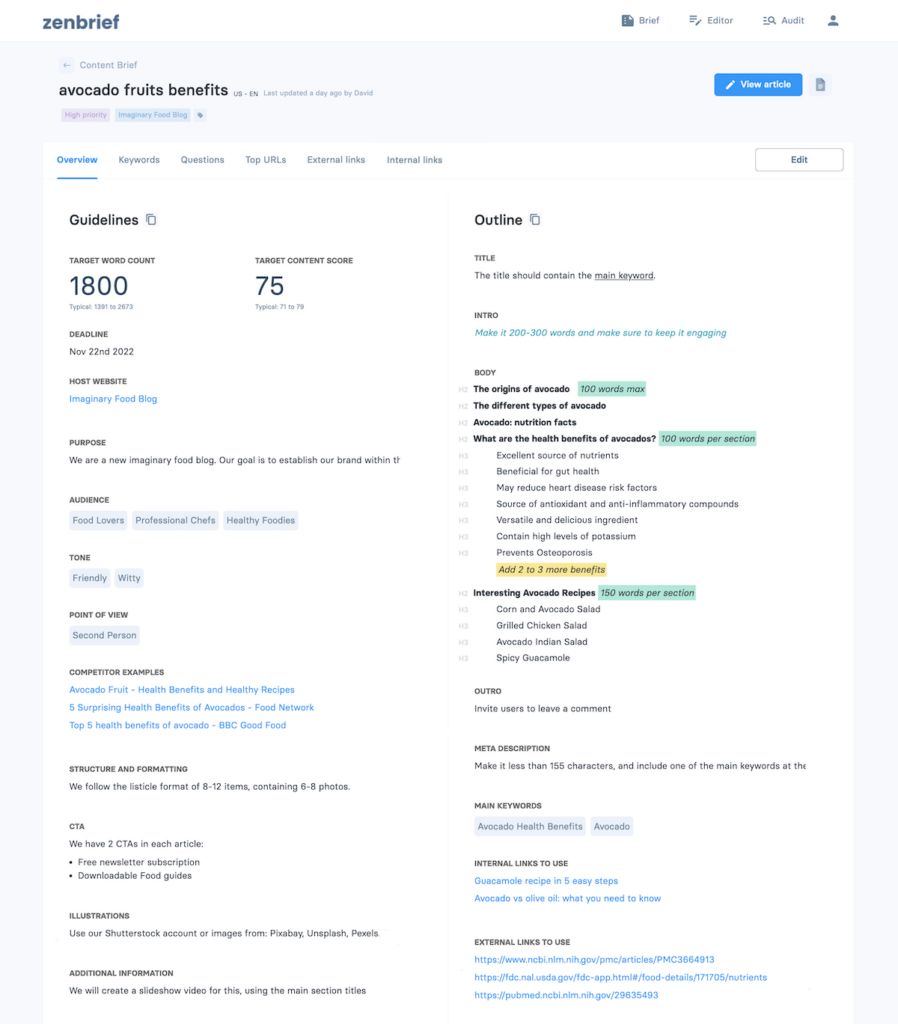 We've also created a free
content brief template
that contains everything your content team needs to create an effective content brief.
3 Examples of Effective Content Briefs
In this section, you'll see 3 content brief examples in order of increasing complexity and details. The more details you provide, the greater the control over the final output. Control is not all that bad. You may want to give a new writer less freedom by giving precise instructions. As your writer becomes more familiar with your brand style, tone of voice, products or services, you won't need to provide the same level of details in all of your content briefs. Let's look at the 3 content brief examples.
1. Content brief example for "The Best Cold Call Script for SaaS"
Let's say a company called SuperSaaS Consulting Inc wants a new content piece for their blog section. The firm provides marketing consultancy for SaaS marketing teams. They intend to offer advice on how to write SaaS scripts that convert. The article targets the consideration stage where prospects are searching for solutions to their problems, such as writing the best cold calling scripts. This first content brief template contains the most crucial elements and is rather short. It may only take you 5 to 10 minutes tops to prepare if you have everything on hand.
Example of a short content brief template
Topic:
Cold Calling Script for SaaS
Purpose:
 SuperSaaS Consulting has just begun offering consulting services for SaaS marketing teams. We intend to publish an article targeting small and medium-sized enterprises with sales in the B2B space. Our goal is to share advice on preparing cold calling scripts + mistakes companies should not make. The article should be professional sounding and invite readers to request team coaching services. (P.S there should be a strong CTA in the middle and end of the article).
Title: 
must include keyword: "Cold Call Script for SaaS"
Host website:
superSaaSconsulting.com
Meta-description:
mention the keyword "Cold Call Script"
Tone of voice:
 informal and use second & third person
Audience:
international sales professionals
Word count:
 1200 words
Main competitor's article:
Main related keywords:
 use the following keywords 1 to 3 times each
Cold calling script examples
Cold calling script for digital marketing
Cold calling examples
Cold calling script for software sales
Sources:
use the following sources:
---
Verdict about this content brief
This content brief offers sufficient information to draft an article, but notably, it doesn't contain any
content outline
. This means the writer may miss some important points, resulting in more time spent on revisions. Next we'll look at at a more in-depth content brief.
2. Example of a content brief for "How to find great SEO writers"
In this second example, let's assume we are publishing content for a company that provides SEO writing services to businesses. The intention is to write about tips that businesses can use to find great SEO writers. Businesses will search for this exact guide at the hiring stage, so the user intent is transactional. With this in mind, the article may advocate for the company's services by mentioning the benefits of outsourcing SEO writing.
Example of a detailed content brief template
Topic:
 find SEO writers
Company description:
 we're an SEO writing service and agency looking to grow our list of customers. You can look at our about page here (link) and the writing service page here (link). Make a point of focusing on our unique advantages as listed on the writing services landing page.
Content purpose and depth: 
the article should be in a list format and go into details as much as possible. Its foremost purpose is to offer tips on hiring the best content creators. You can mention some of our competitors (mainly freelance platforms) along with their advantages and limitations.
Host website:
 seoblogsite.com
Title:
 how to find great SEO writers
Buyer's journey stage:
decision
User Intent
:
transactional
Product or business mention:
mention that clients can receive SEO writing services from our website.
State the benefits: 
In-depth keyword research
Uniqueness checks
Experienced writers.
Main competitor's article:
Target audience: 
small business owners
Tone:
conversational
Language:
use US English
Word Count:
 2,000
Readability:
 grade 6 (Good) on Hemingway Editor
| | |
| --- | --- |
| SEO Keywords to use | Where to use them |
| SEO Writers | Title, Description, Н1 heading, text |
| Freelance blog writers | H2 section heading, text |
| creative content writer | Text |
| how to hire blog writers | H2 section heading, text |
| freelance SEO content writer | Text |
| best blog writers | Text |
| Upwork blog writers | Text |
| blog writer online | H3 section heading, text |
| Blog Writer | H3 section heading, text |
H1 tag:
include the keyword "SEO writers"
Meta description:
not more than 156 characters with main keyword
Slug to use
: /find-great-SEO-writers
Internal links to include
:
exampleseosite.com/our-seo-writing-services
exampleseosite.com/our-seo-blog-writers
Sources: use the following sources as references, and find more sources from your own research.
Verdict about this content brief Stepping up from our previous example, this brief has more details. It includes instructions on where to use keywords. The writer understands the purpose of the content. But it falls short of offering a content outline. It also doesn't provide clear instructions on keywords frequency, which could result in poor topic relevance or, at the other extreme, keyword stuffing. Next, let's have a look at a final example of content brief.
3. Example of a content brief for an article on the "best headphones for pianos"
In this brief, we're looking at a well-detailed content brief with a complete outline. This may be the format to pick if you want to control the final output with more finesse. 
So, let's have a peek at the expert-level content brief. Keep reading to learn about a tool that can allow you to cut down the time it takes to prepare such a brief.
Example of an effective content brief template
Content guidelines
Topic: best headphones for pianos Hosting site: ExampleHeadphoneSite.com
Company:
 we are a headphones company specialized in selling headphones for musical instruments such as guitars and pianos
Main competitors' articles: 
Content goal:
the article needs to inform people about the best headphones on the market, and educate them on what to look out for to choose a good pair.
Target Audience:
piano owners at all ages, at beginner level
Buyer's journey stage:
 both awareness and consideration. At the awareness level, we want to expose the brand to customers who are looking for a headphone brand. This segment may not be ready to make a purchase just yet. At the decision stage level, these eager customers are considering purchasing a pair of headphones for their digital piano.
User intent:
informational and transactional
Tone of language
: informal with industry lingo
Structure and formatting rules
Text formatting rules
At least 1 subtitle per 300 words.
Avoid highlighting all keywords in bold.
Break up paragraphs with 3-5 sentences.
Keep the text uniqueness at 90%
Include lists, bulleted lists, and tables as needed
Link to relevant sources, and include source links for statistics
Divide the article into sections of 100 to 300 words
H1 heading rules
H1 heading should have the primary keyword to the left if possible.
Capitalize all words in the heading unless they are conjunctions (and, or, but, so, etc ) or prepositions (in, to, off, on, etc ).
If possible, H1 should not contain a punctuation mark. Allowed punctuation marks include : , ""-.
Up to 60 characters.
H1 header should be different from the Title.
Title rules
The title should have the primary keyword located as close to the start as possible.
The title should not end with a full stop. Allowed punctuation marks include: , ""-.
End the title without a punctuation mark, but if it's a question use "?".
Length from 30 – 60 characters
Meta description rules
Avoid using introductory words in Meta Description, such as "In this article", "In this content", etc.
Use the primary keyword or its synonym. It's preferable to place the keyword closer to the start or middle of the description.
Write in 2-3 sentences between 120 to 156 characters, including spaces.
You may use any special characters that can attract attention in the SERPs.
Keywords rules
Use keywords naturally in the article.
Keywords may be misspelled. Use the correct spelling in the text.
H2 to H6 headings rules
Use keywords whenever possible.
Not more than 70 characters per heading.
Readers should understand what the section talks about from the heading.
Keep the article easily scannable by writing descriptive headings.
SEO requirements
Word count:
 1,500 to 2,000 words
Title:
use the long-tail keyword "best headphones for piano"
Meta-description:
include the keyword "headphones for piano"
H1 tag:
use the keyword "piano headphones"; maximum 100 words
Slug to use: /best-headphones for piano
Internal links to include:
exampleseosite.com/best-digital-pianos
exampleseosite.com/headphones-vs-earphones
links to existing reviews of each headphone
Sources: use the following sources as references, and find more sources from your own research.
https://acousticstoday.org/wp-content/uploads/2022/03/The-Perception-and-Measurement-of-Headphone-Sound-Quality-What-Do-Listeners-Prefer-Sean-E.-Olive.pdf
https://www.nytimes.com/wirecutter/blog/what-noise-cancelling-headphones-do/
Additional information:
in order to reduce bounce rate:
give the reader an idea of what the article is about in 1 to 2 paragraphs.
mention that we'll compare our "Performance 2.0 Headsets" and how they stack up to the competition.
Content outline & keywords
H2: Quick Tips on Selecting Headphones
250 words
Find up to 6 tips to share from sound to build quality
Keywords to use (keyword frequencies): – headphones for keyboard jack (1 to 2 times) – headphones for piano jack (1 to 2 times)
H2: Top 5 Headphones for Pianos – (100-250 words each)
Describe the top five headphones.

Mention their price, materials, Extra features, Sensitivity, Drivers, and more.
Use list format with H3 for the following headsets: 1. Performance 2.0 Headphones 2. Sony MDR-7506 3. Yamaha HPH-50B 4. Philips Fidelio M2BT 5. Tascam TH-02
Keywords to use (keyword frequencies): – Yamaha piano headphones (1 time) – Headphones for Casio keyboard (1 time) – Sony piano headphones (1 to 2 times)
H2: comparison of the top 4 headphones vs. Performance 2.0
Create a table comparing the main features of the headphones
Arrange the headphone brands in columns with rows giving more information
H2: include the CTA (call-to-action)
Rank the headphones in terms of features such as comfort, sensitivity, etc.
Tell readers where they can purchase our Performance 1 Headphone at a discounted price
Mention our limited time offer to drive more sales
H2: frequently-asked questions (FAQ)
Provide answers to the following questions commonly asked on
People Ask Boxes on Google
. Not more than 50 words per answer.
Can you plug headphones into a piano?
What headphones do you need for a piano?
What headphones do you recommend for digital pianos?
Do you need special headphones for keyboard?
Verdict about this content brief This content brief is more effective than the previous one as it provides specific content guidelines and editorial instructions. Therefore, it is more likely to result in a piece of content that is in line with the company's content strategy. While it will save time on the content writer side, it requires a significant investment in topic research from the content strategist or content manager. Fortunately, tools like Zenbrief make that process a breeze.
How to Create Detailed Content Briefs with Zenbrief
Creating a detailed content brief sure seems like hard work. For instance, you may need to research similar articles to figure out the typical word count, the outlines followed by your competition, and their content quality. If you publish more than 5 articles per month, preparing detailed content briefs may be time-consuming and nearly impossible. Zenbrief makes this process easy. Enter a topic and it will automatically generate a pre-filled content brief that contains the main information you'll need to publish expert-level content. After entering the topic, the software generates a full brief with the keywords and their frequency.
Main topic details
Let's say you write an article about "Effective Content brief examples." Zenbrief will use AI to figure out a target word count and a target content score that you should aim for, in order to get a chance to rank well on Google. Depending on your content strategy you may edit those values to fit your goals. You may then add key information to your content brief, such as:
The target audience
The writing style (tone of voice, point of view)
A deadline to deliver a first draft of the content
A content outline (we'll see how the brief makes it easy for you to do so)
Sources such as internal and externals links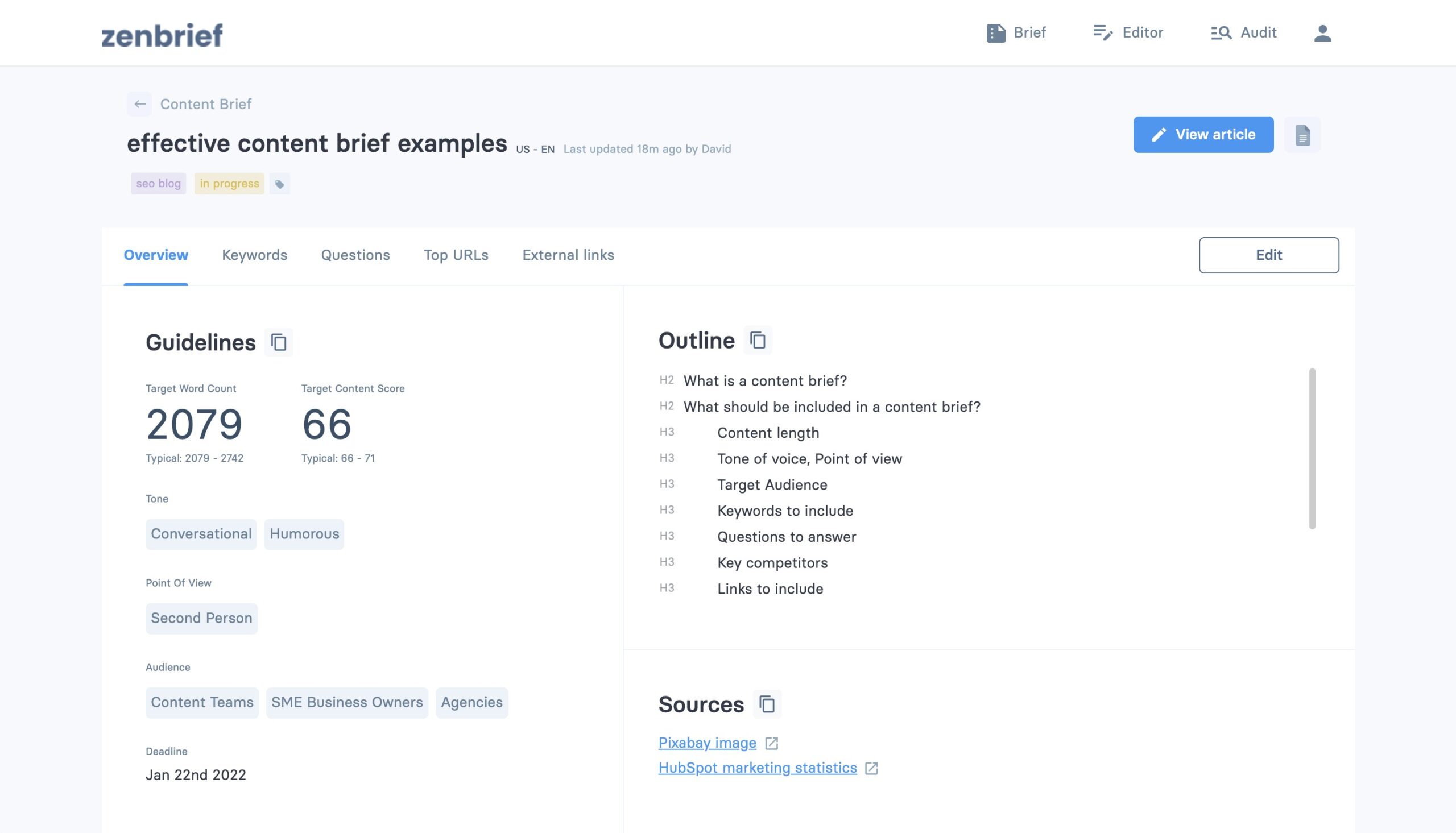 Finally, if you work in a content team, you may choose to label the brief according to your current content workflow.
Keywords analysis
Zenbrief automatically extracts keywords from your competition on search engines. They are ranked by order of relevance. For each keyword, you get a keyword frequency range.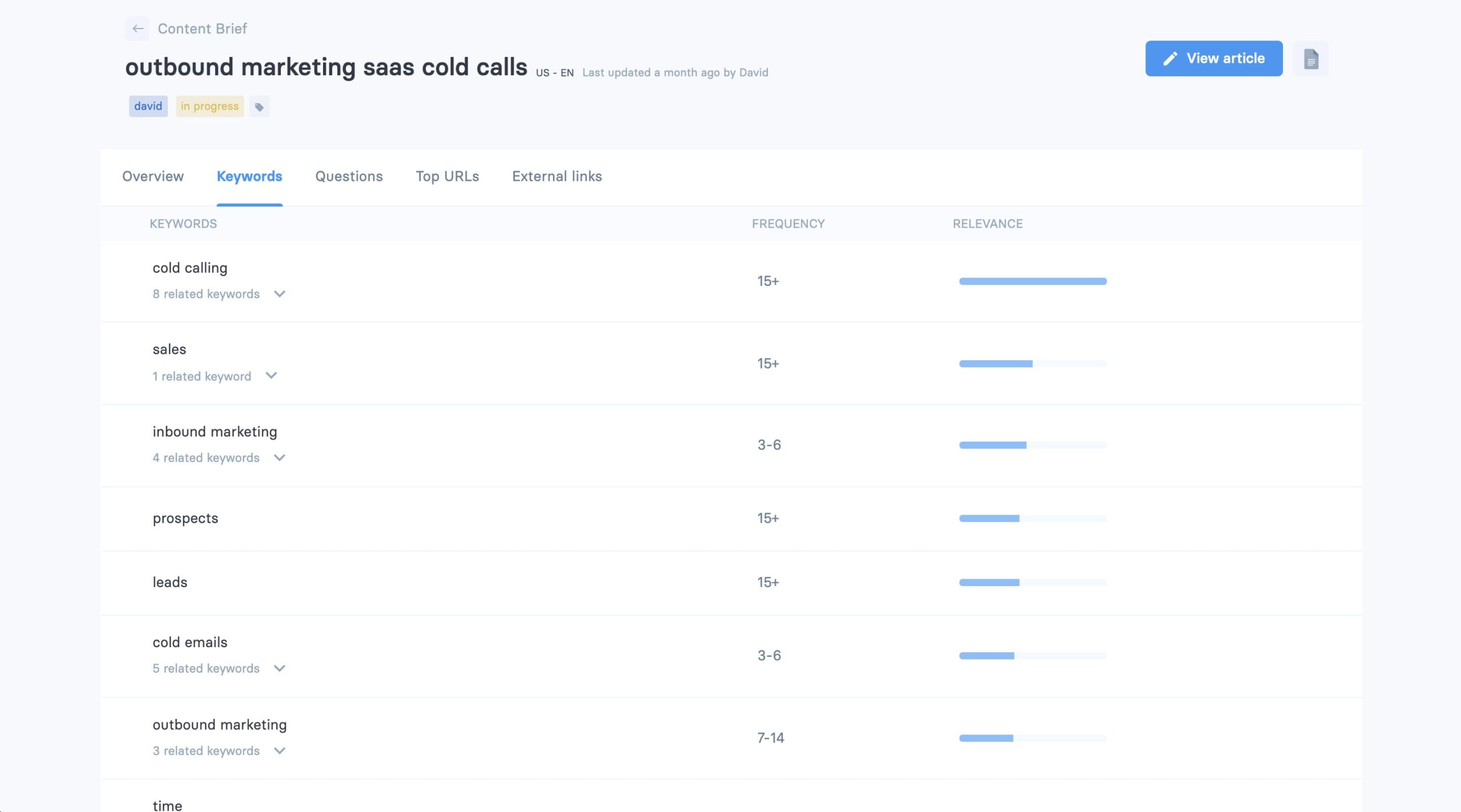 Related keywords are grouped together and help your content team write more naturally.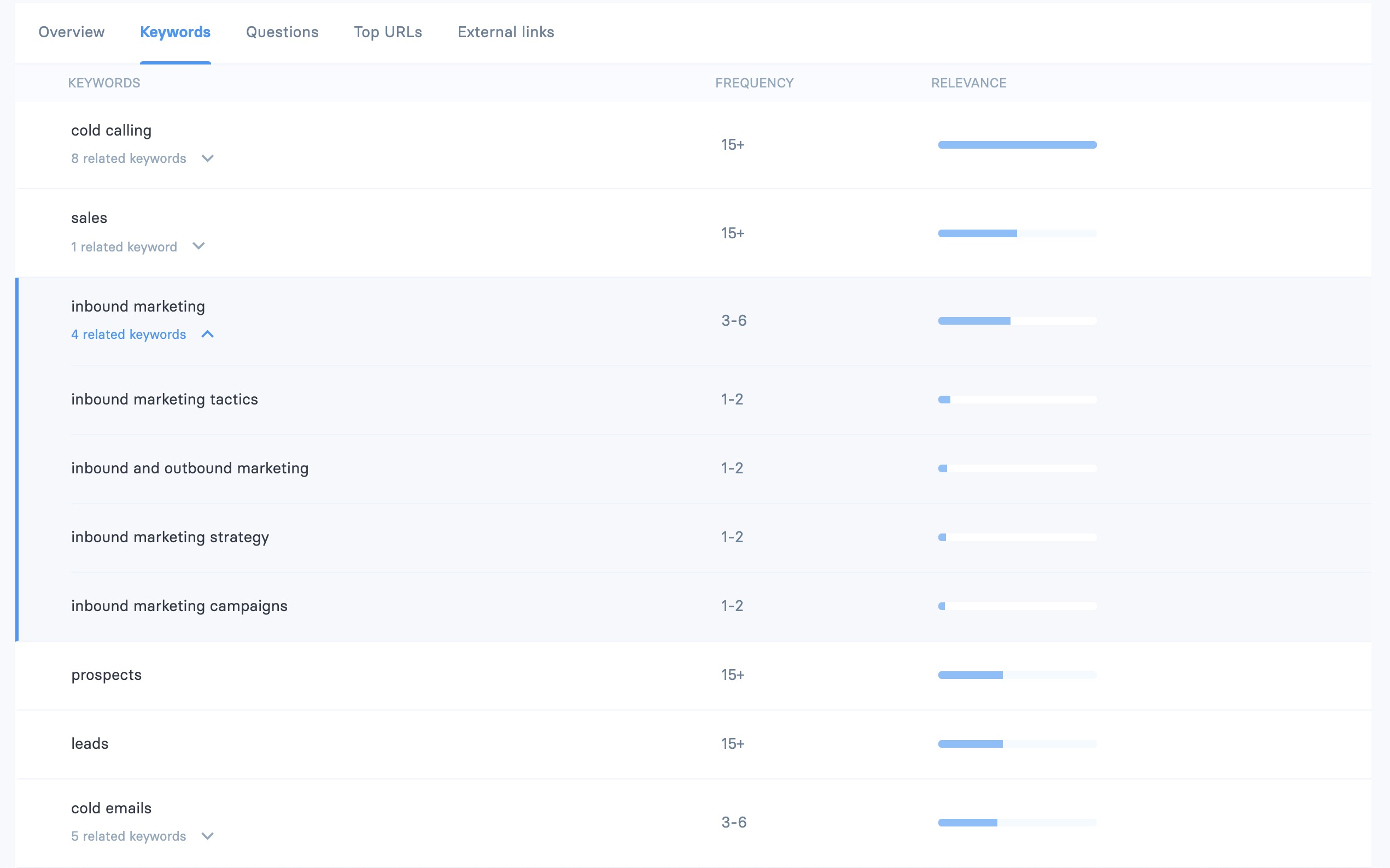 A "H" symbol tells you whether that keyword should be included in a heading, based on the analysis of your competition. For example, if you are writing about the best piano with headphones, you should most likely put "digital piano", "headphones", "digital" and "piano" in a heading, as shown below.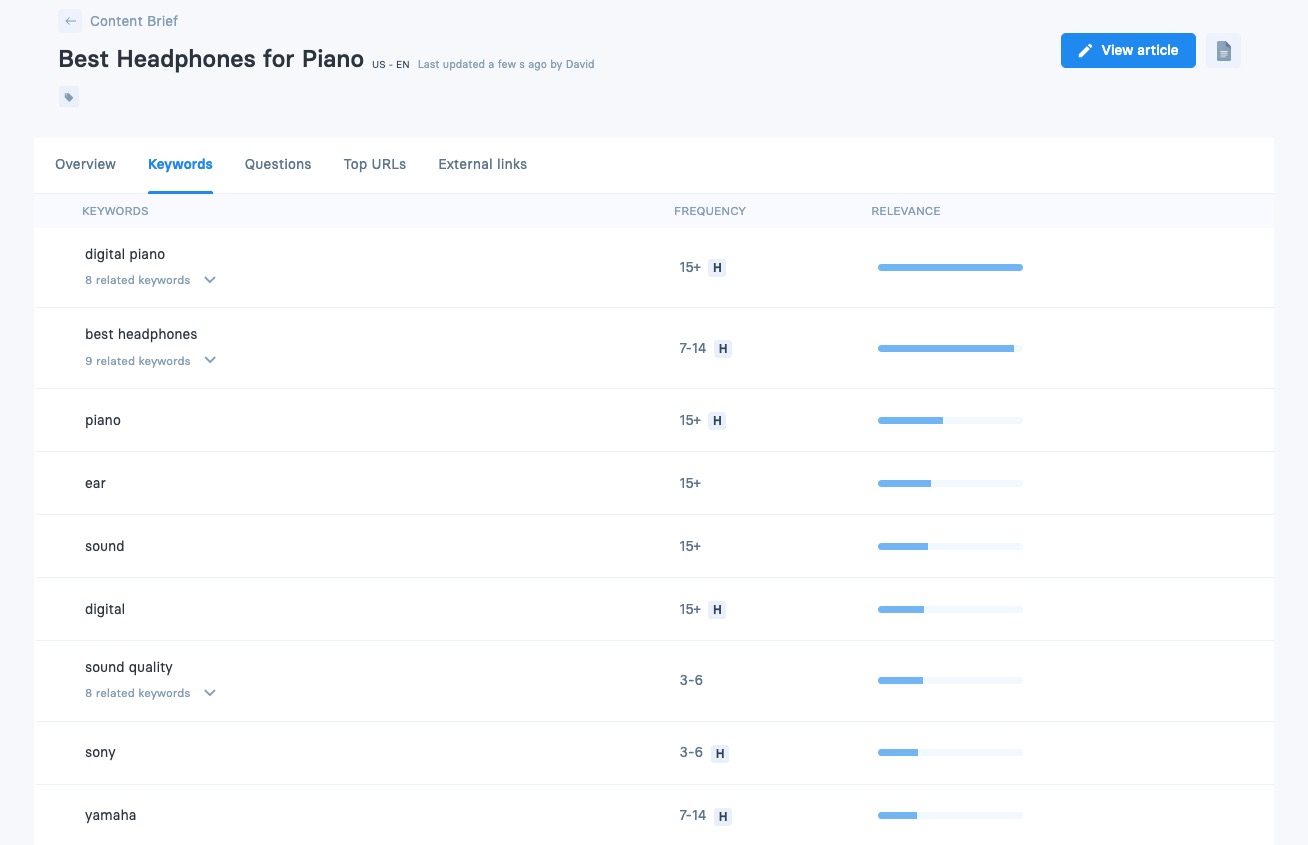 Content outline
Zenbrief makes it easy to build a content outline on any topic. You may define your own custom content outline and specify the hierarchy of the titles. The tool automatically extracts your competition outline, which can be helpful to see how a topic has been covered. From there you can add section titles to your own content outline.

If you need more inspiration, you may also check the most popular questions people asked on Google. Zenbrief extracts them from the
People Also Ask box
.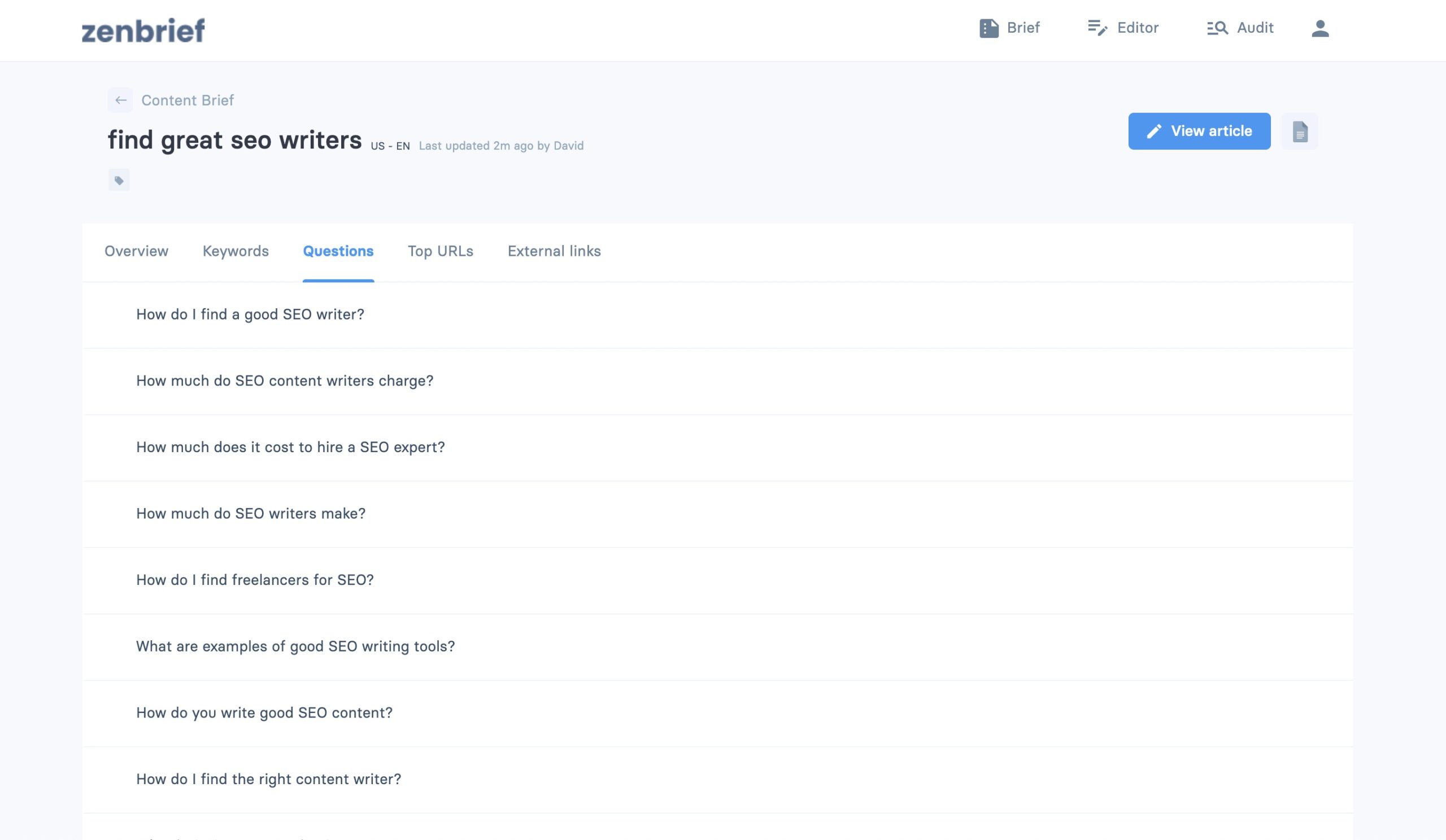 Competitive analysis
Zenbrief can analyze up to 50 competitors on Google for a given topic. For each of them, it extracts the content outline and calculates the word count, a content quality score, and a readability score. If you see that most of your competition published very lengthy content on a given topic, you probably have to cover the topic in-depth to land on the first of Google.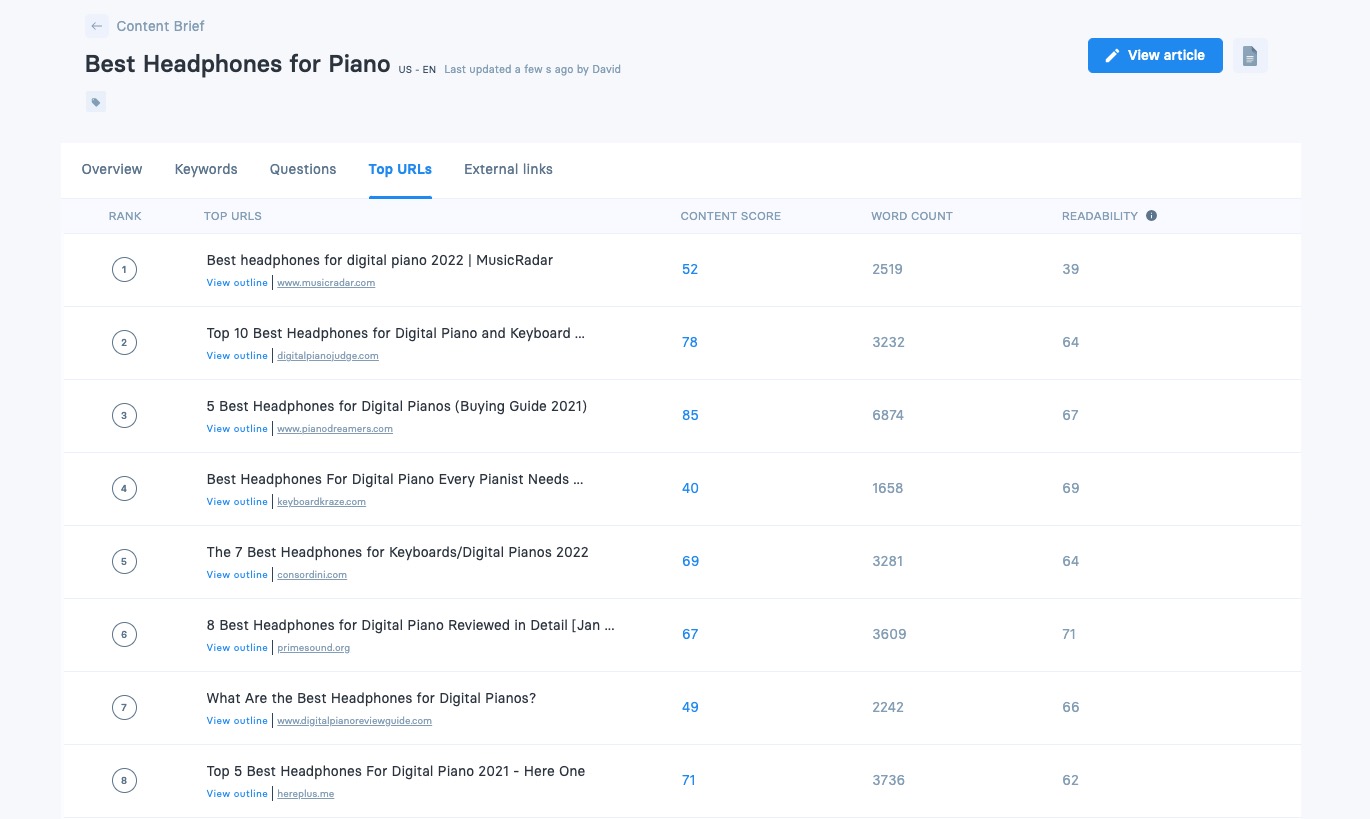 Sources and linking opportunities
External links used by your competition are automatically retrieved by Zenbrief. You can see which URLs are being used, and how frequently they appear on competitors' sites. This can greatly facilitate the research work that your writers will face when covering a topic.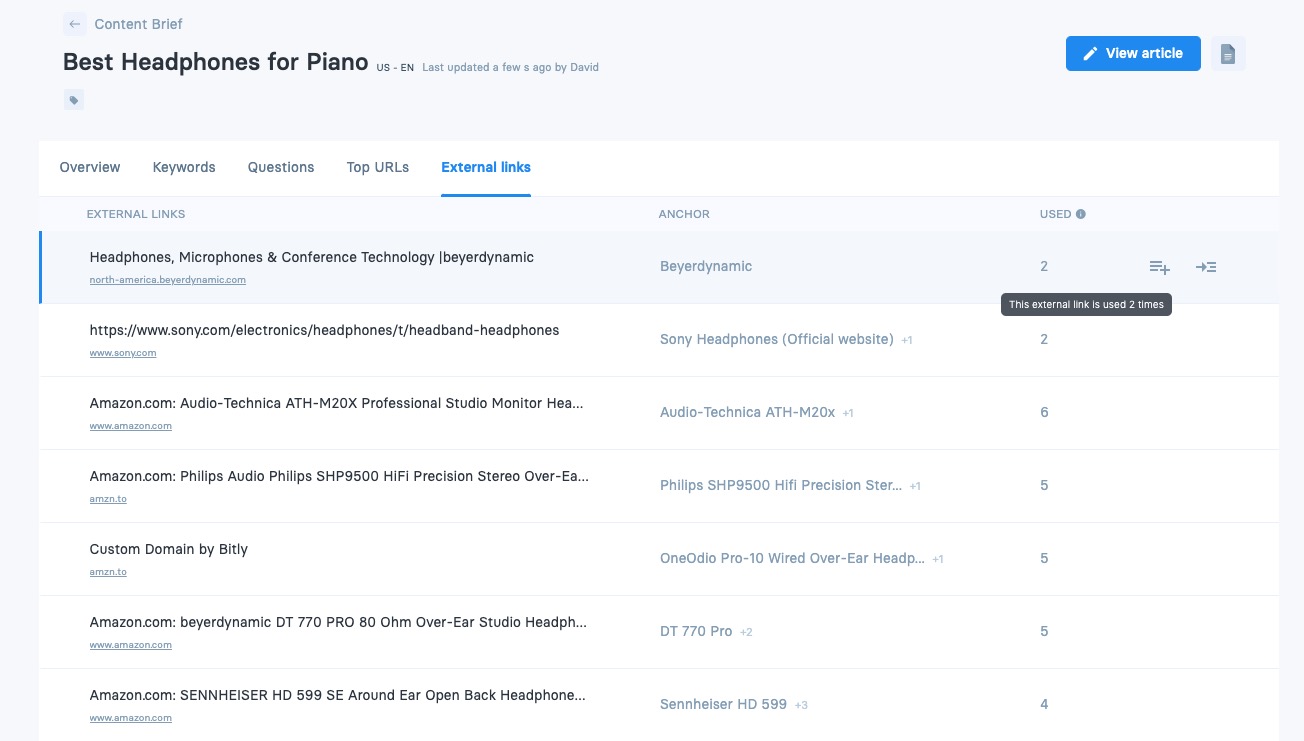 A smart editor for easy SEO grading
The smart SEO editor grades your content for SEO as you type. It calculates a word count and a content score and compares them to your competition. This makes it easy for anyone without any advanced knowledge in SEO to build content that ranks.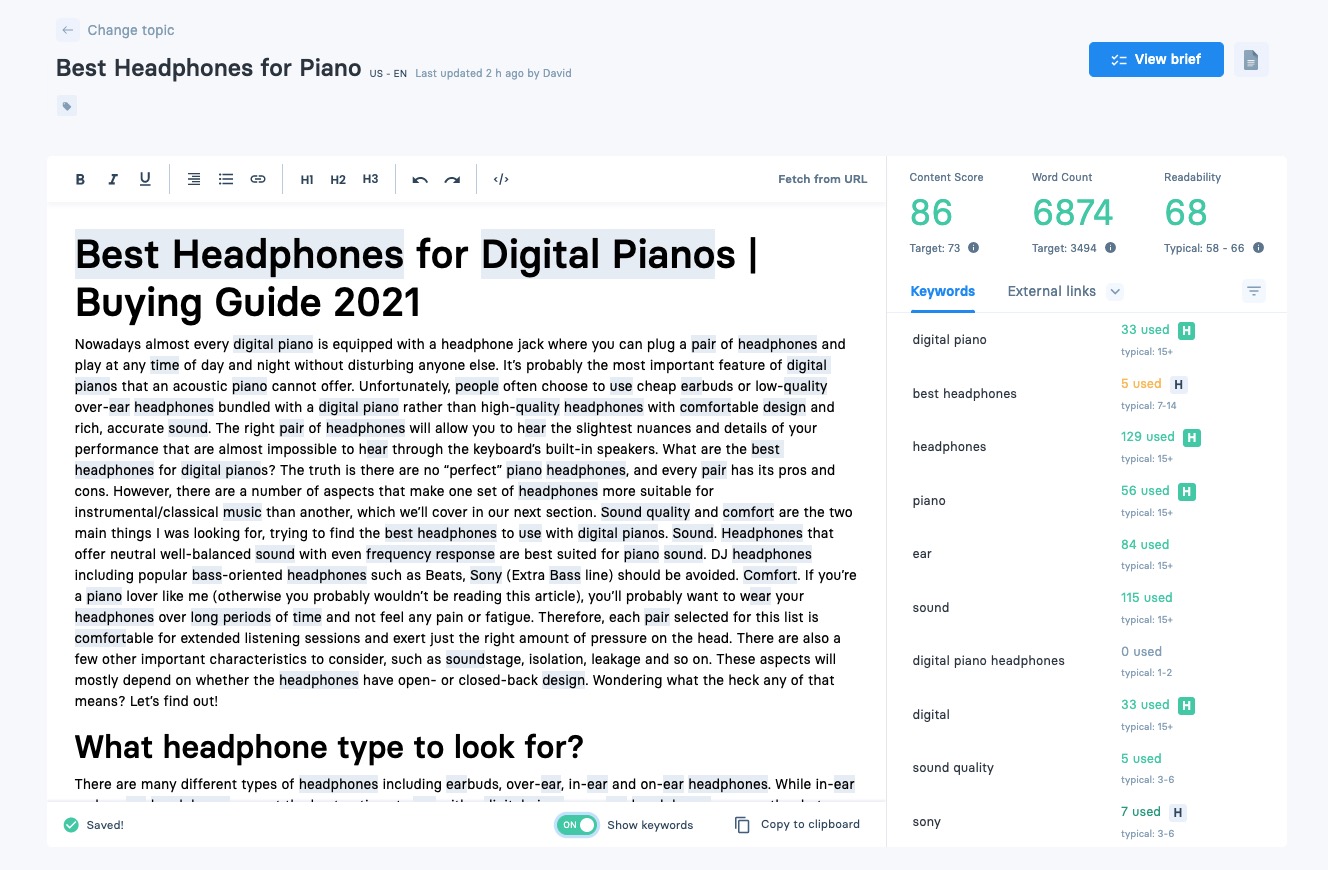 Find more information on how you can grow your traffic with
Zenbrief here.
Was this helpful?
Let us know if you liked the post. That's the only way we can improve.