Approaching content creation without a content strategy is like rolling a heavy stone up a hill with the intention of getting it over the top. But every time you get to the top, the stone slips out of your hands and rolls down the hill. You're stuck in a loop of endless frustrations and useless efforts like the Greek god Sisyphus.
It's far more useful and beneficial to start with a strategy than merely winging it —which may work for a creative blog where spontaneity is spice. But even then, having a general plan about the direction of the blog is far more advantageous.
So, today we're taking an in-depth examination into what a content strategy is, why you need one, and how to create one.
Let's get started.
What Is A Content Strategy?
The term content strategy is two terms bundled into one. It may be helpful to examine each term individually:
Content: It's the material, substance, or information contained in written works, audio files, images, or videos. Content may be text, audio, or visual. It can inform, entertain, educate, persuade, convert, or teach.
Strategy: A strategy is a plan of action designed to spearhead the attainment of a long-term goal or aim.
Boiling it all down, a content strategy is the plan of action the company wants to take and tactics it wants to use to create content that achieves set goals. It includes the planning, creation, review,  governance, and publishing of the content.
When you're creating a content  strategy, you should essentially answer several questions:
What is the purpose of creating this content?
How will the content help in the attainment of business goals?
Who is our target audience?
How will the end-user react after consuming the content?
When will we publish the content?
Who will create the content?
What types of content will we create?
Who is in charge of reviewing, approving, or updating the content?
How will the content be promoted?
Where are we going?
Which tactics will we use to get there?
Your content briefs should definitely be consistent with your content strategy.
Why Is A Content Strategy Important?
Creating a content strategy is important for many reasons:
Setting goals: The strategy allows you to stay organized and focused on efforts that lead to the achievement of key business goals;
Establishing clear timelines: One part of creating a content strategy is to schedule new content in an editorial calendar.
Promoting accountability: You can assign clear roles and responsibilities, for instance, who approves the content or updates it.
Ensuring consistency: Coming up with a style guide as part of the content strategy process promotes consistency in the tone of voice and messaging.
Identifying new opportunities: Conducting an internal and external audit during the strategizing process can help identify content gaps that you can fill with new and valuable content.
Promoting better budget spend: Teams know what they should work on, which timeframes are involved, and key tasks and responsibilities for each team member.
Encouraging the creation of quality content: By setting clear goals,  governance rules, and principles for content creation, businesses can come up with better content.
Helpings to measure content effectiveness: A comprehensive strategy should have rules and systems in place for measuring content effectiveness to ensure that your team is learning from its successes and failures.
Tracking competitor efforts: By conducting a content audit,  you keep sight of efforts from competitors to determine how you can improve and create better content.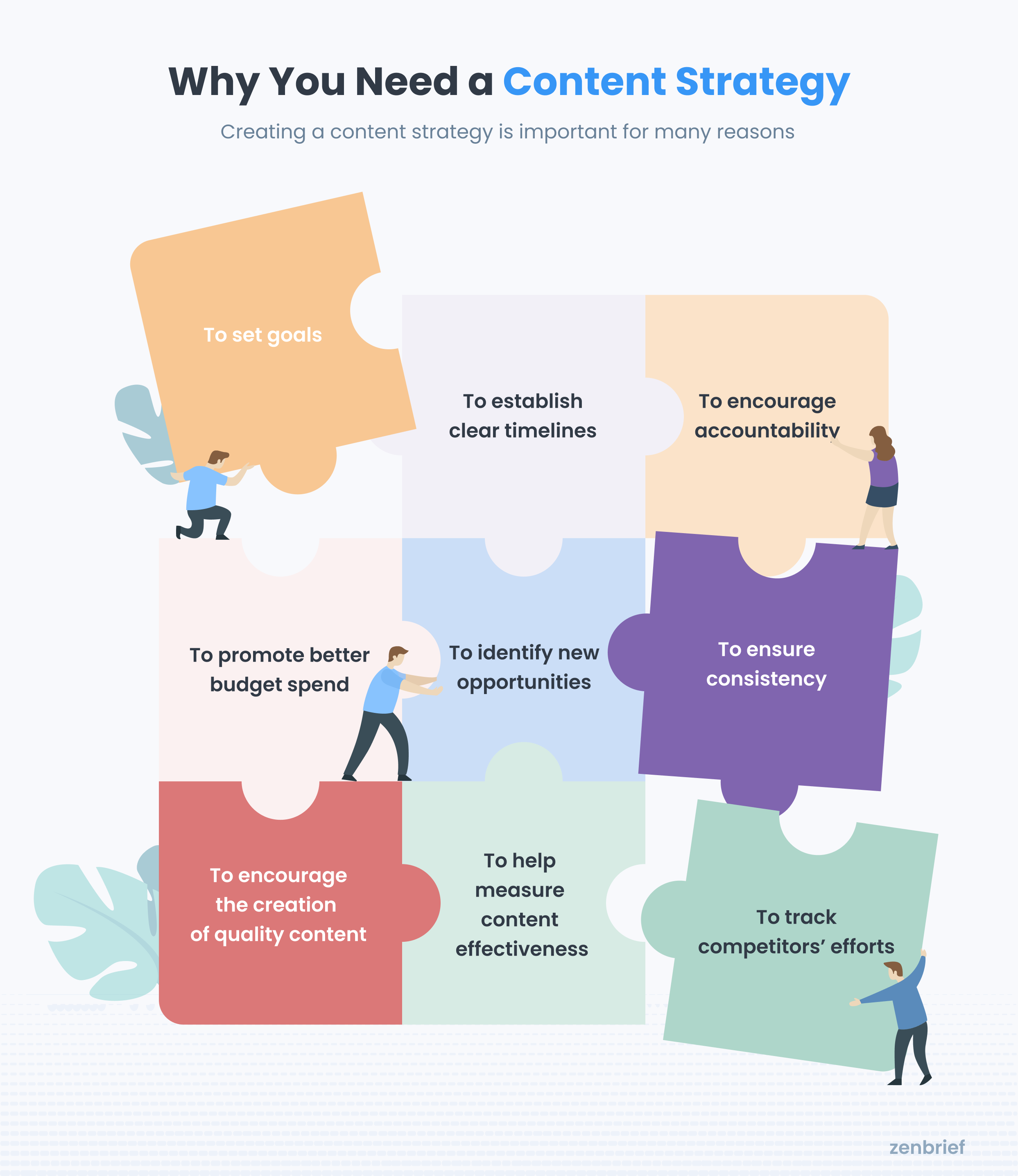 How to Create A Content Strategy?
Content marketing without a plan is a sure way to fail. When you're not seeing any impact from your marketing efforts, you're more likely to quit and stop allocating resources towards the creation of content.
Now, once you create a content strategy, you will need to continuously utilize it to create new content. It needs to be reviewed and updated as per changing business goals.
We are looking at 9 steps that will allow you to come up with a well-developed strategy and content plan. You'll learn more about creating content to target different customer lifecycle stages.
Step 1: Understanding your core objectives & KPIs
Setting clear objectives keeps you focused on the end goal and helps you sustain the momentum of creating new content. You need to set both user-centric and business goals. Before content generates new subscriptions or purchases, it must educate, inform, and solve the prospect's problems. Next, you can focus on core objectives such as:
Growing your company's emails subscribers list;
Earning more backlinks to build domain authority;
Increasing the number of qualified prospects;
Growing a steady social media following;
Increasing website traffic organically;
Reducing the cost-per-acquisition;
Establishing topical authority in the niche;
Increasing brand awareness;
Goal setting should be a collaborative effort and follow the SMART goal-setting methodology: Specific, Measurable, Achievable, Realistic, and Timely.
It's important to measure your progress towards the attainment of your content marketing goals. Keeping track of the following key performance indicators (KPIs) can help track progress:
Unique page visits
Time spent on page
Pages per session
Scroll depth
Downloads
Number of backlinks
Social shares
Comments and interactions for each post
Number of leads per post
Growth of followers or subscribers
Influencer mentions
Growth of top-ranking keywords;
Revenue and transactions
Goal completion
With so much to keep track of,  it's important to use the right tools. Google Analytics is a must-have integration. It tells you who is visiting your website and what actions they are taking. You should also use the Google Search Console to keep track of ranking keywords.
Consider using heatmaps to visualize the behavior of users on your website pages. You can discover that not many people scroll down the page. Likely issues may revolve around bland intros, long page titles, lack of visual appeal, etc.
Step 2: Defining the target audience and creating customer personas
Here's a quick exercise for you:
The following table lists some business types. Can you quickly think about who the ideal target audience is for their content and messaging?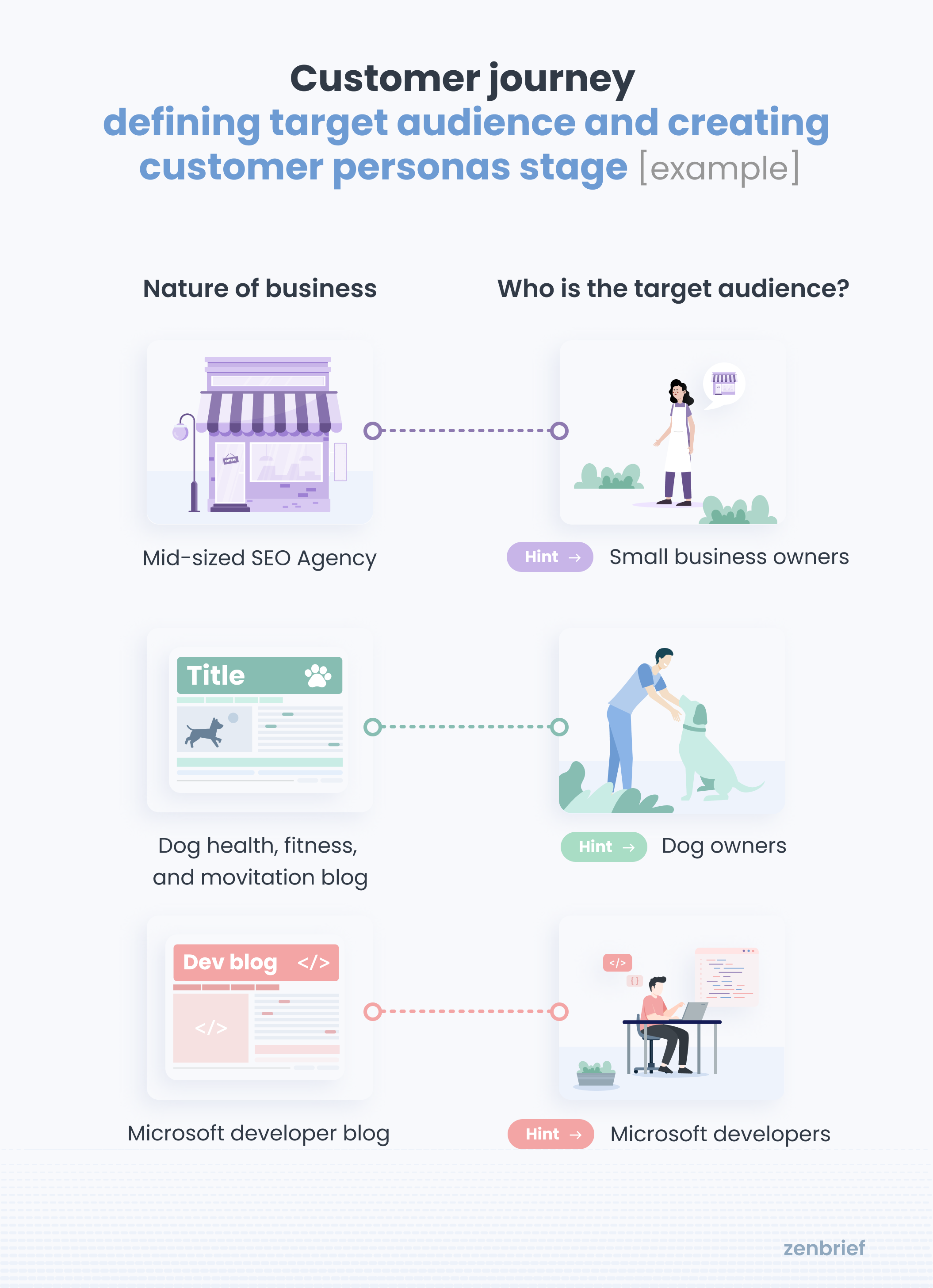 Your content marketing strategy should always answer the question of:
Who are we communicating with?
Who are we helping with our content?
Who buys from us?
Answering this question is not enough. You need to have an ideal representation of the target audience,  and creating a buyer persona can help.
Think of the buyer persona as that one person you will really love to have as your main customer. You can go ahead and build up a fictional profile with names, addresses, occupations, interests, professional goals, pain points,  challenges, etc.
For a fun tool you can use to build the buyer persona, check out the HubSpot Persona Builder: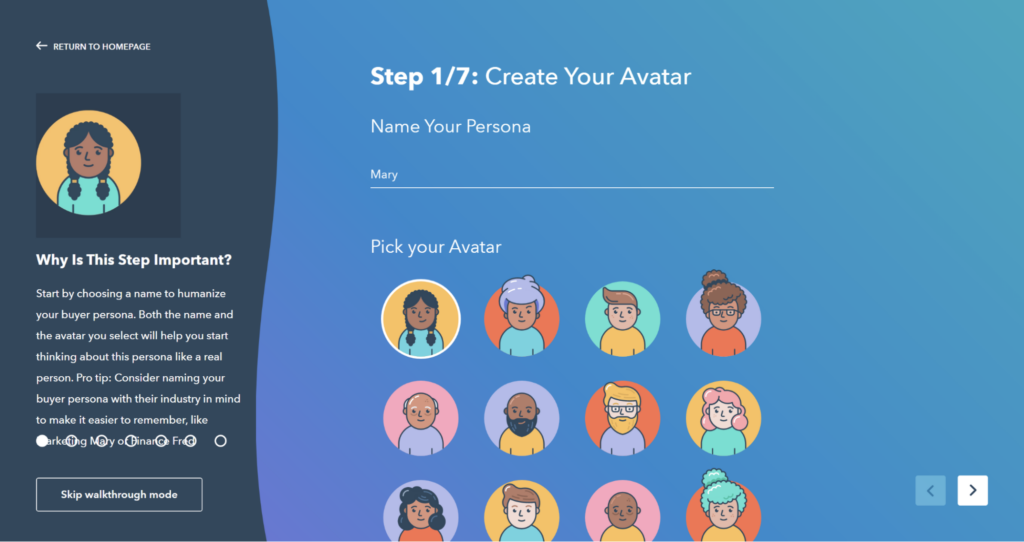 Brainstorming about possible buyer persona traits is not enough. Consider group research using questionnaires to gather vital details about your core target demographic.
This exercise will not be futile and will enable you to create better content briefs for your writers.
Recognizing your target audience can have a positive impact on your content marketing KPIs, as NetProspex discovered when they modeled buyer personas to create personalized experiences for visitors. They attained a 900% fold increase in visit duration and a 171% increase in marketing-generated revenue.
Step 3: Define the customer journey
The biggest mistake many businesses make with their content strategy is failing to define the buyer's journey and failing to create content for each key life cycle stage.
Now, let's look at a hypothetical scenario to illustrate how to create content targetting key lifecycle stages:
"Assume that you are running a dog grooming business. You need to create a digital content strategy that targets all key stages."
Stage 1: Awareness
What's happening: The prospect experiences the symptoms of a problem or realizes the potential of an opportunity.
How to respond: Create content that aids the prospect in understanding the problem more closely. Provide hints about possible solutions.
For instance, you may cover potential problems dog owners face to generate content ideas:
Awareness stage content example: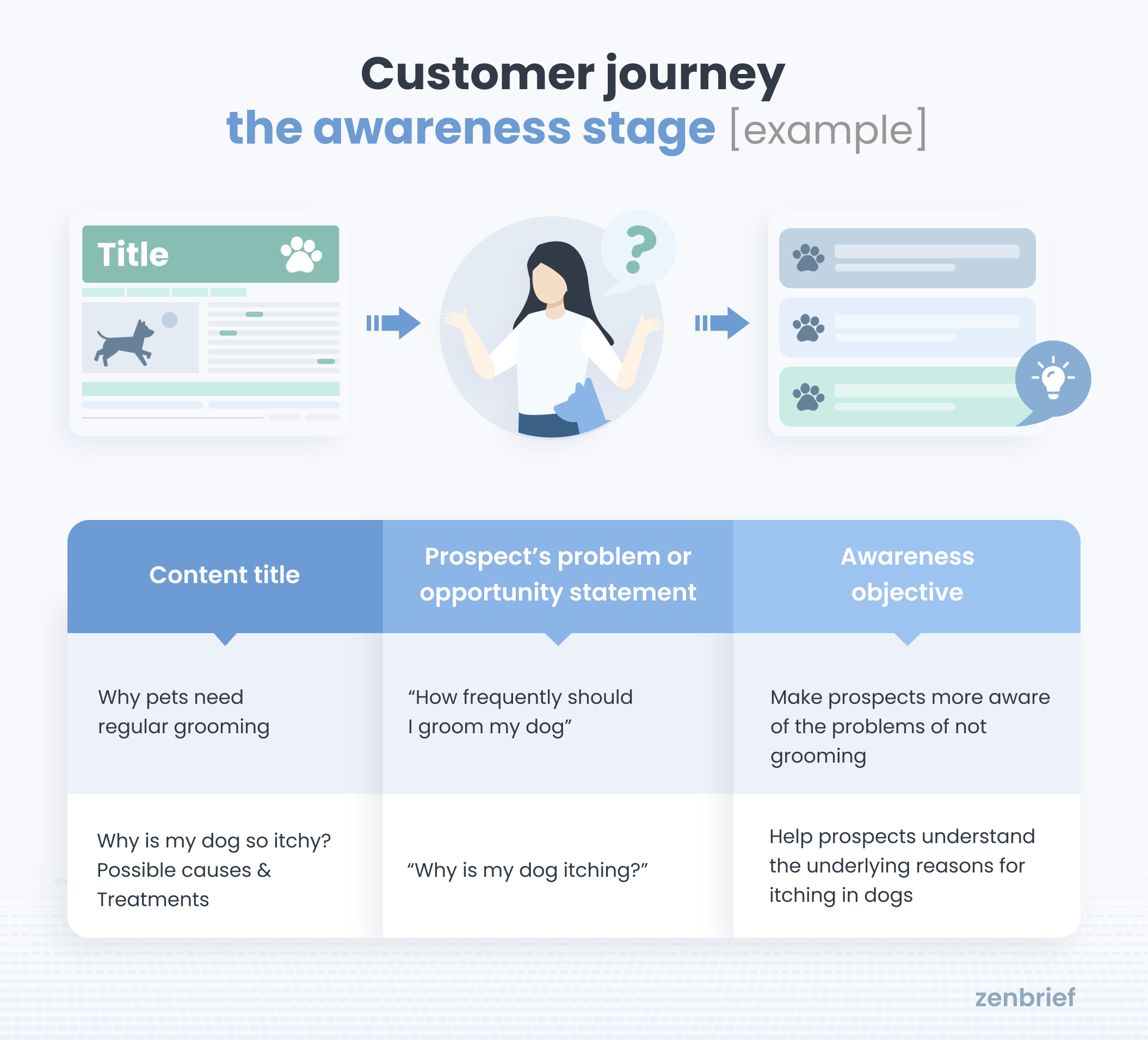 Stage 2: Consideration & Interest
What's happening: Prospects at this stage already recognize their problem and are actively looking for solutions.
How to respond: Plan to create content that offers solutions to various problems. Most importantly, show how your business can help and include clear CTAs.
If we apply this advice, we may come up with the following ideas: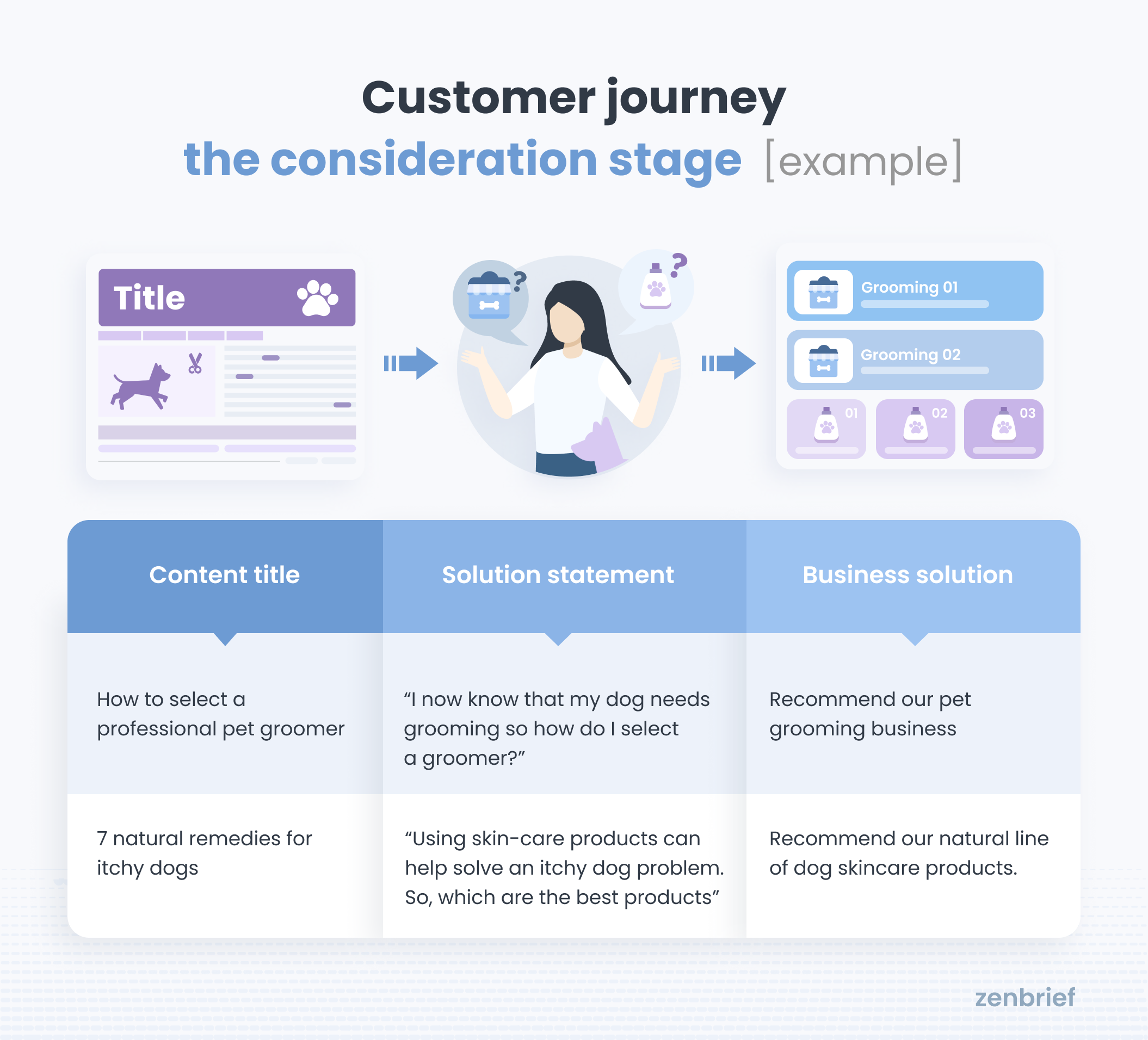 Stage 3: Decision
What's happening: At this stage, the prospects are already well aware of the solution they will use to address their problems. They may only need to research about available vendors,  or how much it will cost.
How to respond: You can create content that helps clients arrive at the final decision.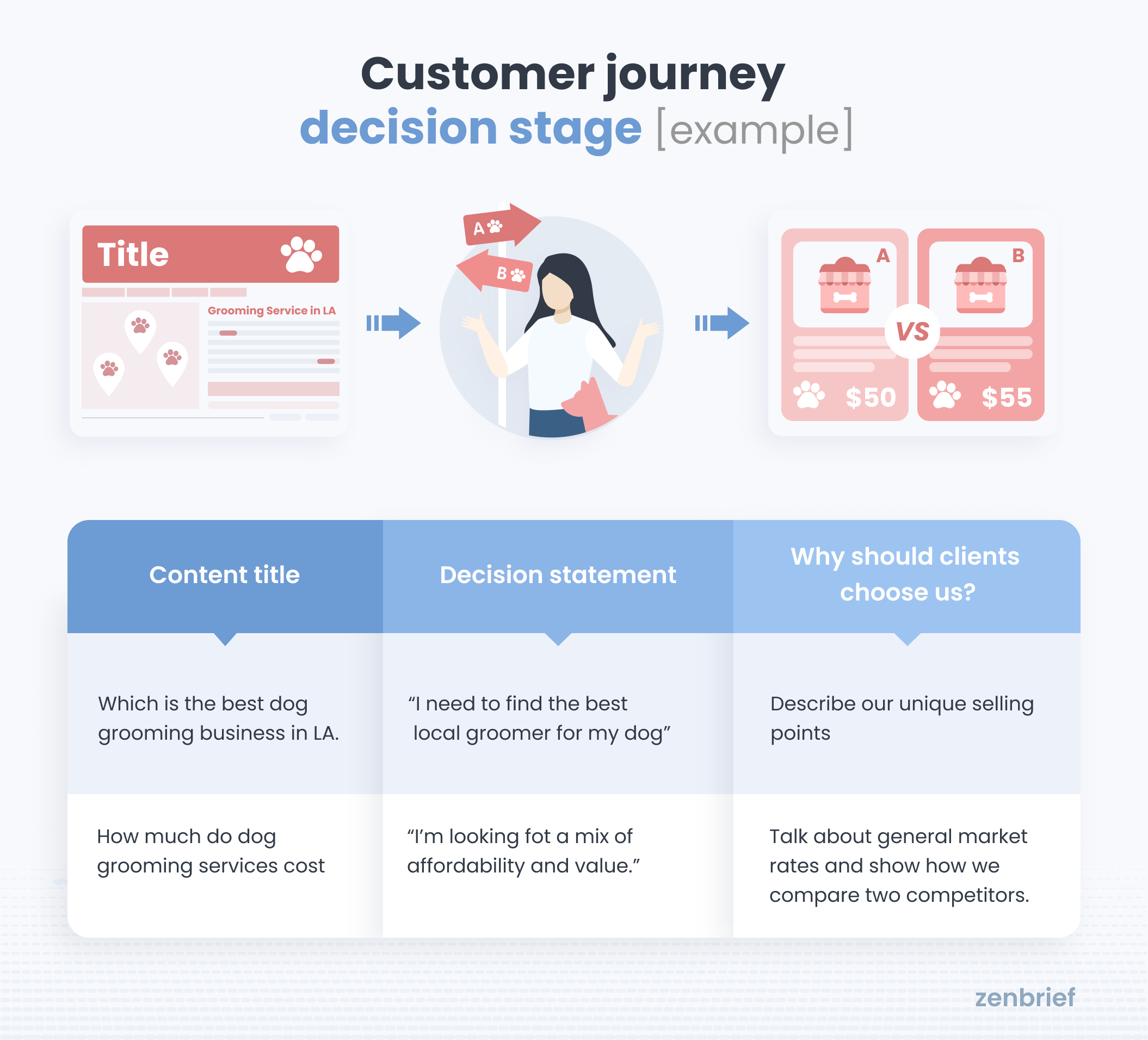 By focusing on creating content to facilitate the customer lifecycle,  you can drive real business value and see the results of your content marketing efforts.
Step 4: Conduct internal & competitor content audits
Conducting a content audit can help identify which content you need to create, update, refresh, or remove in your internal pages, including blog posts and landing pages. Even if you only publish evergreen blog posts, content freshness matters. You may also want to check keywords your website ranks for, to uncover ways to make your content more relevant to your audience.
Taking stock of content published by competitors can help in recognizing new areas to cover. You should assess the impact of the content by checking the traffic of the pages, through tools such as Ahrefs Site Explorer.
For a systematic approach to conducting competitor content audit, consider these steps:
List your top five main competitors;
Take an inventory of all competing content;
Categorize the content based on customer lifecycle stages and topics;
Gauge the impact of each content piece by taking a look at the traffic, ranking keywords, and ranking position;
Determine the content quality and length;
Check for the number of interactions and feedback.
Step 5: Selecting content formats
Your priority should be on choosing the most engaging content formats to drive the highest ROI from your content marketing strategy. It may also mean deciding between long-form and short-form content. While many businesses will solely think of blog posts, other content types may be more suitable. Here are the content formats you may consider:
Blog posts
Video
Infographics
Case studies
Original research
Ebooks
White papers
Quizzes and polls
Podcasts
Checklists
Webinars
You should always determine the most appropriate way to present your information. And there's a simple trick you can use to figure out the best format for your information.
Go to Google.com
Type in your search phrase
Check for the format of the featured snippet if there's one
Scroll down the page and check ranking articles. Are they how-to articles, tutorials, explainers, etc?
For instance, if you want to teach your prospects how to style their hair, it may be helpful to consider packaging the information into a video.
Step 6: Come up with a content style guide
Creating a content style guide should be part of your content marketing strategy. Its importance cannot be overstated that because the content style guide defines:
Writing goals and principles (Being clear, concise, specific, etc);
Editorial standards;
Brand voice and tone;
How to write various types of content;
Accuracy requirements;
How to structure the content for the web;
Word choice.
It may be helpful to take a look at various style guides, and here are some great examples:
Many marketers spend considerable time creating the content style guide, only to stop using it a couple of months later. Change the tide, and stick to the brand style for consistency and professionalism.
Step 7: Create an editorial calendar and define the workflow
The editorial calendar allows you to visually represent your upcoming content creation tasks.
Many marketers tend to use spreadsheets, with columns such as the published date, due date, content topic, content requirements, keywords, target personas, and questions to answer. In addition to spreadsheets, you can also use dedicated editorial calendar apps such as Loomly, or project management tools with kanban boards.
As you create the editorial calendar, you must organize your workflows to promote efficiency. Identify and arrange all the tasks that must be formed in sequential order beginning with the ideation, briefing, outlining, keyword research, writing, review, and publishing.
The editorial calendar should also show what's in progress and record the last update date. It needs to set clear rules for who does what and at which stage. If several people are working on the same content, it's important to enforce strict version control.
If you're having a tough time coming up with an editorial calendar, it can be helpful to take a look at some editorial calendar examples.
Step 8: Assign roles and set clear rules for content governance
You'll have to define and assign various roles for an effective content strategy. The roles involved in content production include:
Content strategist
SEO lead
Content manager
Content writer
Content designer
Editor
Promoter
You will find that someone is performing multiple roles. However, if you're writing the content, researching keywords, and managing the content calendar, it's always important to delegate the editing work.
Your strategy also needs to lay ground rules for content governance. The governance plan describes the procedures for the planning, creation, distribution, and maintenance of content, along with who takes ownership of key processes. Here are additional resources on content governance:
Step 9: Figure out content distribution & promotion
The final step in our content strategy creation guide is to figure out how to distribute your content and promote it. You will likely publish your blog posts on your blog pages. If you're creating video content, you may upload your video on YouTube. There are many other ways to distribute and promote your content including:
Promoting new content to your email subscribers list;
Creating a social media campaign with scheduled posts;
Running paid advertisement campaigns and sponsored posts;'
Sharing content on niche groups on Facebook;
Internal linking to and from existing content;
Guest posting;
Content repurposing,  for instance from blog posts to podcasts;
Enabling social sharing;
Enabling embedding for digital media assets such as infographics or images.
What Are Content Strategy Templates & Examples?
We have rounded up some of the best content strategy templates and examples you can reference as you create your own unique marketing strategy:
1. Xtensio – Travelr Content Strategy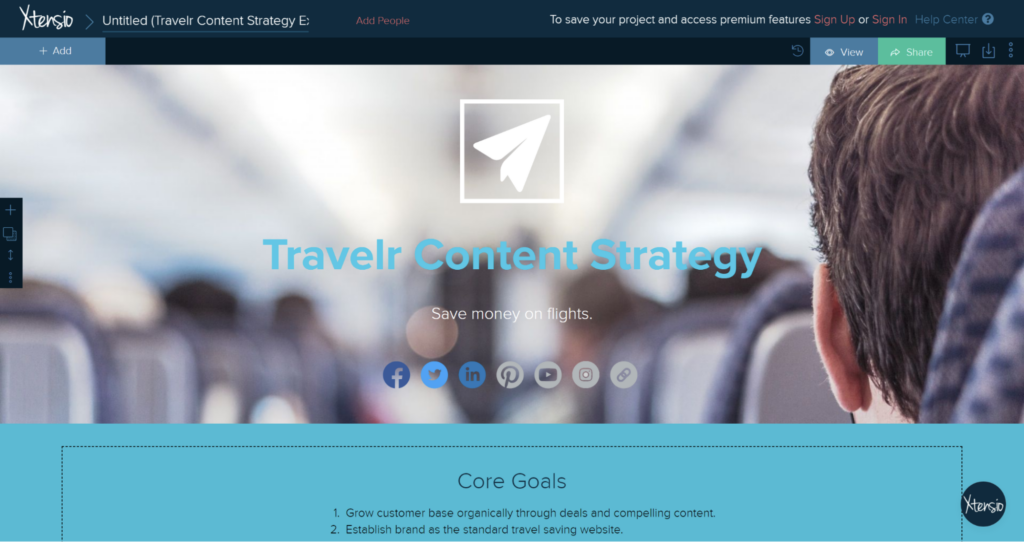 2. The Content Strategist – Content strategy and calendar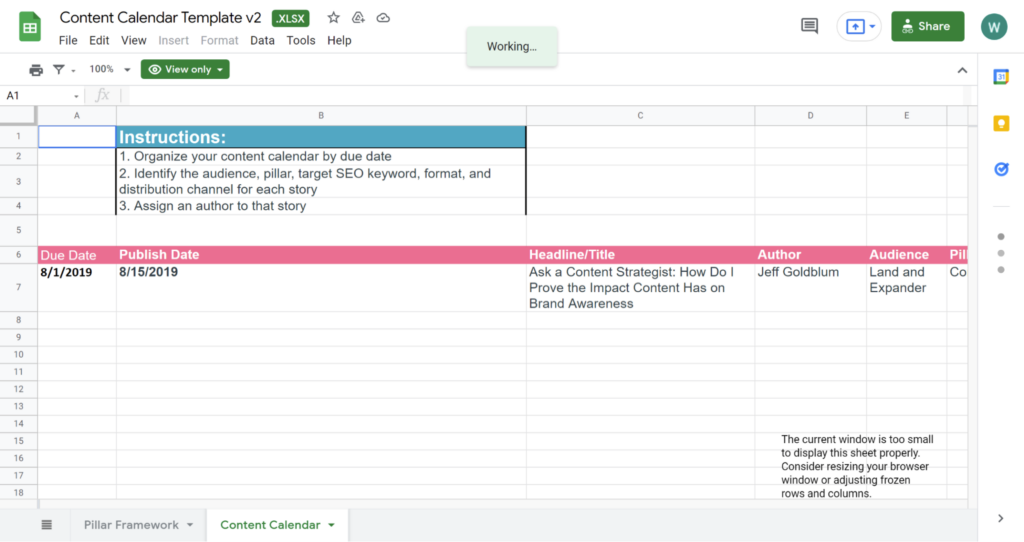 Get it here (Google Docs Document)
3.  Social Media Strategy Template – Hootsuite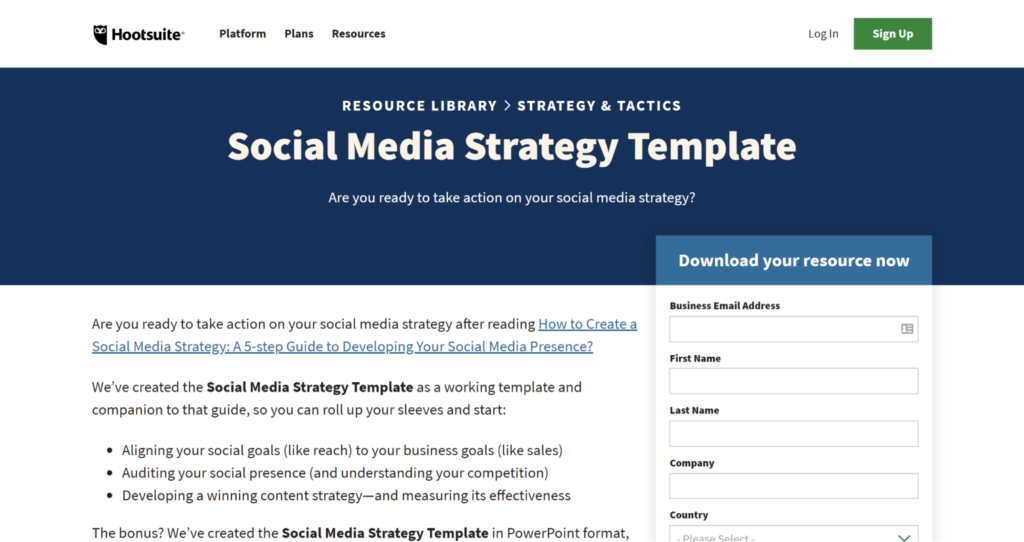 4. Backlinko content marketing strategy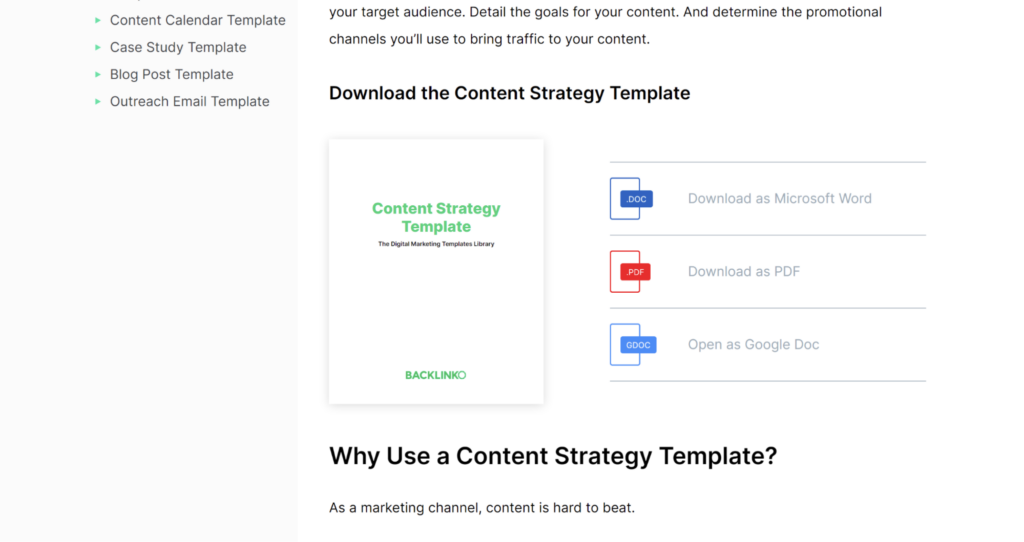 To Summarize
You now know the steps to take in order to create an effective content marketing strategy. A clear strategy will guide your efforts and help you achieve your goals. You will still need to put emphasis on producing the best content. Articles will need to be well-researched, present new ideas, and be well-optimized. Using a content optimization tool like our very own ZenBrief can help with the preparation of SEO-friendly content briefs, competitive analysis, keyword identification, and content optimization. Try it out today.
Was this helpful?
Let us know if you liked the post. That's the only way we can improve.