Introduction
Things have progressed somewhat since Bill Gates told us that 'Content is King' in his 1996 essay by the same title.  In his article published on the Microsoft site, he explored his vision for the internet and how he predicted websites would develop and use the new channel. He placed emphasis on the need for quality content or information.
'If people are to be expected to put up with turning on a computer to read a screen, they must be rewarded with deep and extremely up-to-date information that they can explore at will.' (Content is King, Bill Gates 1996)
When he made his predictions, the internet was by today's standards in its absolute infancy.  In 1996 there were 257,601 websites, compared to 6 billion today . In 1996, just 20 million people accessed the internet, compared to 4.66 billion at the end of 2020. Gates' statement has been taken as a gospel for over 20 years and banded about as the ultimate fluffy online marketing mantra. However, the one consistency with the internet is its constant unremitting ability to change, and subsequently the world of content marketing has moved on perhaps even surpassing Gate's initial vision.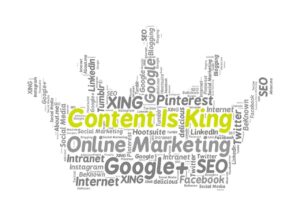 This article looks at the progression of search engine optimization (SEO) and how this has affected content development over the years.  It examines whether the content King (or Queen) has been deposed, or if he ever actually ruled at all.
A Brief History of Search Engine Optimization
To understand the job of content marketing in the online world, it needs to be placed in context with SEO and how the evolution of Google algorithms has impacted good and bad content. In the late 90's, the online world of search was fairly simple, one of the key techniques to increasing the ranking of websites was basically focused on the number of keywords it had. Fundamentally the more of those specific keywords were on the website the better it ranked. This led to word stuffing, which is basically repeating the words multiple times so that companies could achieve the desired high-ranking position online. Back in the day, the copy content was literally written around the keywords with sometimes very little regard for readability or the eloquence of the language. Websites and blog posts with beautifully crafted prose; therefore, quality content could actually be penalized by achieving low-ranking positions in searches. Brands had to choose whether to compromise on the quality of the prose and maximize organic SEO, or try and maintain their tone of voice. At this point, you could argue that content certainly wasn't King and effective content marketing was dominated by clunky and unsophisticated practices. Google joined Yahoo in 2000, but there wasn't a noteworthy adjustment for SEO practices until the early 2010's. However, in the last 10 years, a succession of dramatic changes has now allowed websites to be developed with more relevant content. The first significant change was the release of Google's Panda update in 2011, which really shook up the SEO community when up to 12% of sites were impacted. Panda basically obliterated the content farm or click bait models which were active at that time. From this point the changes accelerated and the next major update for content marketing was Penguin in 2013. This update was responsible for finally down ranking the aggressively optimized websites which ignored Google's guidelines, word stuffed and included unnatural links. Penguin rewarded the high-quality websites which were embracing the rules. With the subsequent launch of Hummingbird in 2013, there was now a better focus on natural language queries in response to the global increase in mobile phone website use and voice search. Hummingbird had a much higher emphasis on 'human' led search queries, conversation and meaning.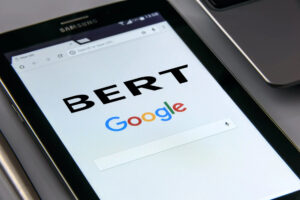 BERT (Bidirectional Encoder Representations from Transformers) was launched in 2019 which Google proclaimed to be the most important change in their algorithm for five years. It meant that Google search was now able to understand natural language better within searches. The subtle nuances in the meaning of words could be identified for the first time, therefore providing better matches for users' queries. BERT relies on machine learning, so will continue to improve the quality of search over time. This means that well written natural language has more value to search engines results and content marketing teams can seriously up their level of sophistication.
What Is the Impact of the Latest Developments in SEO on Content?
So, essentially the developments in SEO should perfectly support great content as finally quality content is King, right?  Well yes and no. The evolution in SEO gives brands the opportunity to showcase well written content without having to compromise, and removes the need to awkwardly add keywords to prose as it did a decade ago. This is critical to content marketing, as well researched, original blog articles or engaging and relevant content on website pages, will allow audiences to connect with brands. The content will ideally support the sales funnel by encouraging more interest in a products or services. However, regardless of how well written this content is, it will not necessarily have visitors flocking to the brand's website or provide an organic first position on a range of search engine results pages (SERPs).  It is just one very important part of the marketing mix, but it's not enough.  To make the content work for SEO and to drive awareness, websites need a level of richness within copy or 'content depth'.
What Is Content Depth?
As Google leaves the massive emphasis on keywords behind and has started looking at websites more holistically, content needs to become richer and more relevant. This does not just impact on copy length which now needs to be relative to the subject matter; it influences the popularity of the topics on sites, the actual flow of information and semantics – all of which have taken on growing importance. Google is rewarding the content providers that give their audiences something that they actually want to read; content that is in depth or broad enough to keep them interested and stops them from bouncing out of the site.  Google wants and is encouraging thought leaders online, which is why blog posts continue to be so helpful for SEO. They are punishing sites with 'thin' content which just uses a few keywords repeatedly to draw people into short and irrelevant copy. They are being pushed right down the rankings. When there is depth to the content and it is supported by a range of media including imagery, film, infographics, infomercials and external and internal links, websites have the ingredients for SEO success.
How Is Content Depth Created?
Content creators must make a more studied approach to copy development whilst at the same time ensuring it remains engaging. Luckily, there is now no need to spend hours slaving over Google Analytics and keyword planner tools to manually research how to enrich content and make it pertinent to search engines. You can now leverage
AI content optimization
, and in particular the progress made in Natural Language Processing (NLP), to speed things up.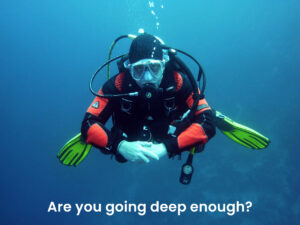 To create excellent content, brands can use AI
content optimization software
like Zenbrief to identify the semantically related words that are needed to achieve great content depth. Historically, SEO writers and editors used to focus on a few select keywords within blog posts and websites. Times have changed. Google is now looking for a broader range of related keywords which all work together. With this tool, digital marketing teams or content publishers can ascertain the frequency that is needed for the different keywords and whether they are important enough to be included in heading titles (h1, h2 or h3 titles) or only within the body of the text. In addition, Zenbrief provides recommendations for external links, which is key for adding credibility, and internal links for building authority on a topic.  It has the ability to recommend the target length of the content to cover the subject matter in depth. Once the copy is completed the tool assesses the text and gives it a content quality score, as well as a readability score. Using these scores brands can upgrade their content and in line with a properly put together website, with a fast-loading speed, well executed metadata and backlinks this can mean the desired high position SERPs.
Conclusion
Great content is perhaps more important in marketing than ever before, it can now do its job and engage audiences. But the content King cannot rule effectively alone. Content depth and with the required breadth of semantic topics relating to it, keyword frequency and links to name but a few, work together to create quality SEO friendly information which is now imperative to the successful online presence. Without this, even the very best content can be invisible to search engines.  Content depth is central to the success of a sales funnel, helping draw organic traffic to sites and build awareness. In short, to refer back to the original metaphor – 'content IS King', but he is a figure head only and needs a democracy to be effective.
Was this helpful?
Let us know if you liked the post. That's the only way we can improve.