So, you'd think that no one has the time to read a 2,000-word blog post or a 5,000 how-to piece.
Yeah, think again.
While we're living in an age where Goldfish have longer attention spans than humans, 9 seconds vs 8 seconds —long-form content still has its place in the SEO world!
Think of its advantages. It's more detailed, giving readers all the info they need. Search engines "seem" to like it and prefer it over short-form content (more on this later). A longer article has a shot of ranking for multiple keywords.
Even YouTube's algorithm favors longer videos as they increase the time people spend on the site, meaning a chance to interact with more ads.
Okay, that's a bit scandalous and raises a few red flags —big tech is evil — but longer vids offer more knowledge, entertainment, and engagement.
While we're painting a rosy picture of long-form content, it's not automatic that it will give you more visitors. Publishing a 3000-word article doesn't mean that it will rank on the first page.
Google doesn't use word count as a ranking factor, only that there is a correlation between better rankings and longer content.
That was important to understand and get out of the way. And this article will cover some questions surrounding longer content, including:
What is long-form content?
What is the ideal length of a long-form article?
What are some types of long-form content?
And more.
Let's get going:
What Is Long-form Content?
Content now comes in many formats. But for the sake of written text such as blog articles, long-form content is any copy that is over 1,000 words and maybe as long as 10,000 words.
In case you dabble into YouTube marketing, long-form videos have durations longer than 10 minutes.
But what if you want to repurpose your long-form articles into long-form videos? How long should the long-form content be?
The speaking time for a 1000-word article is about 6.67 minutes according to WordCounter.  Wiz Motions states that a 3-minute video needs a 450-word to 510-word script.
If you plan on repurposing blog posts, then a good amount of words to shoot for in order to keep all platforms happy is 1500+ words.
What Is Short-form Content?
Long-form content is an article that has over 1000 words while short-form content is under 1000 words. Most experts recommend a word count of not less than 300 words for SEO.
How to Make Long-form Content Useful?
While length matters, it's useless if the content is not up to scratch, meaning — unoriginal, non-helpful, and not useful.
How can you ensure that your content is useful, information-rich, clear, and accurate? Consider these handy tips:
Put readers first by addressing their pain points;
Think about words users may use to find the content;
Research deeply;
Say something new;
Don't write text walls; have short sections with many headings;
Add a Table of Contents;
Use explicit section headings to guide the reader through the article;
Bring in expert voices;
Add stats & studies;
Use pictures, graphs, and images;
Promise and deliver.
That's about it, and moving on:
What Are the Different Types of Long-form Content?
If you're thinking of publishing long-form content, you can experiment with many different types, giving your readers variation and catering to specific tastes. Think of it this way. A forest with a diversity of trees and foliage trumps a monodominant forest. So, let's consider the best long-form content types: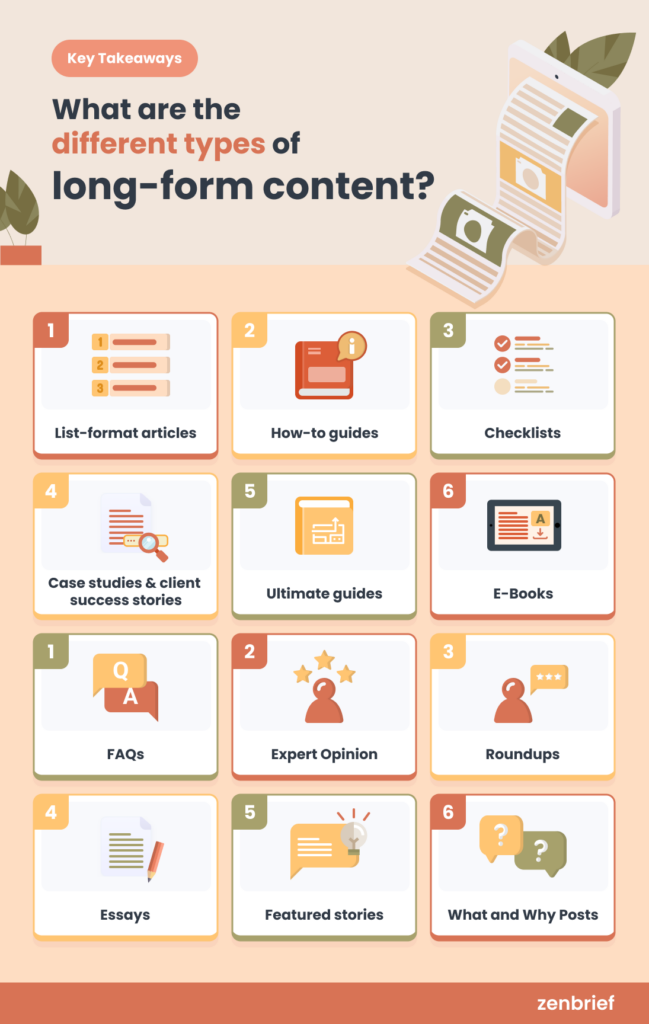 1. List-format articles
The simplest long-form content format you can follow is a list format article, also called a listicle. Think of blog pieces such as "Top 10 Restaurants in NY" or "5 Best Ways to Fix a Leaky Faucet."
2. How-to guides
These guides provide step-by-step instructions on ways to carry out certain tasks or activities, for instance, "How to Rear Fish in Your Backyard" or "How to Become More Confident in 10 Tips." How-tos follow a list and tip structure and usually contain illustrations and videos..
3. Checklists
It's an article styled as an action list with tasks or milestones people need to accomplish. Think of an article like "The Ultimate Pizza Making Checklist."
4. Case studies & client success stories
Writing a case study for projects or success stories ain't that complicated:
Provide some basic details about the client, "Tech startup XYZ."
Introduce their problem, "Looking for more social media followers."
Describe the solutions, "influencers, promos, shoutouts, etc."
Show what your solution or business achieved.
5. Ultimate guides
Give every bit of information a reader needs. These guides are usually very long as they tend to be exhaustive. They are the typical pillar pages used to build an SEO-friendly site architecture. Consider examples such as "The Ultimate Guide for Growing Potatoes."
6. E-Books
Websites use e-books as gated content. That means that readers may not access the content until they leave their email, effectively joining the mailing list. E-books may be many pages long, but some start out from 2000 words.
7. FAQs
While the FAQ is a page on a website with a list of commonly asked questions about the company's pages, an FAQ article similarly attempts to cover frequently asked questions about a topic. For instance, it may be styled as an ultimate guide, but the headings will be in question format.
8. Expert Opinion
The author —who is an expert in a particular field  — gives their account of the current affairs in the field of discussion. They may weigh on developing events or trends.
9. Roundups
Roundups are articles containing expert opinions on a subject.  But, you can write a roundup post curating a collection of articles on a given topic. For instance, "Catch Up on the Posts You Missed" or
"Should kids return to school? 20 medical experts weigh in."
10. Essays
You may have some experience with essays from school. Well, long-form articles that are structured as essays deal with a single subject and are short pieces of formal writing. The intent is to persuade the audience with facts and evidence. Essays have defined structures with the intro, body, and conclusion.
11. Featured stories
Featured articles are journalistic pieces that are longer than ordinary news stories. You'll typically find them on newspaper sites, but they may also be published on company blogs. They can touch on relevant issues, trending topics, personalities, entities, or share a story. You can use them to nurture leads, humanize brands, or give voice to unsung heroes.
But how do you write a featured story? According to BBC's guidelines, featured pieces have an anecdote intro rather than a summary. They may follow a non-linear structure with storytelling elements while a news story will follow the inverted pyramid. The piece can feature multiple angles and narratives.
12. What and Why Posts
People ask a lot of what and why questions. And with What and Why posts, you can offer information, arguments, or evidence for a given topic.
Answering questions people ask gives you a better shot at ranking on Google's People Also Ask (PAA) boxes. The PAA boxes generally rank as the second or third result and provide quick answers to FAQs.
Examples of What and Why posts can include "What to Post to Social Media?" or "Why do people want to post on social media?"
So, the format is pretty flexible.
What Are Examples of Long-form Content?
Many businesses use long-form content as part of their content strategy. And there are many examples of longer content to learn from. Let's have a look at some good articles across popular content categories:
1. How-to article example
Probably the best examples of How-To articles come from the website wikiHow. There are so many examples to choose from, including a repository of 90,000 academic researched articles and thousands of expert co-authored articles. It's now around Feb 14, hence our example: "15 Unique Ideas for a Romantic Date Night at Home."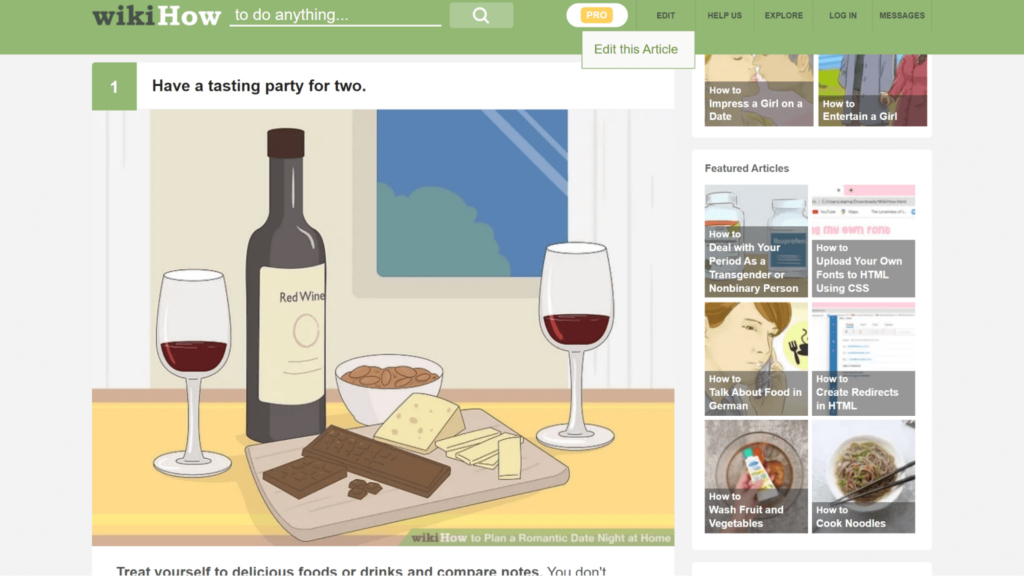 wikiHow articles follow some great how-to practices:
They have lots of graphics and illustrations
Paragraphs are often short with plenty of bullet points
2. List format article (Listicles) example 
Listicles are the easiest to write. You only have to list items with a bit of explanation. So, here is an example of a listicle from BetterHomes & Gardens: "20 French Country-Style Homes with European Elegance"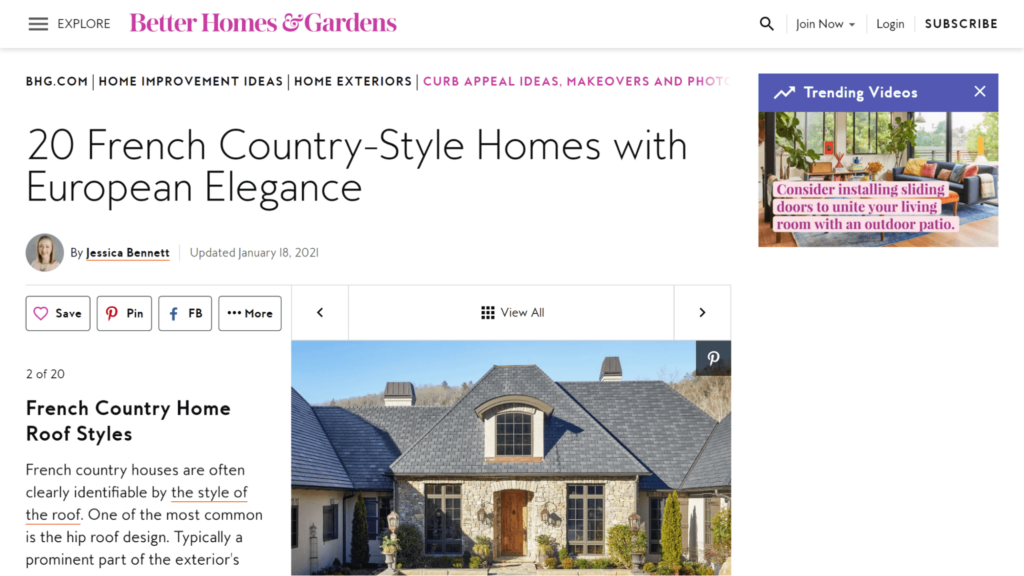 3. Ultimate guides example
Ultimate guides contain more tips and information than all other competing articles. "The Ultimate Guide to Creating a True Ultimate Guide" by Search Engine Journal is a great example of an ultimate guide. It clocks in at 2000+ words.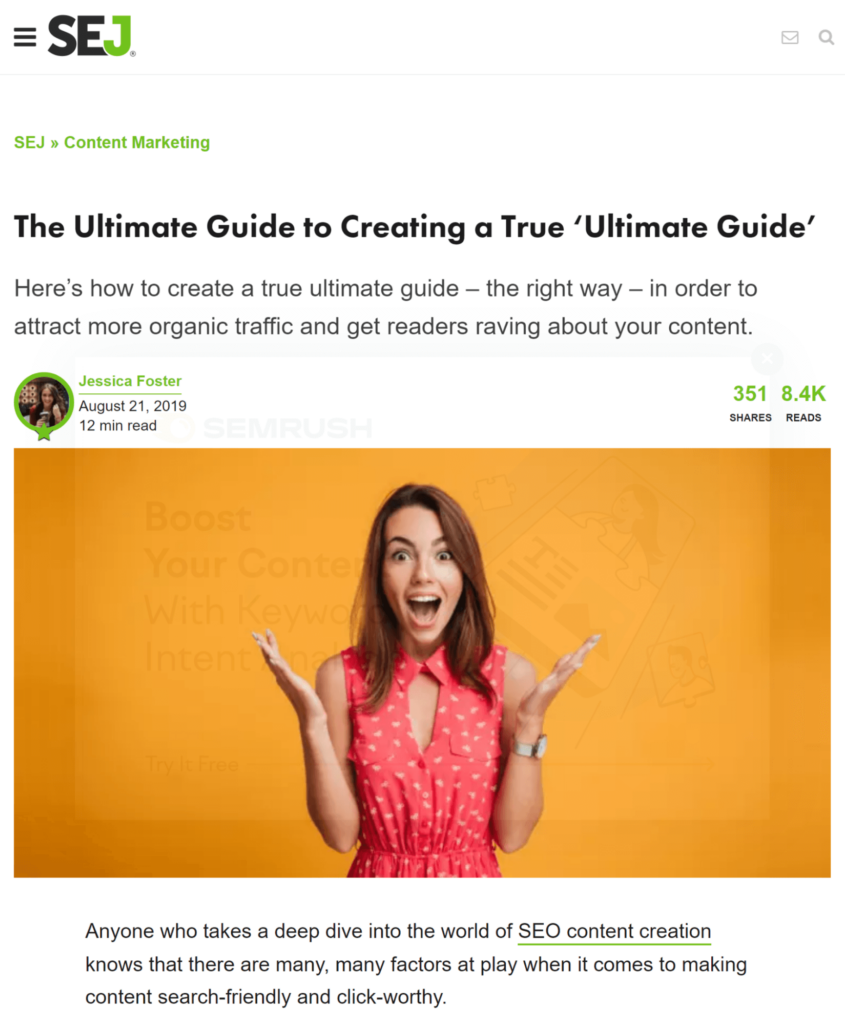 4. Expert opinion example
Expert opinion articles feature on news sites and blog sites. So, it's not hard to come across them. This example touches on the future of AI and is an ongoing topic of discussion. It's authored by Deloitte Consulting's  Chief Futurist.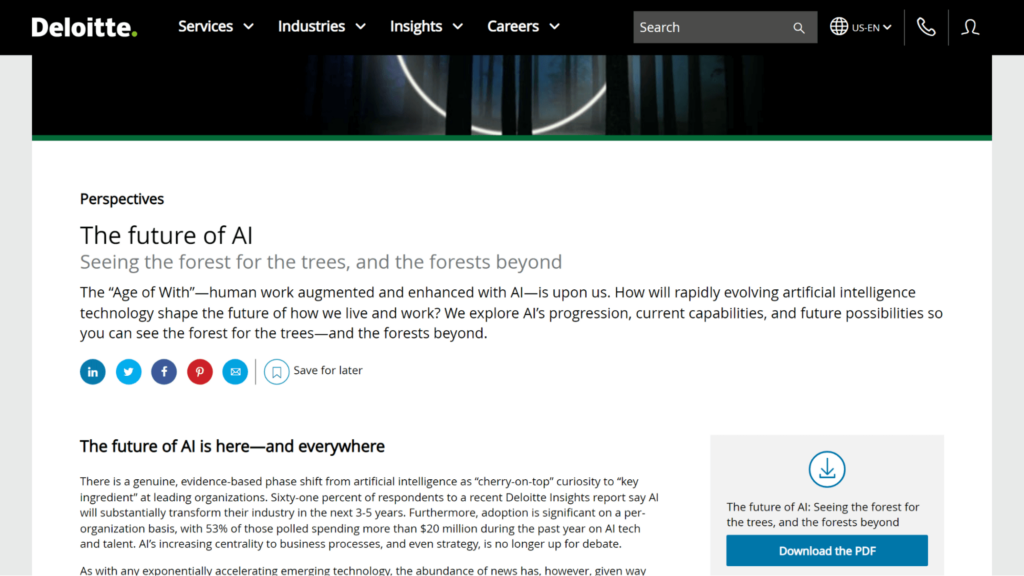 5. Featured writing example
Some of the best-featured articles are found on news sites. Great journalistic articles featuring in-depth story writing and originality qualify for Pulitzer awards.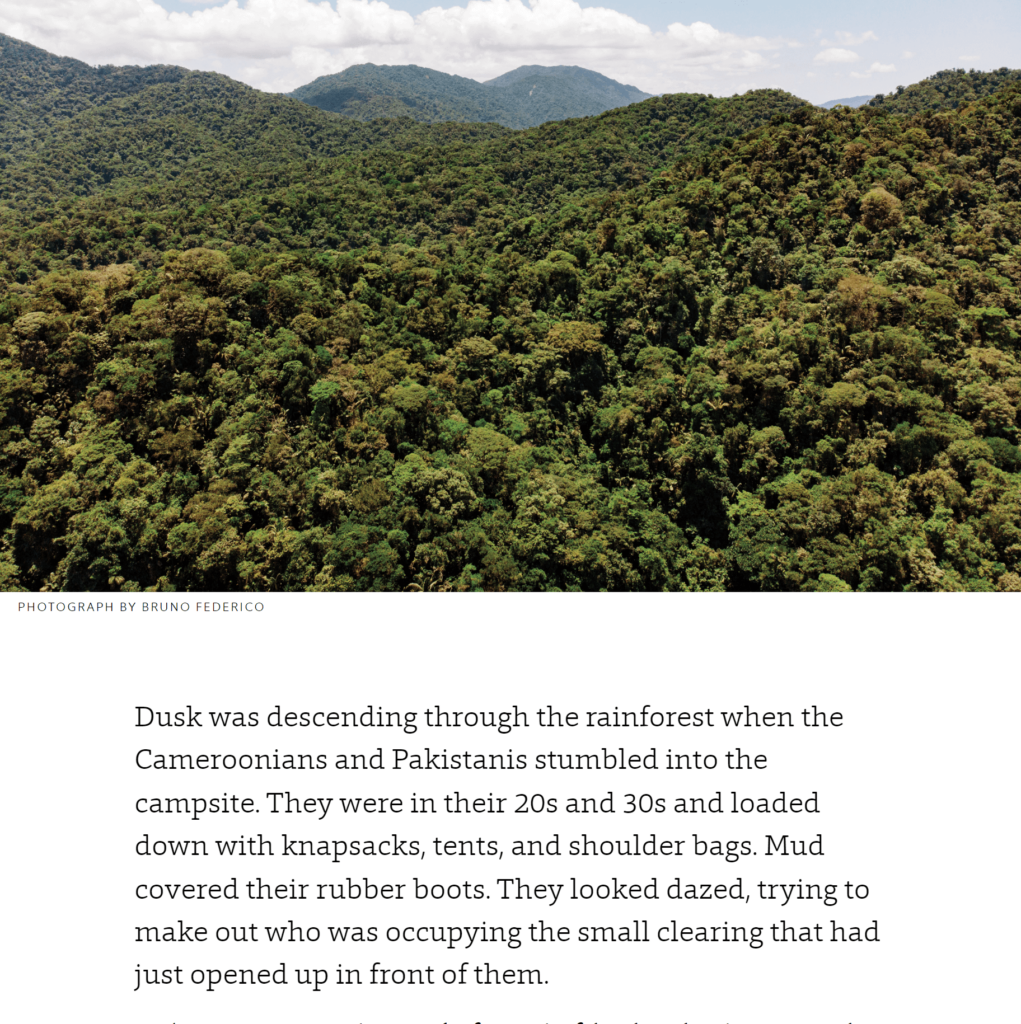 Written for The California Sunday Magazine, 'When can we rest' was one of the winning works for 2021 and was written in April 2020 by Nadja Drost, a freelance contributor. It takes readers on a journey to one of the world's most dangerous migrant routes.
Many brands have dabbled into featured stories too as a means of brand storytelling. The articles share stories of products, events, or companies.
Patagonia, an outdoor clothing and gear company, publishes many stories as part of its content marketing efforts. Their hung-sung heroes are the men and women who climb mountains, surf tidal waves, or snowboard down the toughest terrains.
Nine and a Half is a great example of feature brand storytelling. In that article, TPer Ås, a Swedish mountain guide, questions if he would ever find his way back to the mountains after losing his left index finger.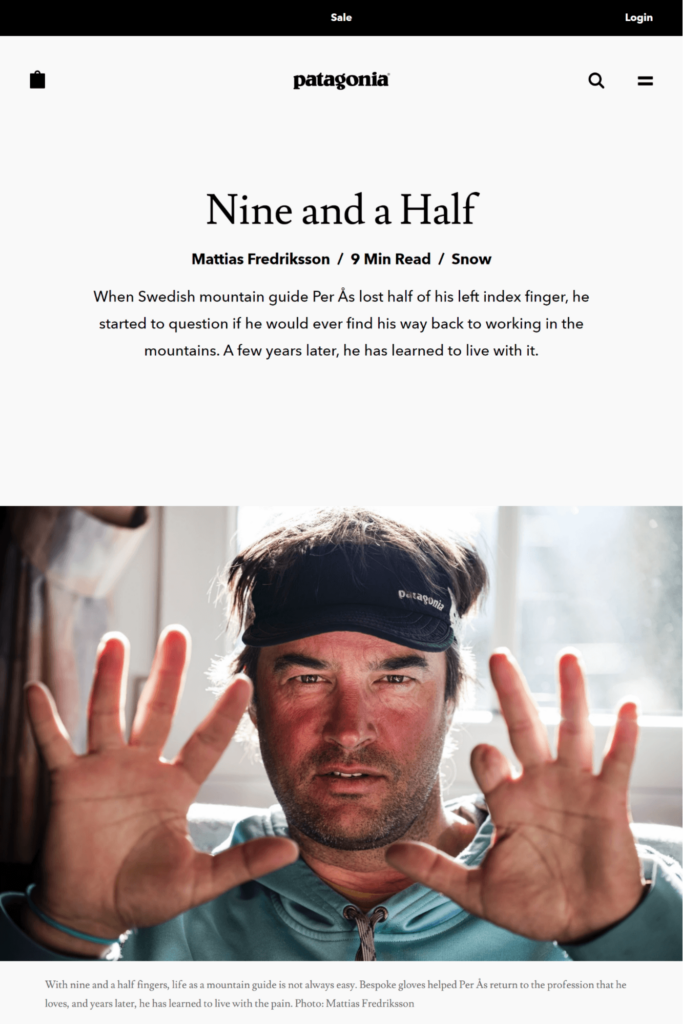 What Is the Ideal Length for Long-form Content?
Your content should address your audience's target search intent in the most exhaustive yet concise manner. Sometimes this may take 1000 words. For example, if you write about a very niche topic that very few other blogs have covered.. Other times, you may be writing a comprehensive guide on a topic and this could easily take 3,000 words. You'll guess it, coming up with the right content length for your article is tricky and there is no simple rule-of-thumb.
In this section, we'll first explore how expert's viewpoints on content length. We'll then introduce a method to figure out the optimal content length for a given topic.
What SEO experts say about long-form content length
Most schools of thought recommend between 1500 and 2000 words. Below is a summary of the studies performed by industry leaders on this topic.
BackLinko: around 1500 words, but no correlation with ranking
Backlinko analyzed over 11.8 million Google search results to determine which factors influence first-page rankings. They found that the average article on the first page of Google contained  1447 words.
The study also established that long-form content tends to draw more backlinks than short blog posts in some industries. The study found no correlation in the word length and ranking.
Ahrefs: "Longer content gets more organic traffic and backlinks"
Ahrefs conducted their own study with a sample size of around 900 million pages pulled from over 3 billion pages on the Content Explorer. They were not out to calculate the average length for long-form content but looked into the correlations between longer content and more backlinks and higher organic traffic.
There was a strong positive correlation between word count and referring domains from 0 to 1000 words. Aherfs attributed this to the thoroughness of the content. The data began to show a decline in the number of the unique referring domains from 1000 words. They concluded that while long content may have more link-worthy talking points, they tend to be buried along with other information in a longer article,  meaning that readers may have a reduced chance of encountering these talking points and linking into them. So they recommended a balance of thoroughness and succinctness – for instance using the inverted pyramid method to share the most important and link-worthy information first. The study also established a moderate positive correlation between longer content and more organic traffic.
The correlation was found in articles of up to 2,000 words before a moderate negative correlation was discovered. Now, that's not to say that Google will punish longer articles. The overall conclusion was that it's better to try and cover all the relevant information and topics as succinctly as possible, rather than merely focusing on writing the longest article.
Medium: 1,600 words to keep readers engaged
Back in 2013, Medium was wondering how best to keep readers engaged. So, they examined how long readers were willing to spend reading a typical article. The conclusion was that 7 minute-posts had the highest total reading time on average. However, the conclusion was that they would not suddenly start forcing blog posts to be 7 minutes, which works out to about 1,600 words.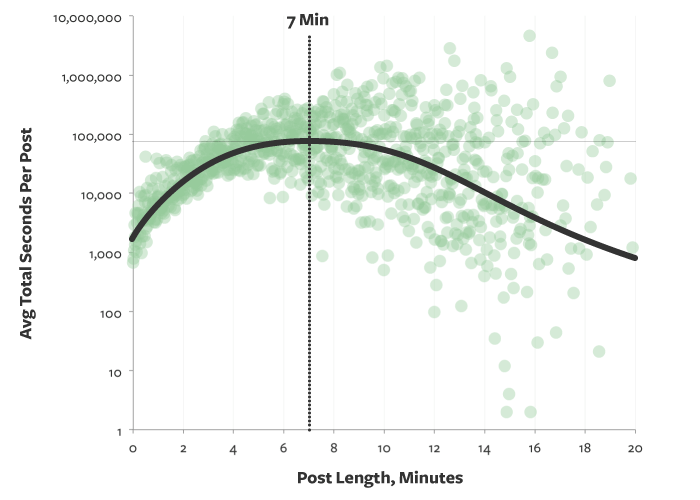 Neil Patel writes 2,000 – 3000 articles
It's good to have an expert opinion on the matter of content length and who better to weigh in on the subject than Neil Patel, a legendary blogger and industry veteran.
Now, Neil was curious about the performance of long-form content and tapped into his blogging history to find out. Here are highlights from his findings conducted on Quick Sprout from January 2011 to 2014:
The first 500 to 1000 word articles generated  67,038 unique visitors in January 2011.
After increasing the word count to over 1000 words, his traffic grew reaching 115,759 users in January 2012.
There was no growth over 2012 as the competition for SEO content increased.
Neil decided to 10X his efforts for 2013, publishing his first very in-depth blog on January 24. The in depth guide bumped up his traffic as shown in the chart.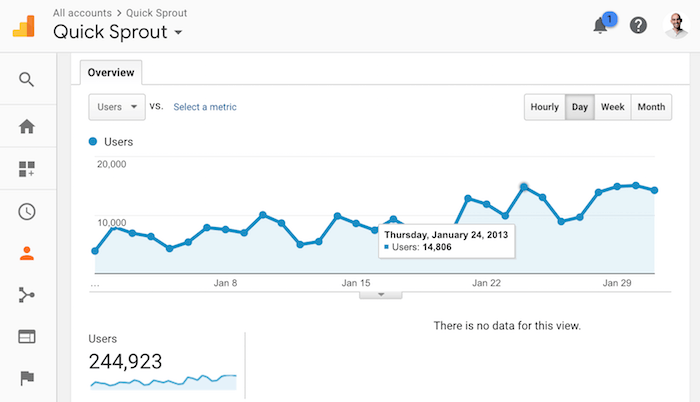 Neil would publish 12 More in-depth guides in partnership with other marketers and in January of 2014, his content attracted 378,434 visitors.
Following three more years of growth, the first drop finally came in January 2018, but at the time, he had already shifted his blogging efforts to NeilPatel.com.
Neil had some insights from the experience.
First, it's not necessary to have super in-depth content.
At over 10,000 words, the gains diminish.
If a slightly shorter long-form article has more referring domains, it may outrank a longer article.
Google looks at multiple factors when determining which article to rank first: backlink profile, time spent on the site, bounce rate, or number of times users hit the back button to return to the search page.
Most articles on neilpatel.com range from 2000 to 3000 words. But his final disclaimer is that longer content does not necessarily mean more traffic or more user satisfaction.
Longer content gets more social shares
Neilpatel.com analyzed 5,860,631,392 articles from 64 countries to determine what Facebook likes. They discovered that longer articles tend to receive more social shares. How-to articles experienced the highest growth in social shares after the 30-day mark.
He recommended 2000-word blog posts and advised that if a shorter article was more actionable, it may attract more shares than longer content with more words.
How to find out the optimal word count for a given topic
We've definitely not gotten a clear answer to the question of the average content length to write. But we'll show you a method to figure out the number of words you should aim for.
Here are the key steps in a nutshell:
Identify the most relevant search query for your long-form article. Examples: "Accounting guide for small business owners", "How to make high-quality screenshots", "How to choose an antivirus software".
Get the list of top 20 search results pages on Google for those search queries. Ideally you'd want to do so from the country of your target audience, because Google search results may vary in different locations.
Calculate the word counts of the most relevant pages, excluding outliers.
Identify content gaps to figure out the optimal content length. You may do so by scanning through the top ranking site's content outline.
We use Zenbrief to do all the above effortlessly. However, you may as well do it manually.
For instance, consider the keyword, "How to Train a Dog." From our analysis, the top 10 articles have the following word lengths:
Dog Training 101: How to Completely Train Your Dog – about 1100 words
5 Essential Dog Commands – 1100 words
Teach Your Puppy These 5 Basic Cues – 2000 words
Dog Training: Obedience Training for Dogs – 997 words
How to Train Your Dog to Recall – 390 words
7 Essential Commands Your Dog Needs to Know – 740 words
13 Ways to Train a Dog – wikiHow Pet – 6000 words
How to Teach Your Dog To Do Anything in 4 Easy Steps – 2100 words
Tips on Training Your Dog: Basic Commands – 640 words
Is it Too Late to Train My Older Dog? – 1800 words
The longest ranking article was 6000 words and the shortest was 390 words.
Your article on "How to train a dog," should sufficiently cover the topic with adequate details and better content than what's currently available. But that doesn't mean that you should write a 7,000-word article for a spot in the top 10. If your budget or time constraints allow for a 1500-word article, focus on writing the best content for your audience.
Now, as we mentioned earlier, there is a more accurate way to figure out the ideal content length much quicker than a manual analysis.
Zenbrief gives you an optimal word count recommendation based on the competition on Google for a given topic. By default, it analyses the top 30 search results on Google in the target country of your audience and returns their word counts. It also automatically scans your competitor's outline so that you can easily identify content gaps.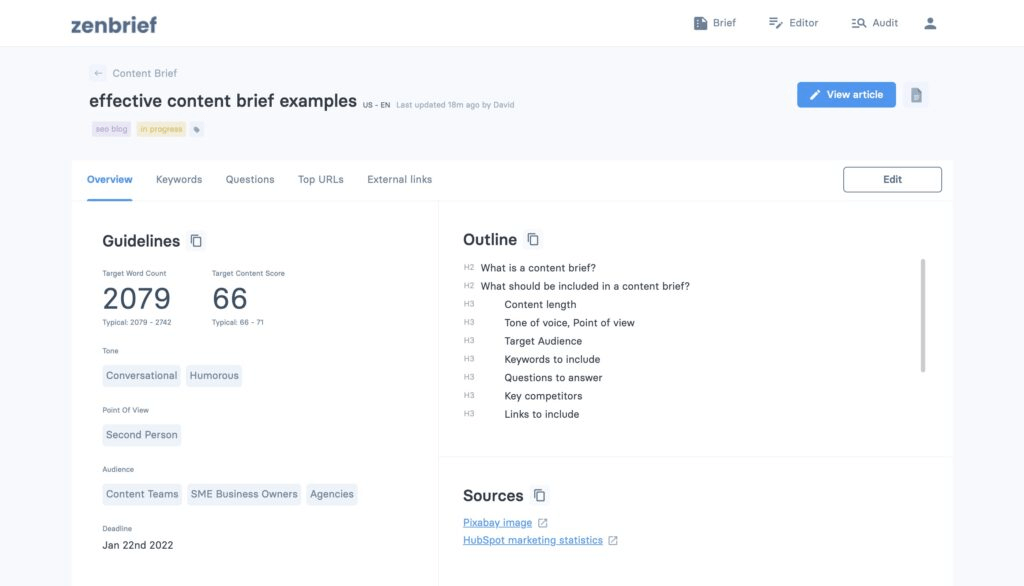 Zenbrief has other features, which can help with building more quality articles, including:
Keyword recommendations
A Content Outline builder
Questions
Top URLs
Internal links recommendations
External links recommendations
A grader that calculates your content score
Let's end the article in style by drawing our conclusion of whether long-form content is important for SEO:
Is Long-form Content Important for SEO?
Based on the evidence showing a positive correlation between long-form content and better search engine rankings, it's indeed true that longer articles may be good for SEO. They may even attract more social shares.
But it doesn't mean that long articles will always outrank shorter articles. Google cares about providing the audience with the best source of information, so it's rather important to focus on quality vs quantity.
The information must be easily accessible. It means using fewer words to get the point across, or having a well-structured article with shorter segments that allow readers to get the main message.
Without the weight of SEO hanging over our necks, longer content has other benefits for your content strategy:
It can provide more value to the user, rewarding them well for their attention;
Well-researched and thoughtful content can bolster your authority in the eyes of the readers and promote brand loyalty;
It may give you a better chance of ranking for different keywords;
Various sections of the article may appear in diverse knowledge panels or People Also Ask boxes.
You can include a Table of contents to enhance the site's user experience. It can have indirect SEO benefits.
Is Short-form or Long-form Content Better?
Short-form content has its benefits. It's easier to publish and is suitable for blogs that publish news items. By forcing writers to avoid fluffy writing, it saves on the reading time. Long-form content is a much-fitting format for evergreen content. There is a positive correlation between long-form content with better organic traffic, social media, and backlink performance. At the end of the day, any smart content marketer should remember that ranking depends on many other factors, not length alone.
Was this helpful?
Let us know if you liked the post. That's the only way we can improve.