So you've happily collected thousands of relevant keywords for your site. Maybe you've built that list by researching keywords your site already ranks for. Or, you've used popular keywords tools such as SEMrush and Ahrefs to check your competitors' keywords. Now it's time to make sense of those keywords and build a content strategy. Here is where keyword clustering, or simply put keyword grouping, comes in handy. The technique consists of grouping semantically-related keywords together, so that you can organize your site into consistent content silos or keyword clusters. Following such an approach can help your site build authority and get more traffic from Google. Yet if you're dealing with thousands of keywords, figuring out how to group them manually can be overwhelming and time-consuming. Fortunately, there are a few tools that you can use to make that process a walk in the park. We've compared 5 top SEO keywords grouping tools.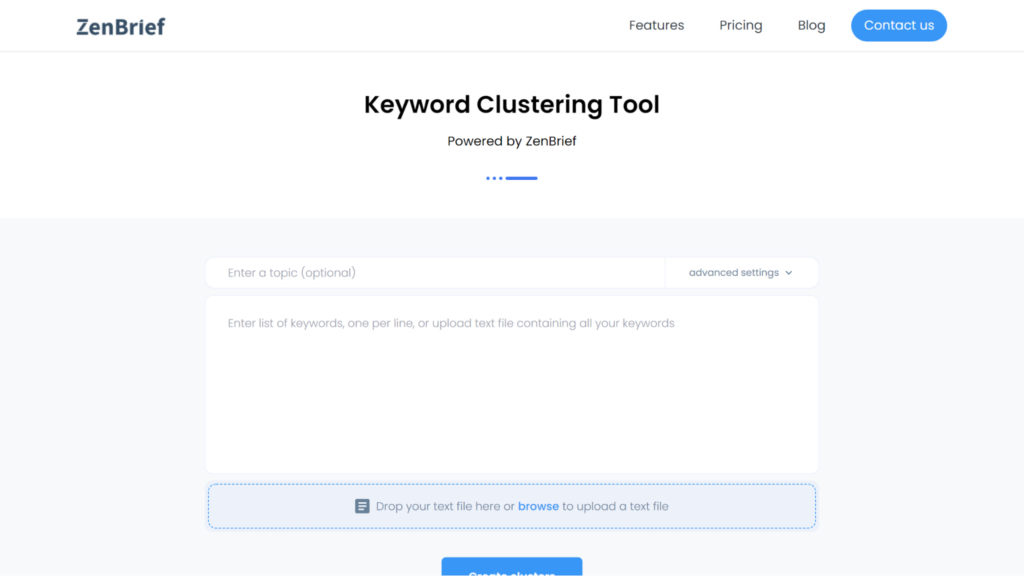 Zenbrief provides a free clustering tool alongside its content optimization software. It groups related keywords together based on the NLP technique. Under the hood, it leverages Google's BERT system and vector quantization. You can upload your keyword list as a text file or paste it on the text input field. It supports up to 30,000 keywords at a go, but the text file can't exceed 1MB. The tool supports custom cluster sizes. Using advanced settings, you can specify the minimum and maximum cluster sizes.
Testing Results
Using the keyword clustering tool was quite intuitive. You first begin by entering a topic to ensure that clusters are closely related to the topic. That's what we did by specifying the topic as "Real Estate." You can set custom cluster sizes with the advanced settings. We left it at the default setting (5-100 words clusters). We then pasted the 1000+ keyword collection before selecting "Create Clusters." The tool disclosed that the process might take a few minutes, but it was actually done in less than 20 seconds.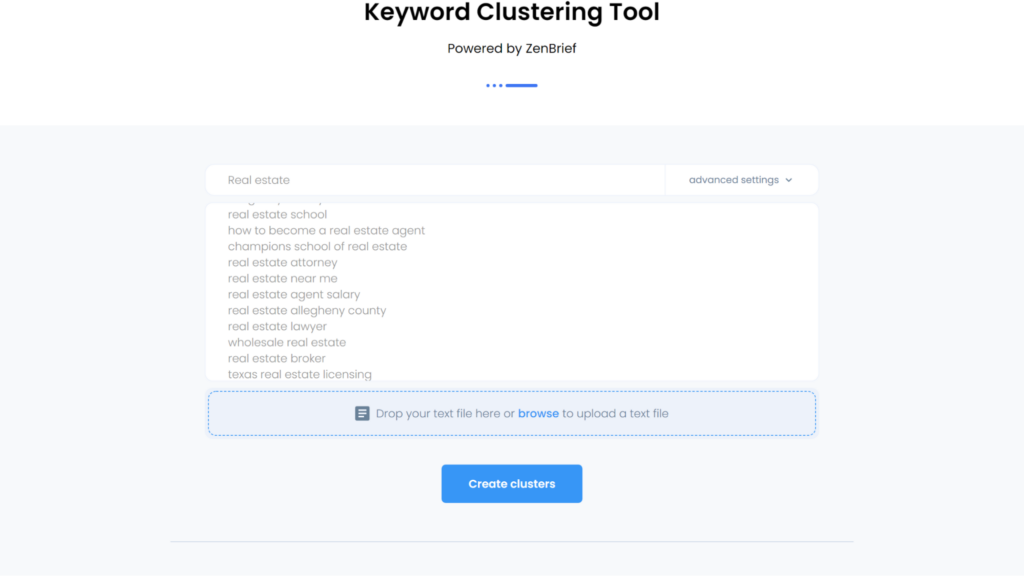 On the first run, we obtained 39 keyword clusters with an average cluster size of 14.38. Out of 1037 keywords, the tool clustered 561 words. After rerunning the test with a new size range of 5-50 words, the tool generated 44 clusters. Without specifying the topic and with the same size settings, the tool generated 46 clusters. The clusters were of good quality and featured related keywords in each list, for instance: It neatly displayed the results in a helpful summary: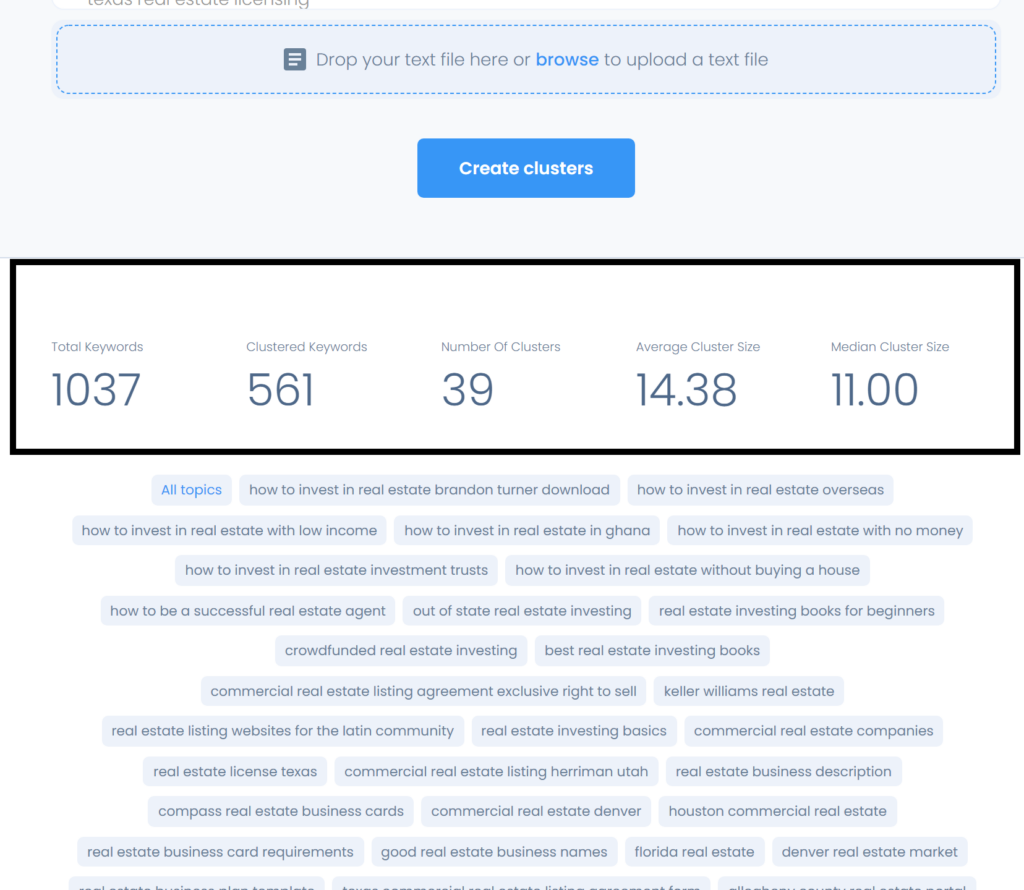 Cluster Name: How to get into Real Estate
how to get into real estate
how to get into the real estate business
how to get into commercial real estate
how to get into real estate investing
how to get in the real estate business
Cluster Name: How to Start in Real Estate Investing:
how to start in real estate investing
how to learn real estate investing
how to start real estate investing
how to start real estate business
how to learn about real estate investing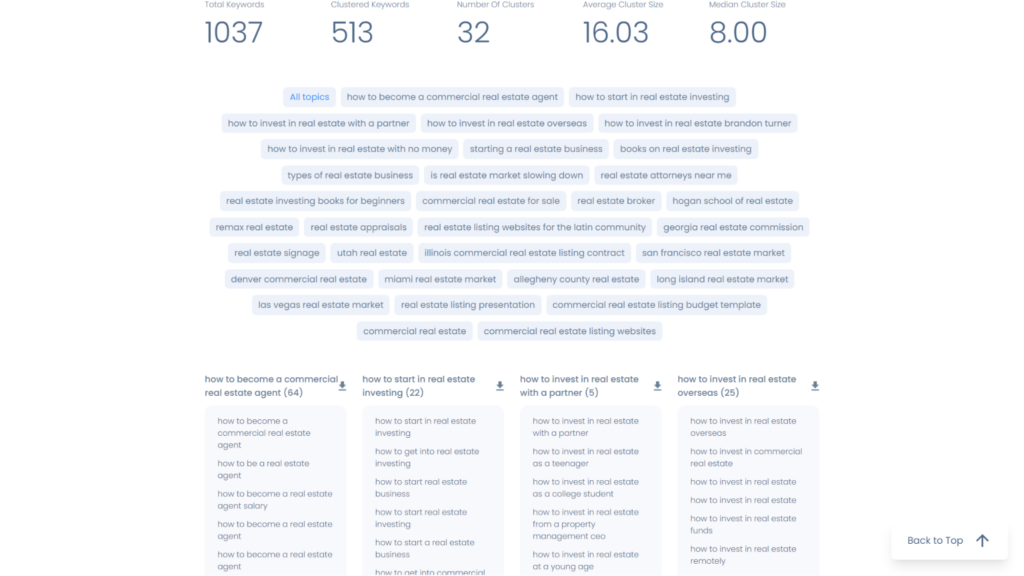 You can download each cluster separately or the entire grouping, which is quite convenient. Zenbrief's clustering tool also organizes each cluster into separate columns, and again, it makes the spreadsheet easy to scan.

Verdict
Overall, this is one of the best free keyword clustering tools based on NLP. The option to group up to 30,000 keywords is impressive! And there are no signup requirements at the moment. Now, it's not perfect. It's currently lacking the ability to import keywords directly from Google Search Console.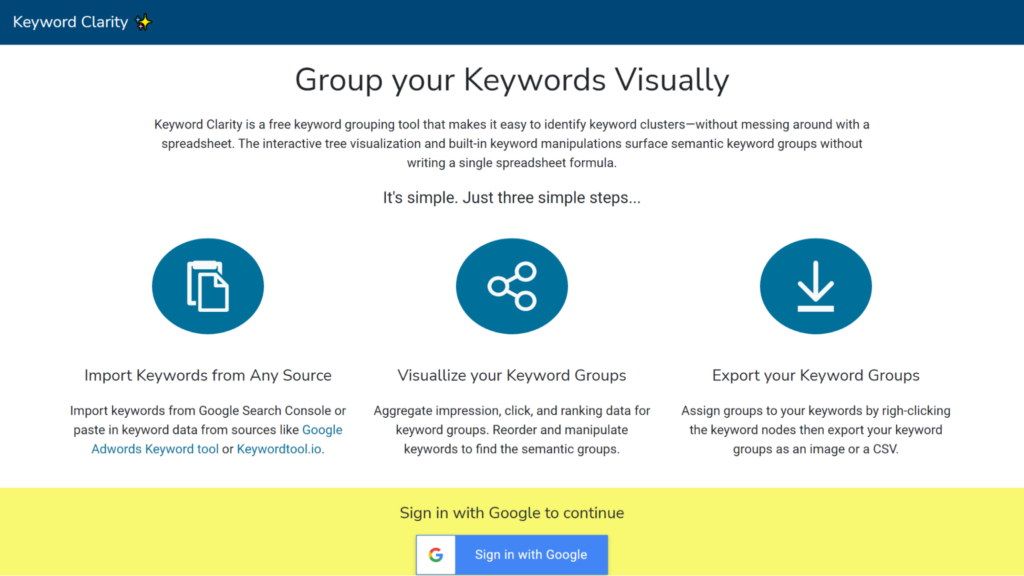 Keyword Clarity is a free keyword grouping tool that groups keywords visually to make it easier to identify keyword clusters.  There is no mention of using Natural Language Processing (NLP). Most likely, the tool groups keywords using a lemma-based approach. The most notable features are tree visualization and keyword manipulations. Trees have nodes that branch out to individual keywords. You can quickly move and reorder keywords to create more precise semantic groups. The tool provides an option to sign in with Google to import Google Search Console data, making it more convenient to use. You can also paste in keywords, but there is no option to upload text or CSV files.
Testing Results
After pasting the 1000 keywords, the tool immediately generated the keyword diagram. There are various ways to manipulate the chart. For instance, you can make substitutions using "Find and Replace."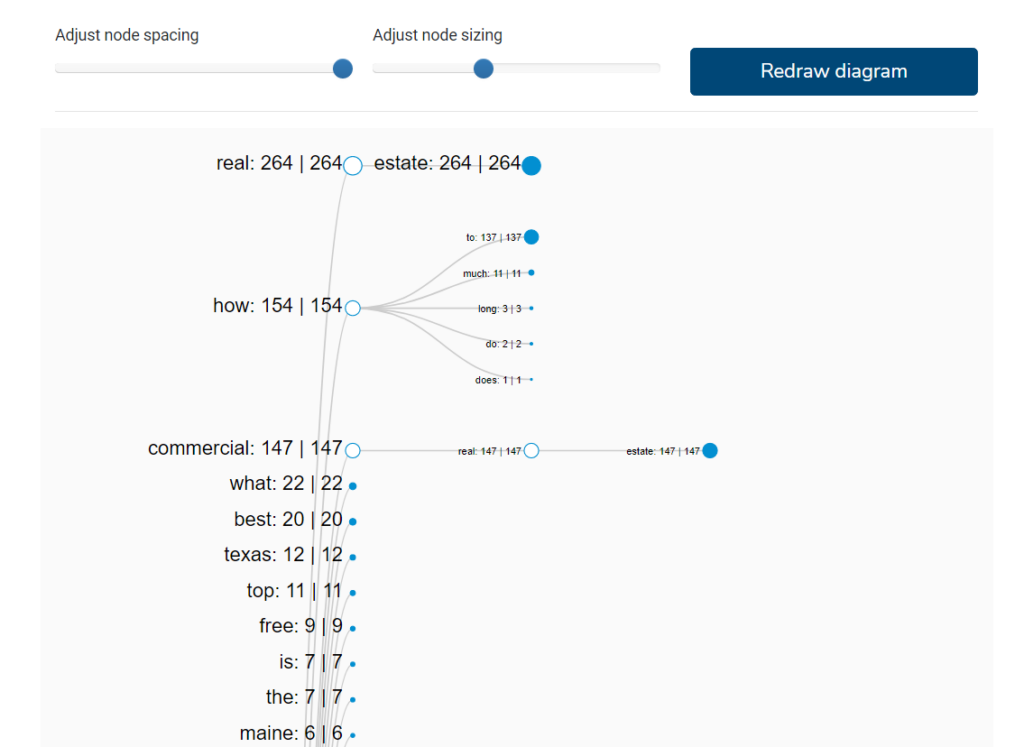 We played around with the layout to make the diagram more readable by adjusting the node spacing to max while reducing the node sizing. The layout also comes with the ability to remove stop words.

If you right-click on the nodes in the chart, you can perform quick actions such as showing child queries. You can also export results as an image or CSV.
Verdict
If you need to generate defined keyword clusters for SEO articles, this may not be an ideal keyword grouping tool to use. It requires you to explore each node, which is tricky with a long list of keywords. Charts also become less readable and overwhelming as they grow in size.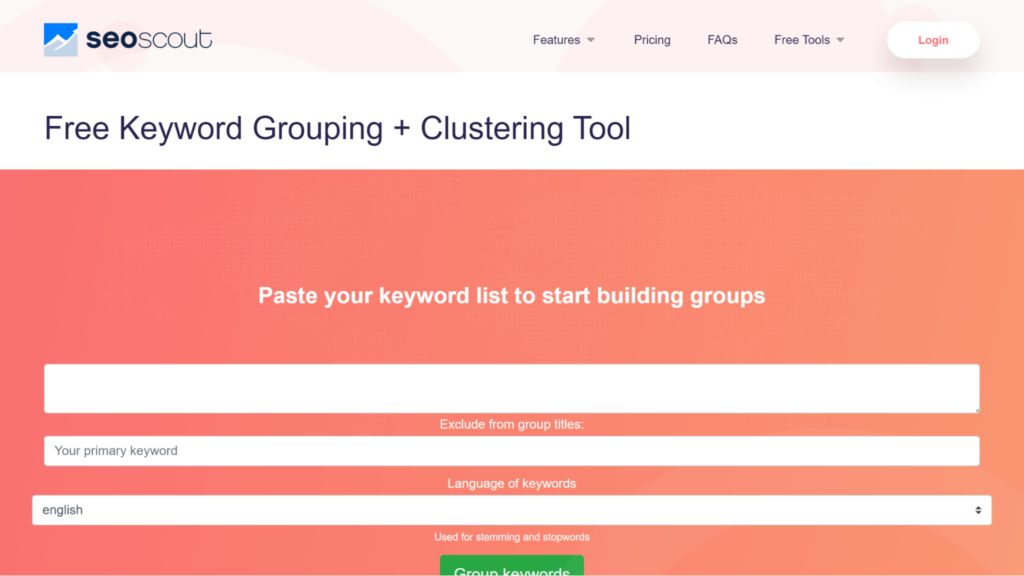 The SEOSCOUT keywords grouping + clustering tool generates tight keyword clusters based on n-gram word similarities, a simple NLP technique. Like the Zenbrief tool, it groups related keywords into clusters, making it easier to generate new pages. You'll find that the SEOSCOUT keyword clustering tool is straightforward to use — paste your keyword list to group keywords.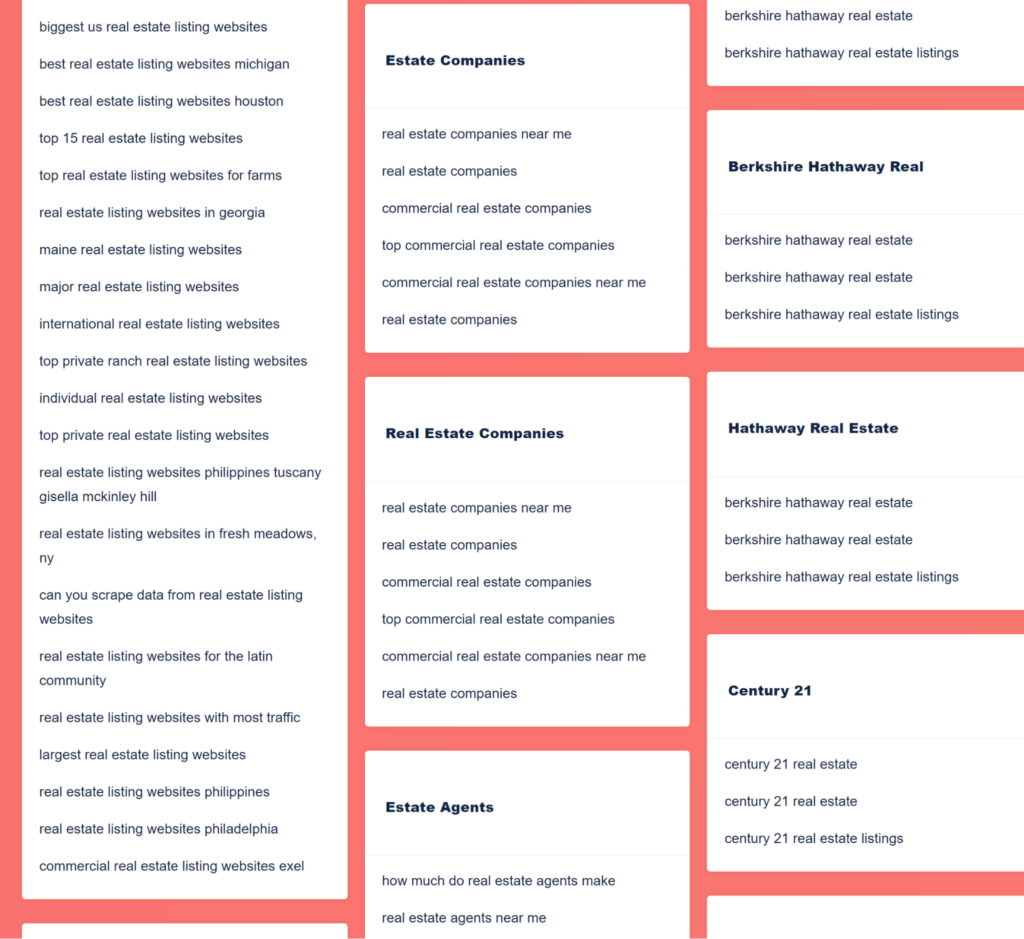 It can handle keywords in many languages and includes an option to exclude the primary keyword from the group titles.
Testing Results
Grouping the keywords and organizing them into clusters was instantaneous. Each cluster has a title, followed by the grouped keywords. Titles for each cluster made sense and could easily become topics for future articles. For instance, the tool generated a cluster with the title "Business Plans Template." It had keywords such as:
real estate business plan template
printable real estate business plan template
real estate business plan template free
free real estate business plan template
You may ask, "How does this tool compare to Zenbrief, given that it follows a similar format?" Navigating through the generated clusters may be a bit tedious on SEOSCOUT as you have to scroll down the page. You can't export each individual cluster in a separate.csv file. While you can export all the clusters in one go, the spreadsheet is not as neatly organized. All clusters fall in the same column. There are no metrics about the number of keyword groups.
Verdict
SEOScout's free keyword clustering tool was fairly simple to use, and it generated accurate clusters. However, there are many things the tool could improve on, including having a FAQ section where users can get answers to questions such as how many keywords you can group at a go. It may also need a way to export each cluster separately. Overall, we'd still use it.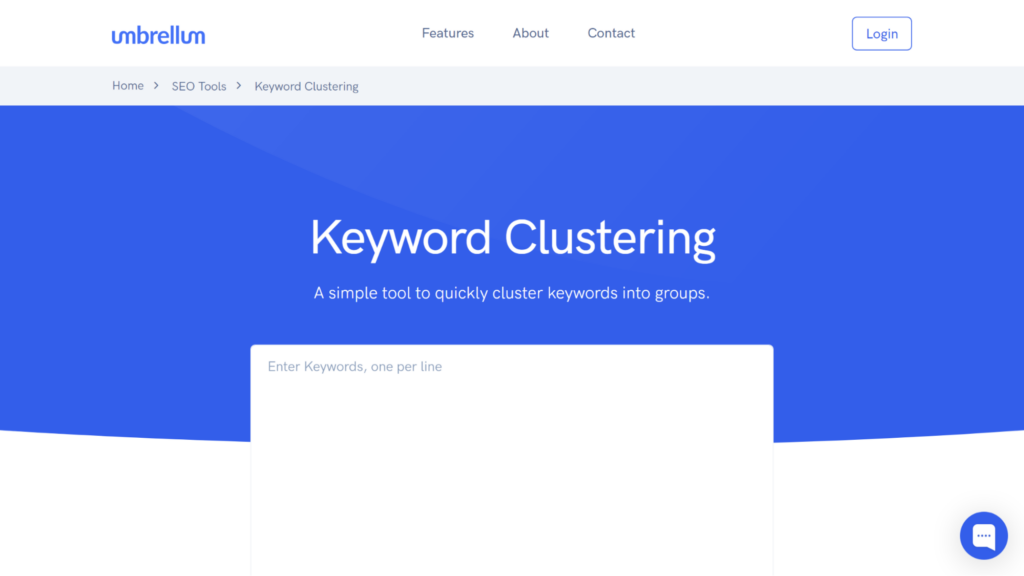 The Umbrellum Keyword Clustering tool is part of an SEO toolkit developed by Wouter van der Meij, an SEO consultant. Its purpose is to make his life a little bit easy and fulfill gaps that exist with other tools. It utilizes a technique called Levenshtein distance to develop keyword clusters. You'll find that it's quite easy to use. All you need is to copy and paste your keywords in the provided input field. Now, it's not clear how many keywords it can support, but it handled 1000 keywords with no issues.
Testing Results
The keyword planner returned a list of clusters instantaneously on a new webpage. Groups are typically represented by one keyword. You click on each group to see the clustered keywords. Now, some of the keyword clusters may not be quite useful in generating related words to target in individual articles. There were 976 keywords with the word "Real" alone. It's only after you nail down your search to unique words that you get a semblance of clusters. For instance, unique keywords such as "Zillow and California" had about 5 keywords each.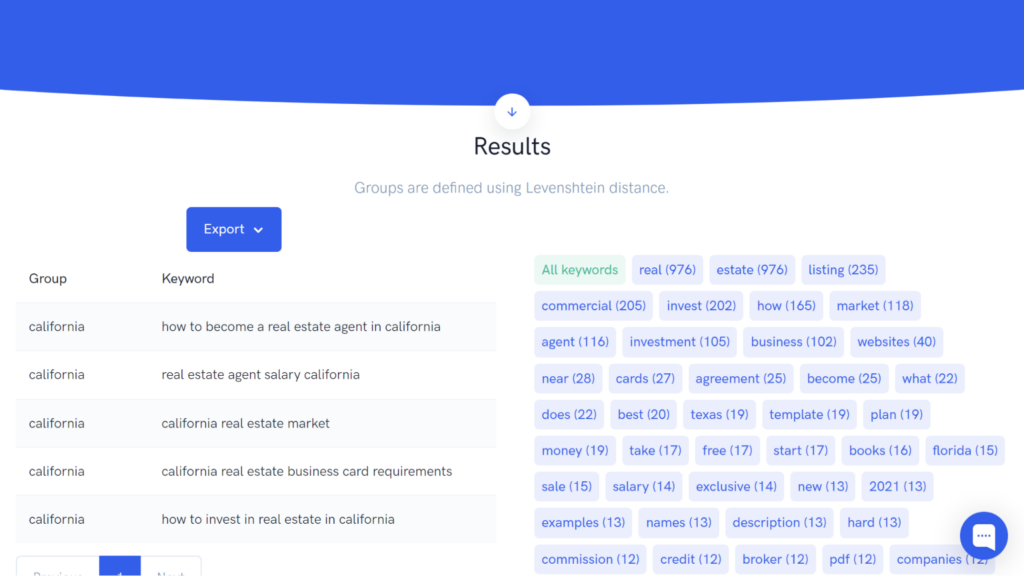 You can export each group individually in Excel, CSV, and PDF formats. Wouter also included direct Copy and Print buttons that make work a little bit easy.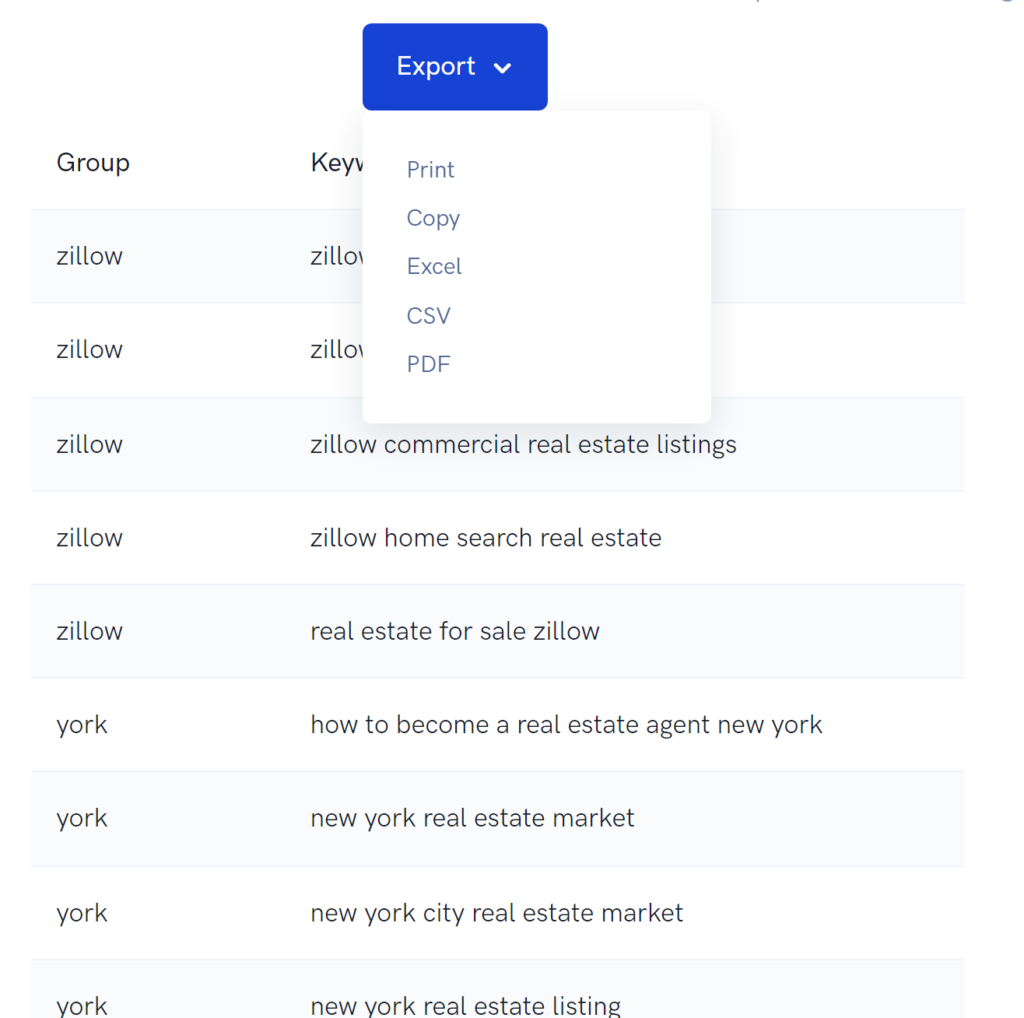 Verdict
Overall, it's still a useful tool to have and compliments other keyword clustering tools.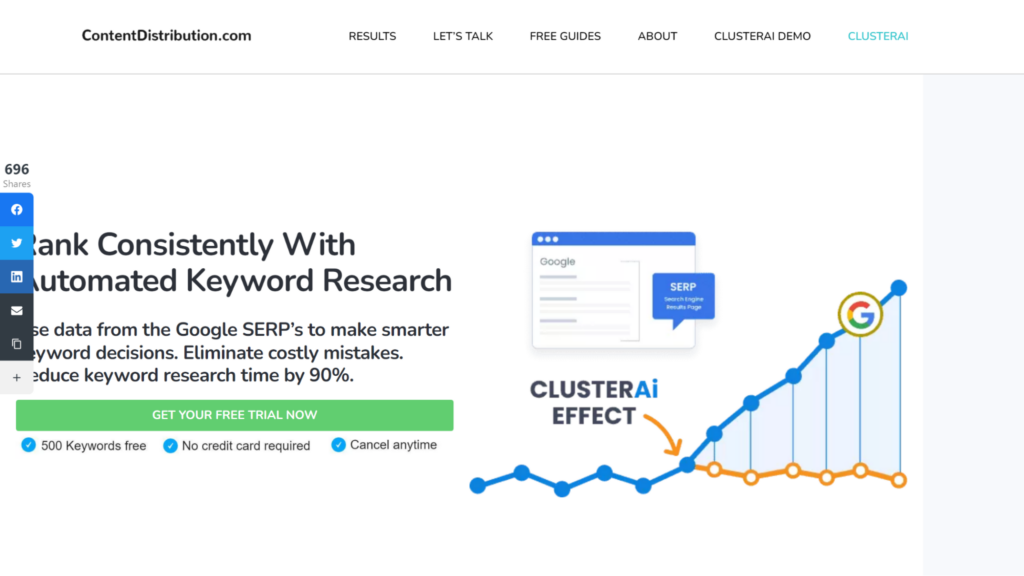 Cluster AI utilizes a SERP approach to generate clusters from main keywords. How does this work? The algorithm crawls the top 10 search results on Google, looking for keyword variations that share at least three results with the main keyword. It then groups the variations in the same cluster. The main selling feature is that it directly relies on Google to determine keyword rankings. To use the tool, you need to conduct initial keyword research to figure out the main keywords. You can export keyword lists from Ahrefs, SEMRush, and Google Search Console and import the files to cluster keywords.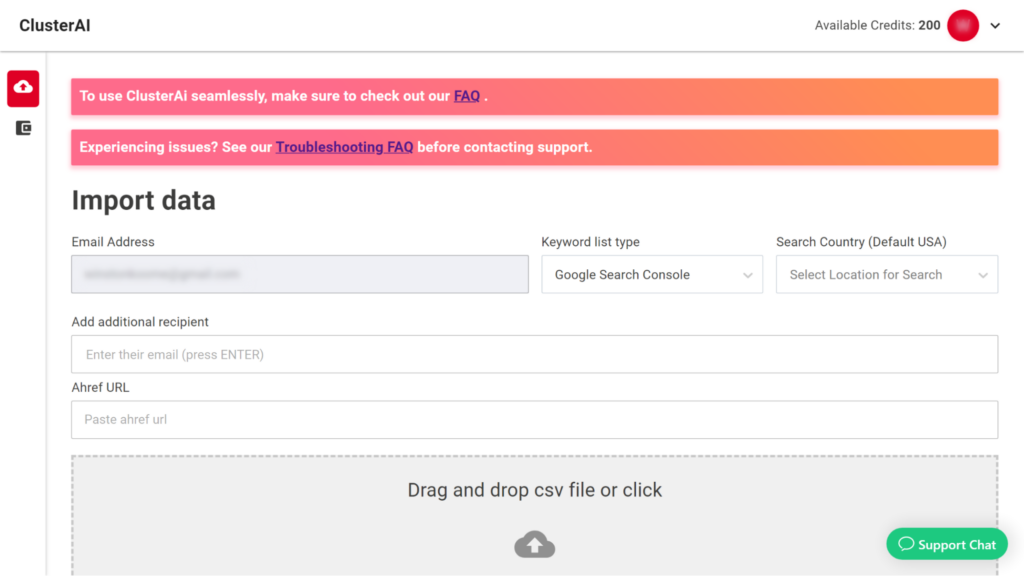 You can also upload keyword lists generated from elsewhere, but there are special instructions on how to format the file. Because the tool crawls the search engine to generate variations, it takes considerable time to produce results. For instance, a 1000 keyword grouping may take up to 2 hours to complete.
Testing Results
With the free version, you get 200 credits. You can only import 100 keywords in one go. After uploading our keyword list with 1000 keywords, it only processed the first 100. You can check for the progress at the bottom of the page, but the tool sends an email after the process is complete.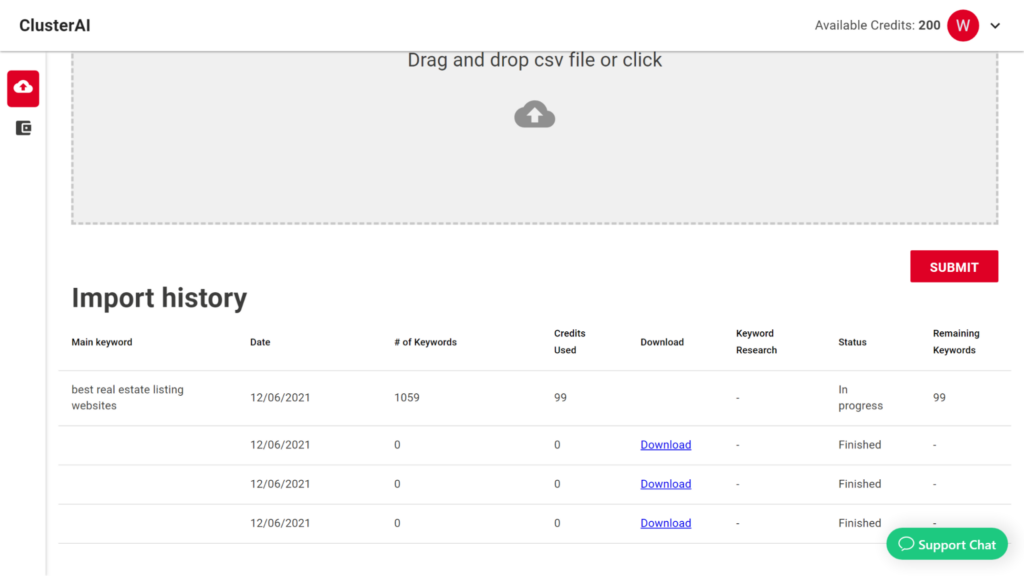 The import data form allows you to add additional recipients for email notifications. So, what were the results? As expected, the tool generated variations based on the provided keywords. The process took about 30 minutes. For instance, for the keyword "Real estate business cards with photo," it generated the following variations: "Real estate business cards examples, real estate business cards samples, modern real estate business cards" Now, each main keyword represents a separate page. In incidents involving longer tail keywords, there were no variations, for instance, with a keyword such as "real estate listing websites in fresh meadows NY." Therefore, you need to think more of short-tail keywords.
Verdict
Overall, it was a neat tool to use. Now, it showcases a different way to create clusters that may be effective considering it finds top ranking keywords directly from Google. There are difficulties uploading the initial keywords, so make sure to check the FAQ.
Final Assessment: Best Tools for Keyword Grouping
All the tools we have analyzed have something to offer. But what were the top tools? Well, Zenbrief and ClusterAI were both stellar. With Zenbrief, you get a mix of intuitive features with the ability to organize up to 30,000 keywords at a go. Cluster AI stands out for its use of a SERP approach to creating variations based on actual rankings. All said and done, using keyword clusters remains the most relevant way to create pages with high relevance for the search term, and may provide a better boost than merely targeting one keyword. It's also a powerful content planning technique if you associate it with a search volume analysis. For example, let's say you have extracted thousands of keywords from Google Search Console. You can then cluster them and identify the main keyword groups. Now, all keywords groups are not born equal. Some will drive more traffic to your site than other. Using a keyword tool, you could get an idea of the search volume on each keyword group, and decide which ones to focus your attention on. 
Was this helpful?
Let us know if you liked the post. That's the only way we can improve.