Neglecting keywords your site already ranks for is a 
frequent SEO mistake
. Yet, finding
search queries that lead people to discover your website on Google is vital for a number of reasons, including: 
Assessing your SEO performance, or the lack thereof;
Spotting keywords opportunities, you could leverage to improve your content's topical authority;
Exploring the need for further optimization of your existing content;
Fine-tuning or refreshing your content strategy;
Watching out for traffic impacts following Google updates.
This article will examine four methods you can use to see which search queries Google ranks your website for.
Method 1: Use the Google Search Console
Google responded to the need by website owners to find out how their site was performing on Google Search by releasing the Search Console. It was previously known as the Google Webmasters. This free online service monitors your search performance and overall site health. For instance, the Search Console can discover server errors or loading issues. It can even identify mobile usability issues and check if your pages are meeting Google's Core Web vitals. Using its Links tool, you can get information about external links and the top linking sites, and the most used
anchor text. 
As we saw in another article,
Google Search Console can be used to improve SEO
. The list of keywords your site ranks for is one of the key information it provides. Now, start by
adding your website to Google Console
. It may take a couple of days to collect the search performance data for newly added sites. Once everything is in place, log in to your Google Search Console from
this page: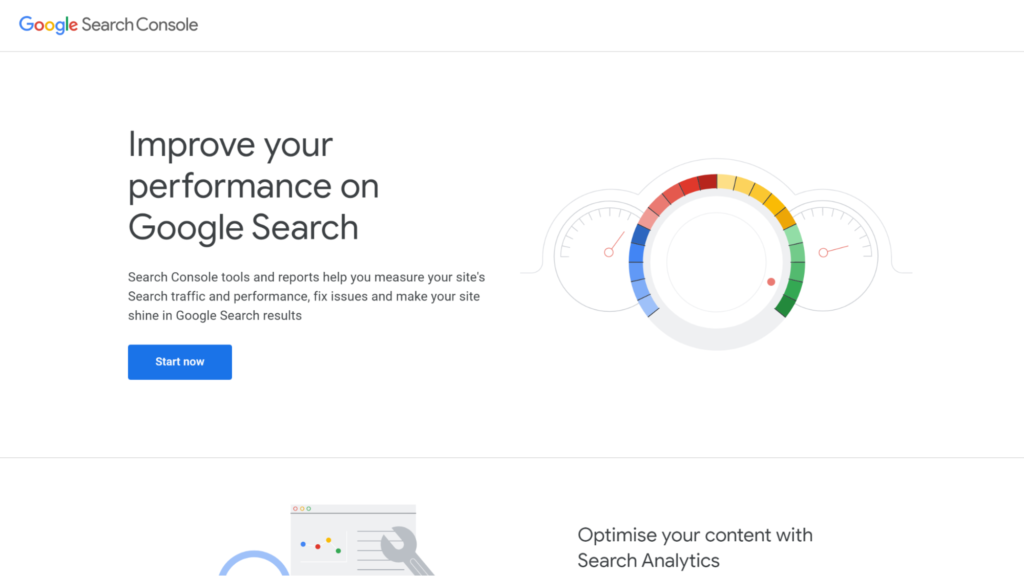 Click the "Start now" button.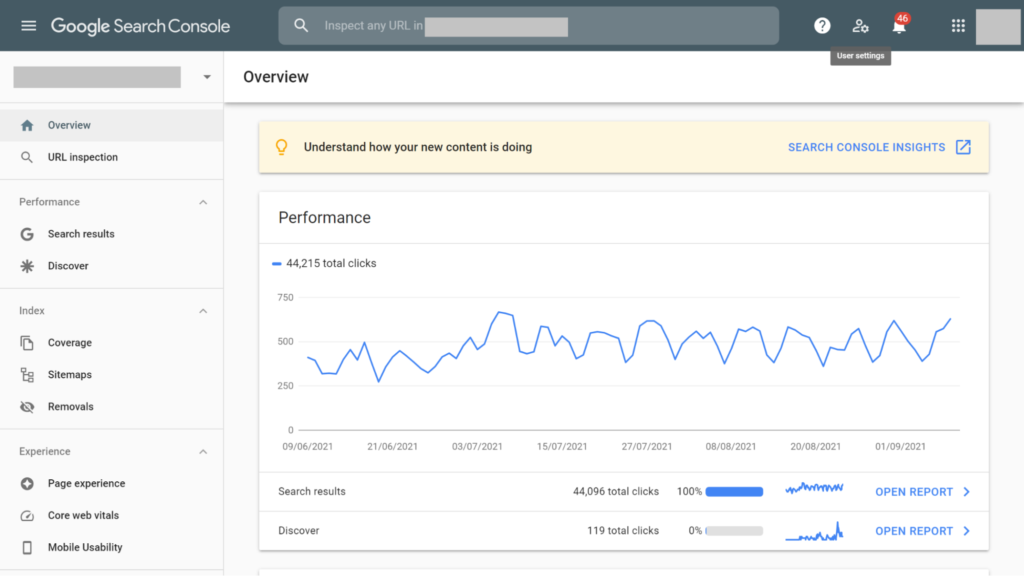 The first page you'll see is the Overview page. It presents a quick summary of your performance, including the total number of clicks from the Search Results and Google Discover. You can see the keywords that you're ranking for by clicking OPEN REPORT. They are called queries and they correspond to the search terms used by people to find your website's pages on search results, whether they click on them or not. Similarly, you can view the performance report from the sidebar menu:
Performance > Search results.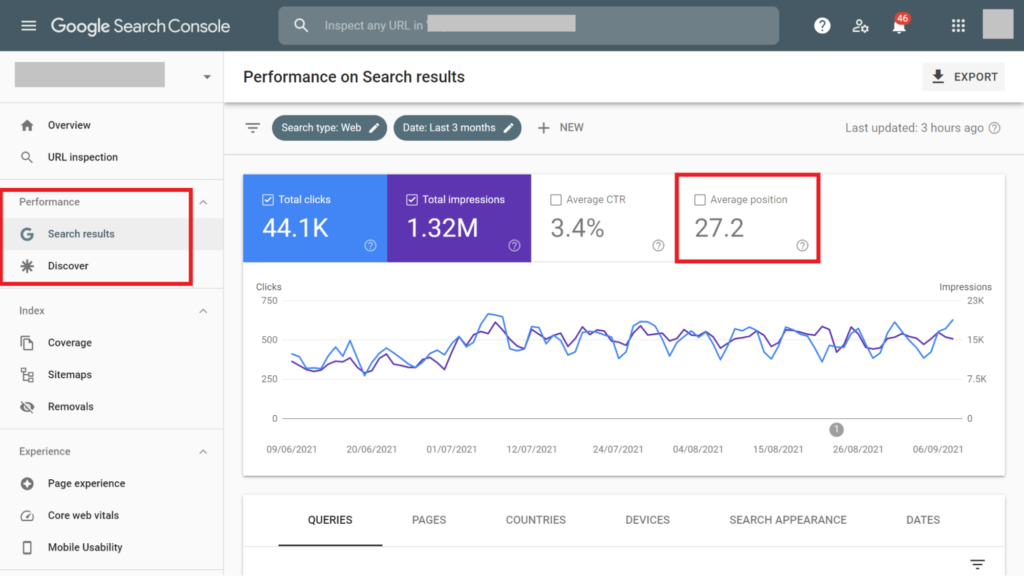 You will need to scroll down to see the keywords under the Queries tab: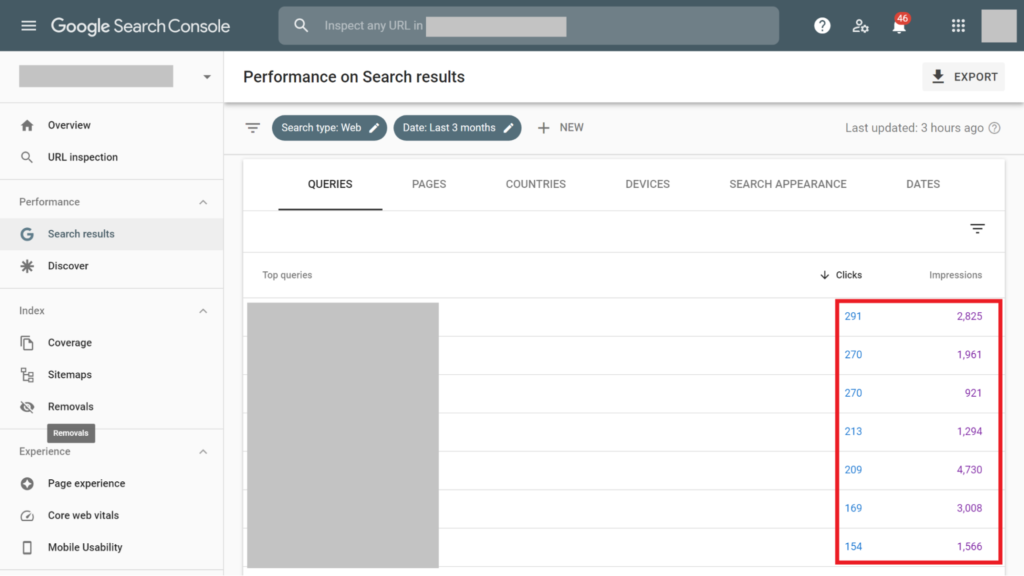 The keywords will be organized based on the number of clicks and impressions.
Clicks mean that the user clicked on your search results and navigated to your site.
Impressions refer to the number of times your content appeared in the search results viewed by a user.
You can click on individual keywords to see more metrics such as the average CTR, average position, countries, ranking pages, and more.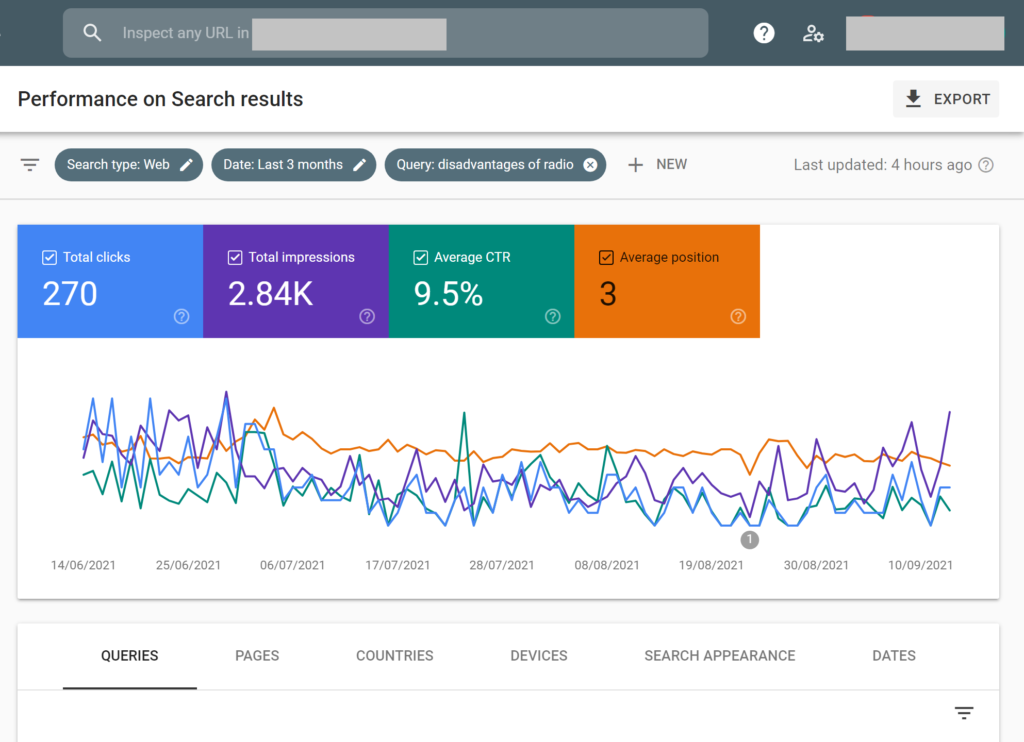 You can add the CTR and the Position to the table by clicking on the checkbox that shows up right next to "Average CTR" and "Average Position" scores cards. When analyzing the keywords, check for the ones that resemble questions. It may mean that some of your content is being used to answer questions in
People Also Ask boxes
.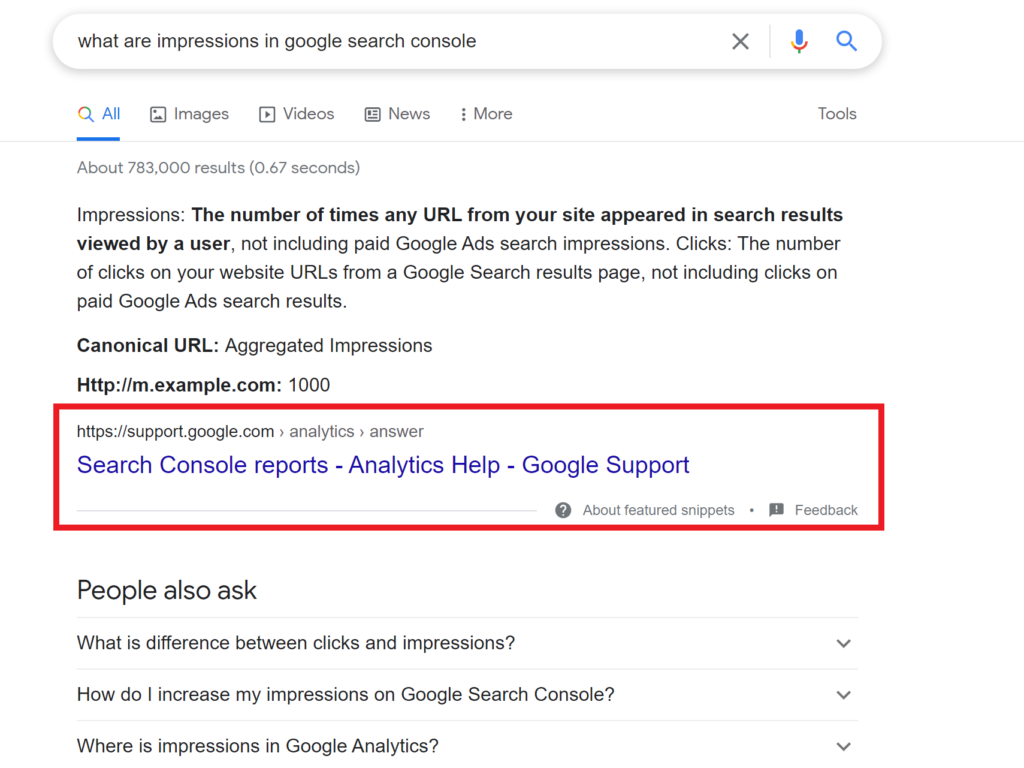 Search Console doesn't categorize the keywords based on the SERP features. So, you may need to check this manually or use keyword tracker tools. You don't get separate reporting for seed keywords or long-tail keywords. Now, there are several advantages to using Google Console to see keywords that you're ranking for. The information tends to be fairly accurate and well summarised. Google even recently introduced the
Search Console Insights,
which tells you about your most searched and top trending queries.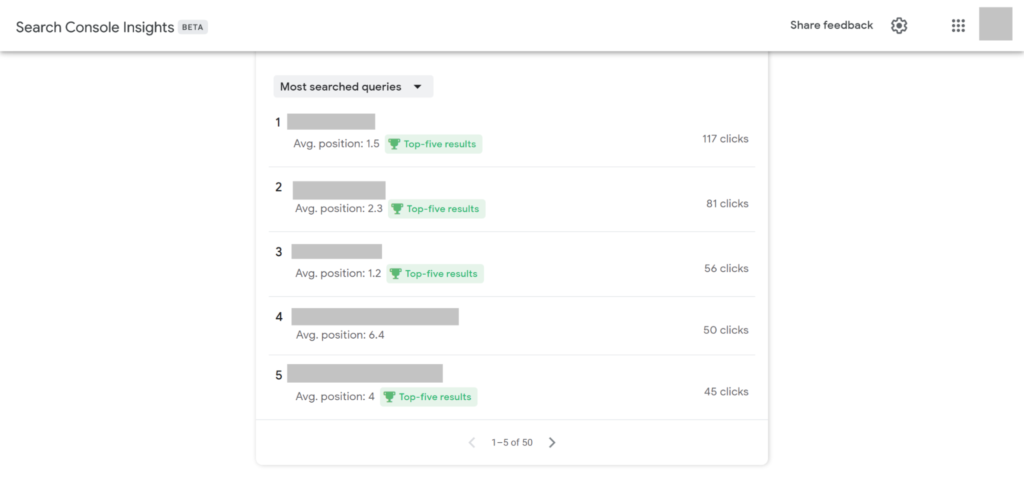 Because the Search Console aggregates keywords that all your pages are ranking for, there may be opportunities to broaden your content to target keywords that you're not covering effectively. You may get some inspiration for long-tail keywords that would drive traffic to your site. For example, let's say you wrote an article about "skincare." By checking Google Search Console, you may discover that some people find your article while searching for "skincare for dry skin." You may want to deep-dive into that topic in a separate article focused on "skincare for dry skin" and link your original article to that page to pass the link juice. The more impressions you see on Google Search Console for "skincare for dry skin," the more likely this new content will boost your website's overall SEO performance and traffic.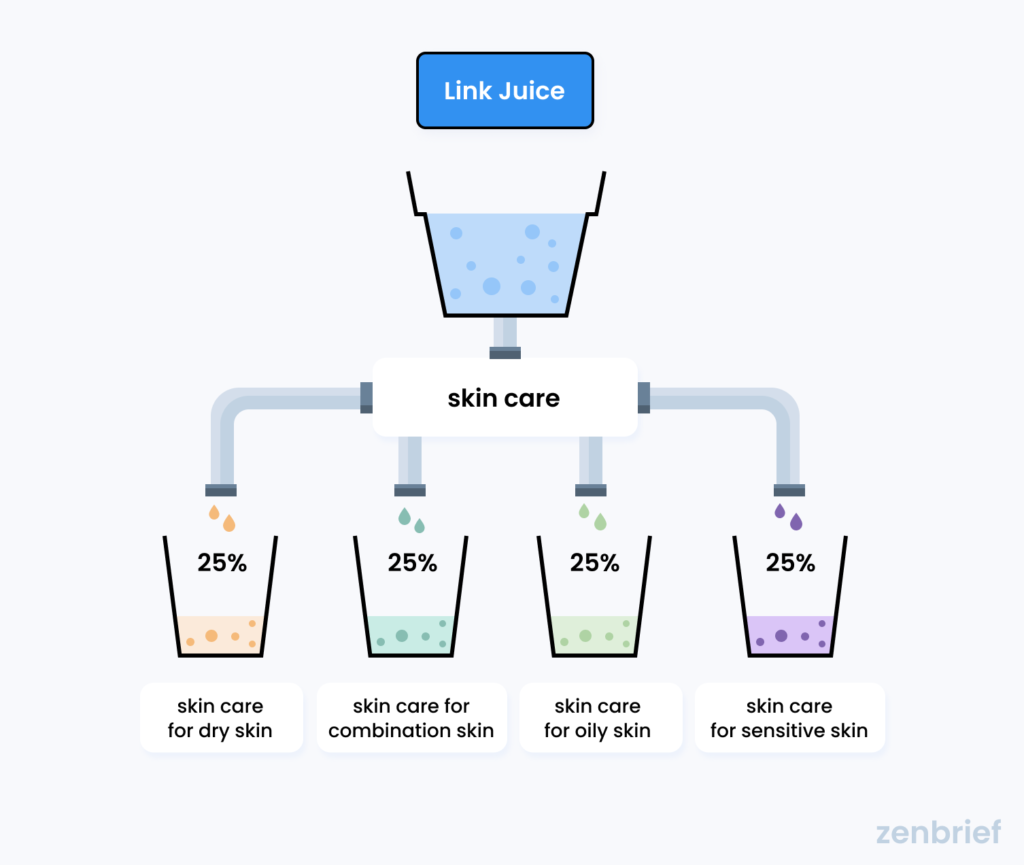 Don't worry about performing this process manually. There is new breed of tools for that. Take ZenBrief, our AI-powered content optimization software that handles the bulk of work for you: you can 
connect it to your Google Search Console account
. It will analyze your existing content along with your ranking keywords to uncover SEO enhancement opportunities. You'll even see how your content compares to competitors for similar keywords and what you can do to improve the keyword rankings. 
In short, you'll be able to find the best keywords to focus your optimization on.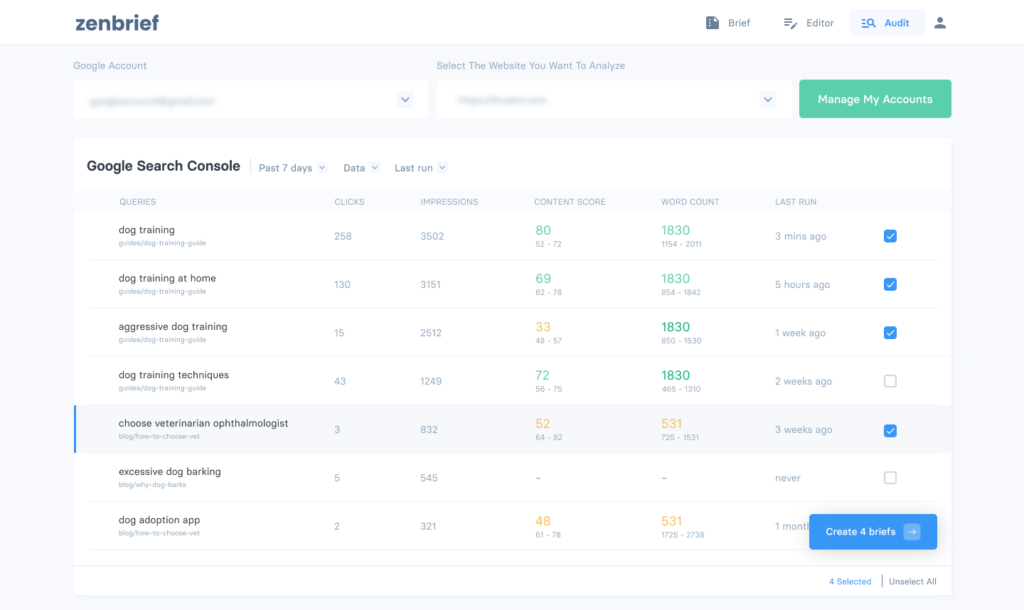 Neat! You'll love it.
Method 2: Use Google Analytics
Google Analytics is a free tool that allows you to analyze your website traffic. It offers a wide range of analytics and reports and can be a powerful keyword research tool.
How is Google Analytics different from Google Search Console?
Well, Analytics gives you insight into who visits your website's pages, how long they stay, and how they interact with your website pages. For instance, while clicks and impressions are critical for Google Search Console, in Analytics, the page views, bounce rates, sessions, and session durations are the most important metrics. You can even segment audiences based on their age, gender, or interests. It's possible to track traffic sources and measure conversions based on custom goals. It's sometimes stated that you cannot get keyword data from Google Analytics. Well, it is not true. Here is how to go about it: First, ensure that you've connected your website to Google Analytics and installed the tracking code. New websites may see the first bunch of data after 24 to 48 hours. From the left-hand menu, go to
Acquisition > Channels.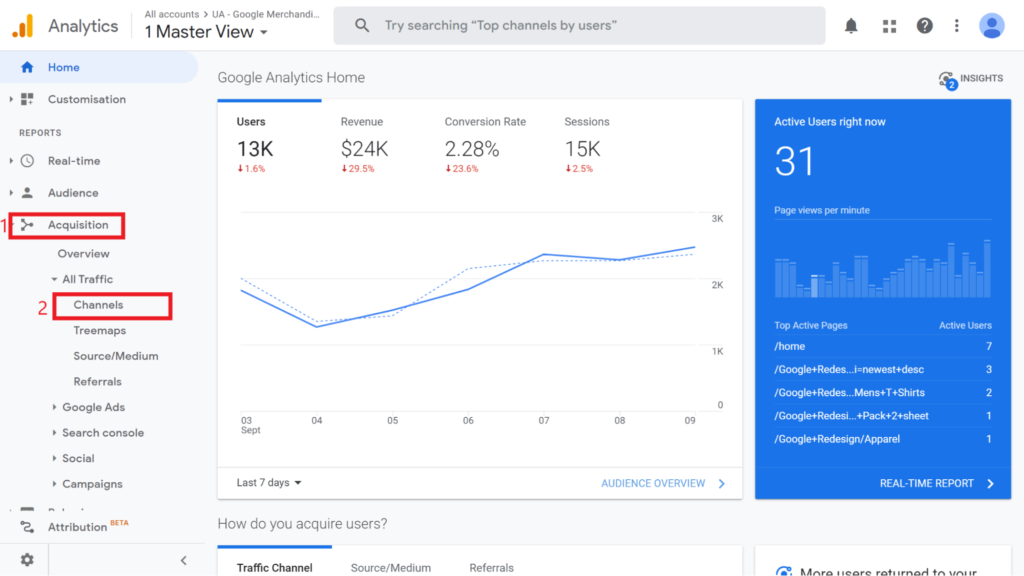 *The following data comes from the
Google Analytics demo account. 
Under the Primary Dimension, choose Other and select
Acquisition > Keyword.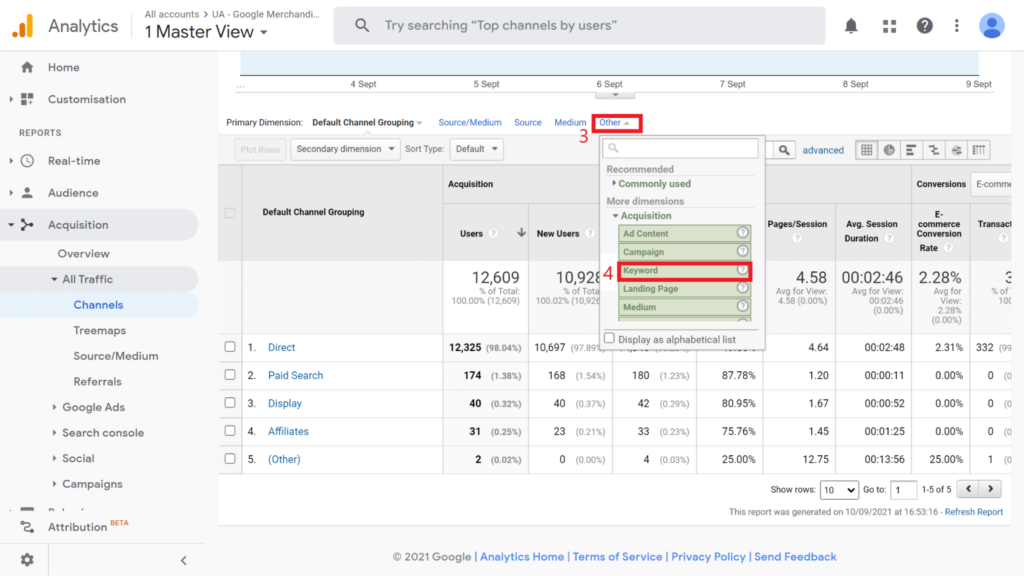 This will display all keywords users have searched to find pages of your site from both organic and paid traffic. You might not see all queries as Google tries to filter queries that may contain personal information.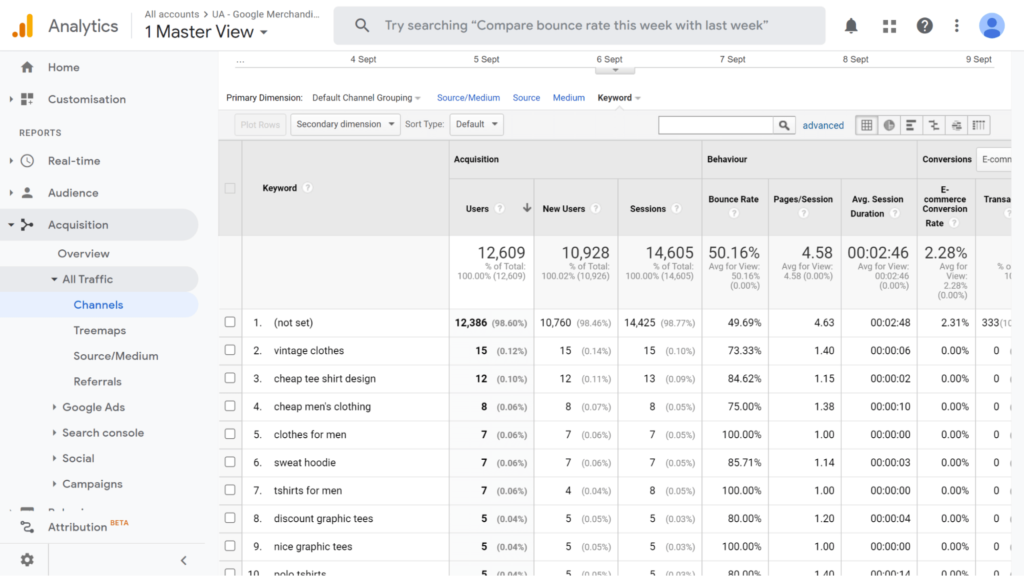 The information will be more comprehensive than what you get with Google Search Console. For instance, you can see acquisition, behavior, and conversion metrics for each keyword. You can also
enable the Search Console data
import in Analytics. After doing this, you can see your keywords by going to: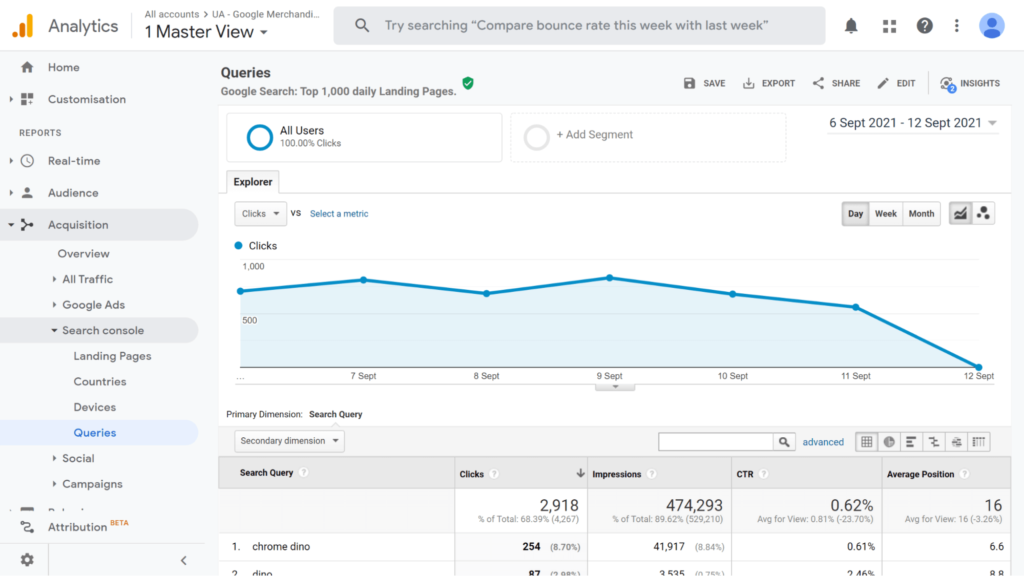 Acquisition > Search console > Queries.
As you've noticed, this keyword research method – and the next one – focus on Google. Therefore, it won't give you any idea of your website's performance with respect to other search engines. Yet as of 2021, Google handles more than 
90% of search engines queries worldwide
. So, 
unless your website's target audience is in Russia and China where Yandex and Baidu prevail, you can't go wrong by solely relying on Google tools to do your keyword research. 
Method 3: Conducting a Manual Search
Some marketers swear by conducting an old-fashioned search on Google – or other search engines – to find out if their website is ranking for certain keywords. You can perform a manual search in four easy steps: Step 1: Figure out the main target keyword for your particular page, for instance, "How to start a pet grooming business." Step 2: Turn on incognito mode on your browser. Step 3: Check the search location.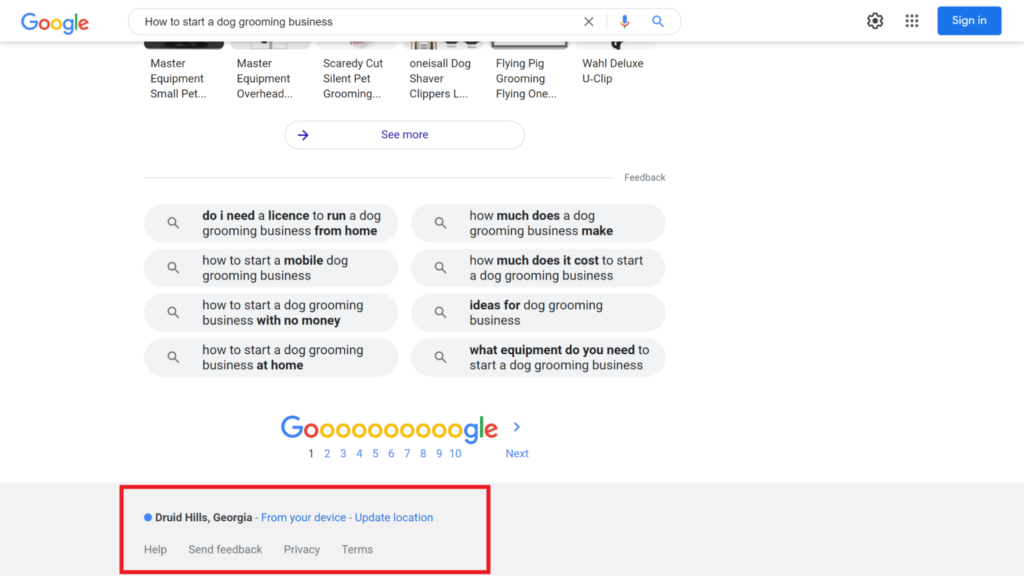 Step 4: You may not be ranking on the first page. Make it easier to find your actual position by expanding the results to 100 per page. Click the settings icon from the top of the page and expand the results.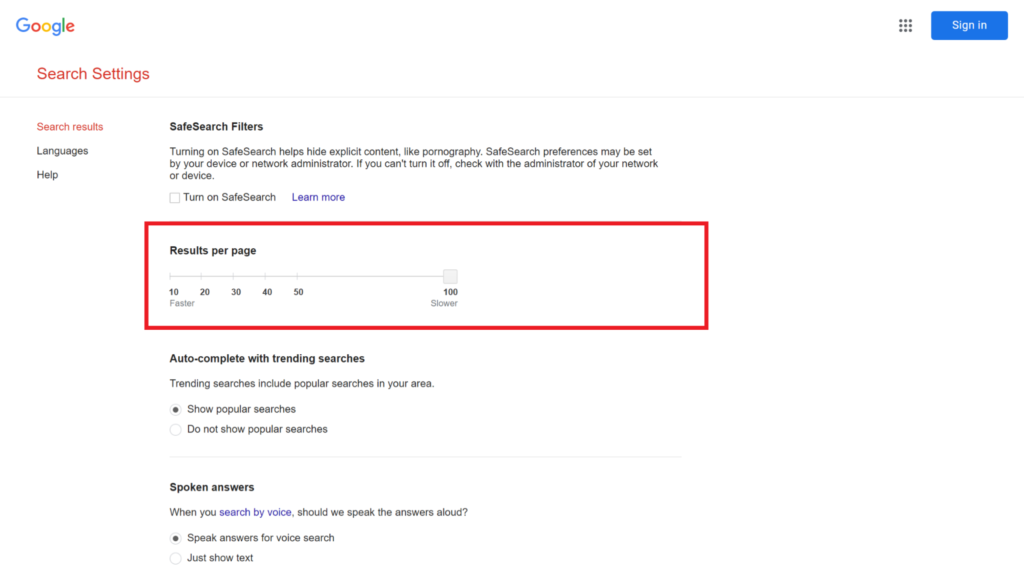 If you have a VPN, you can connect to another server and update the location to see your performance for different regions. While the method may seem slow, it gives you actual proof and real-time results. The problem of this method, is that it will not help you discover new keyword opportunities. Given that 
70% of search queries are for long-term keywords
, it's very likely that the keyword ideas you rely on will ignore many relevant keywords.
Method 4: Use Free Keyword Research Tools from Paid Keyword Tracking Platforms
Search rankings are highly volatile. Your site's page may be ranking among the top 10 results for a while only for your competitors to update their content or gain more backlinks resulting in your page losing its search position. Major Google algorithm updates such as the
December 2020 Core algorithm update
can cause an upheaval in rankings. Your website may also grow to the point that you have hundreds of keywords performing well in search results. You may need a way to track their positions automatically. Search Console is great, but it does have some limitations. For instance, it doesn't offer a way to track and receive alerts on individual keywords. You similarly can't see the search volume for each keyword. That's where paid rank tracker tools come in. They may offer more features than you get with Google Search console search up more regular updates, keyword position alerts, search volume, and SERP features. You won't need to fork out your wallet today. Take advantage of free versions of some of the best keyword rank checker tools.
SEMRUSH
Using SEMRush to see which keywords a domain is ranking for is quite easy. Head over
to the main website page
and enter your domain. You will need to register an account if you don't have one.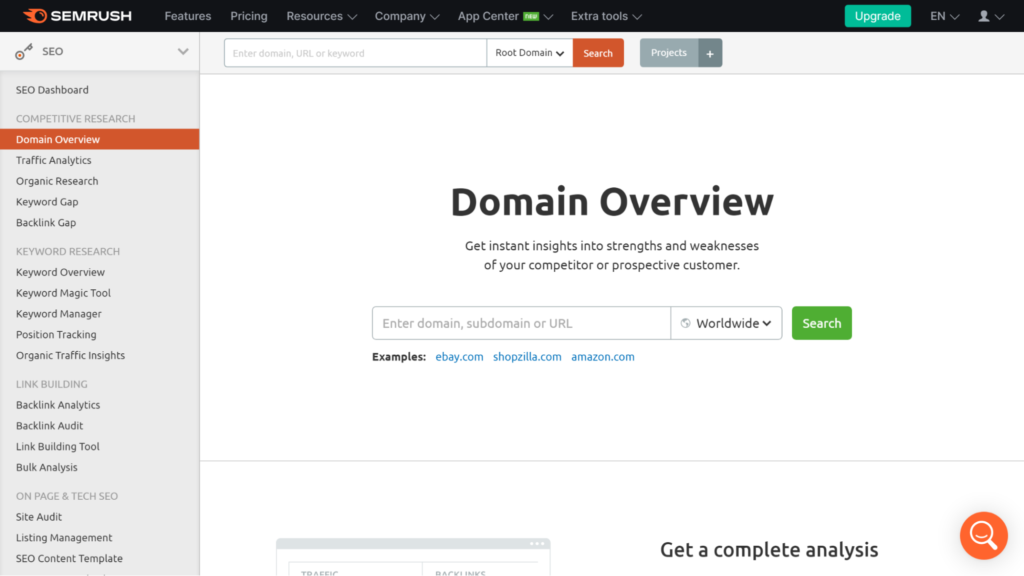 The domain overview gives you a quick glance at your search performance. For a more detailed look, click on the keywords.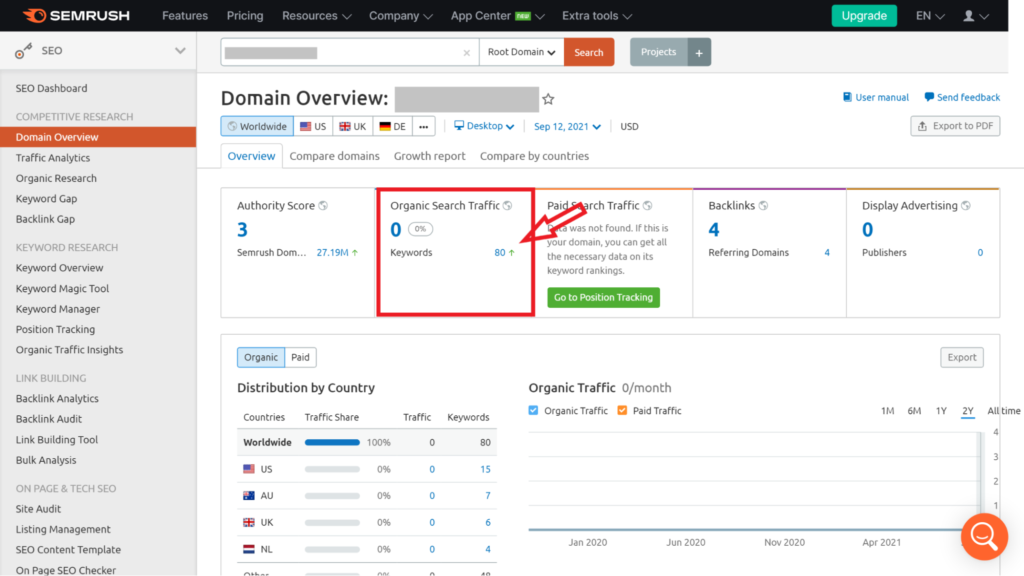 Note that you will be limited to only 10 requests per day.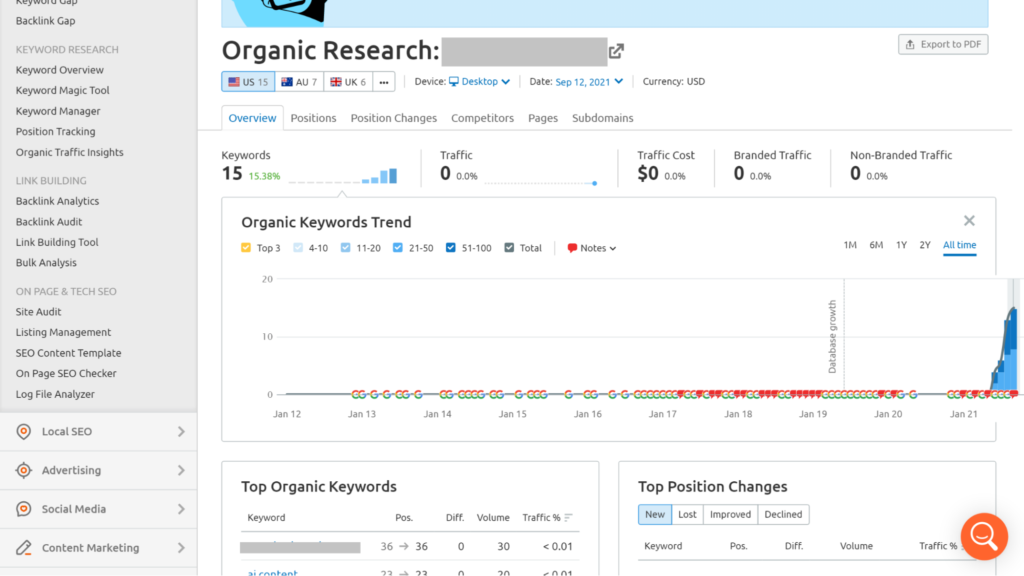 Their free organic keyword research analysis is not bad. You see the keyword trend, keyword difficulty,  search volume, and traffic.
Keyword Explorer Moz
Another handy keyword research tool is the Keyword Explorer by Moz. Get started by visiting
Moz.com
and sign up for a free account. Sometimes it may be hard to navigate their website. Access the keyword explorer
from this link
. From the left-hand menu bar under keyword research, choose Ranking Keywords.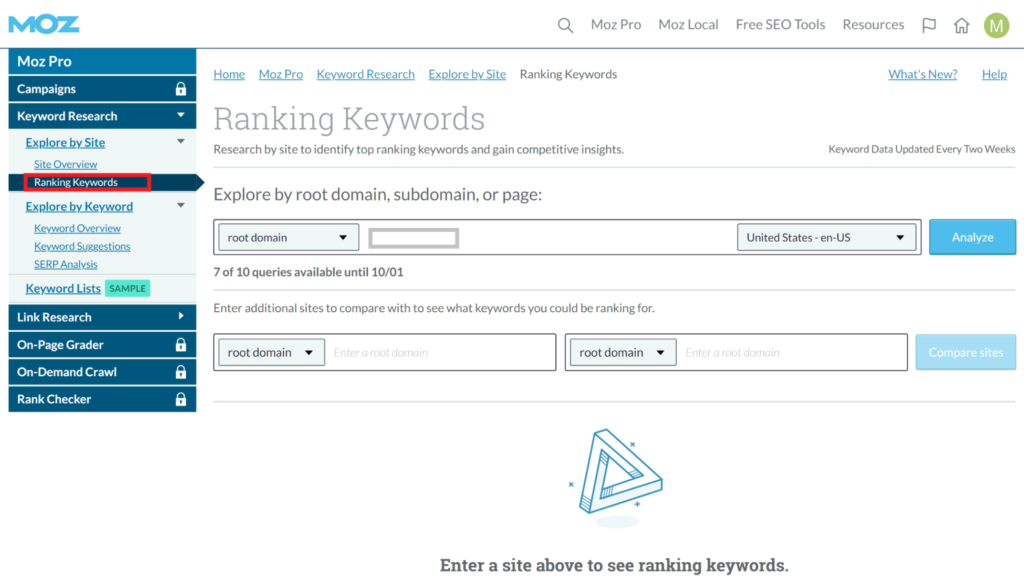 You can enter up to two competitors to compare your search visibility.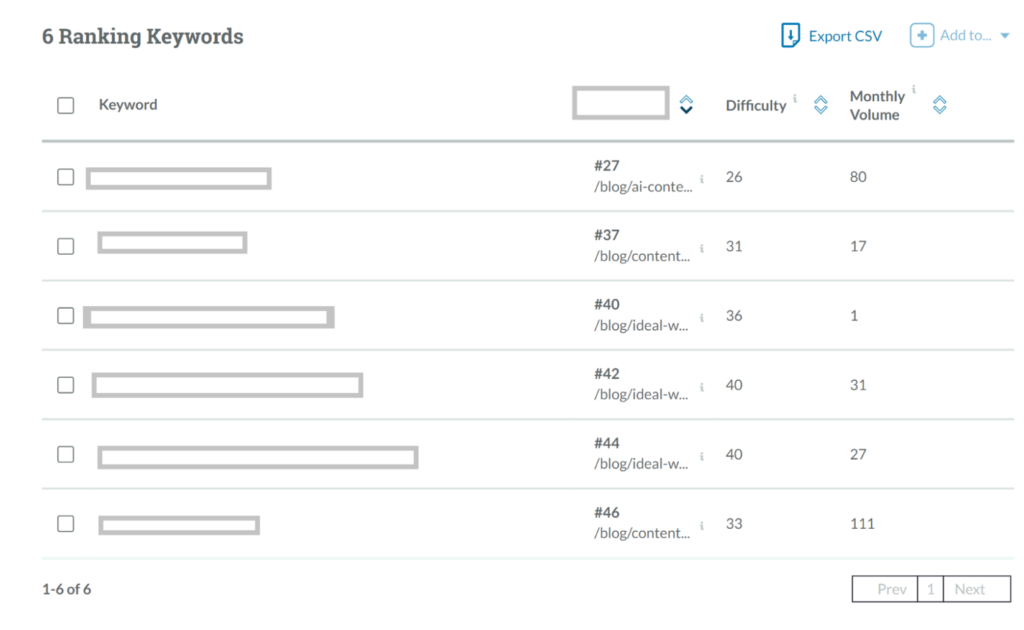 This is interesting: SEMRush managed to show up to 15 keywords, while Moz.com uncovered 6 keywords for this test.
Rank tracker by Ahrefs
Another keyword rank analysis tool you can try is Ahrefs Site Explorer.  It's actually the most robust SEO tool in the industry, as Ahrefs boasts of the world's largest live index of backlinks. Google may have something to say about that, only that they keep many of their metrics under the wrap. It also gives you visibility into paid search keywords from your competitors.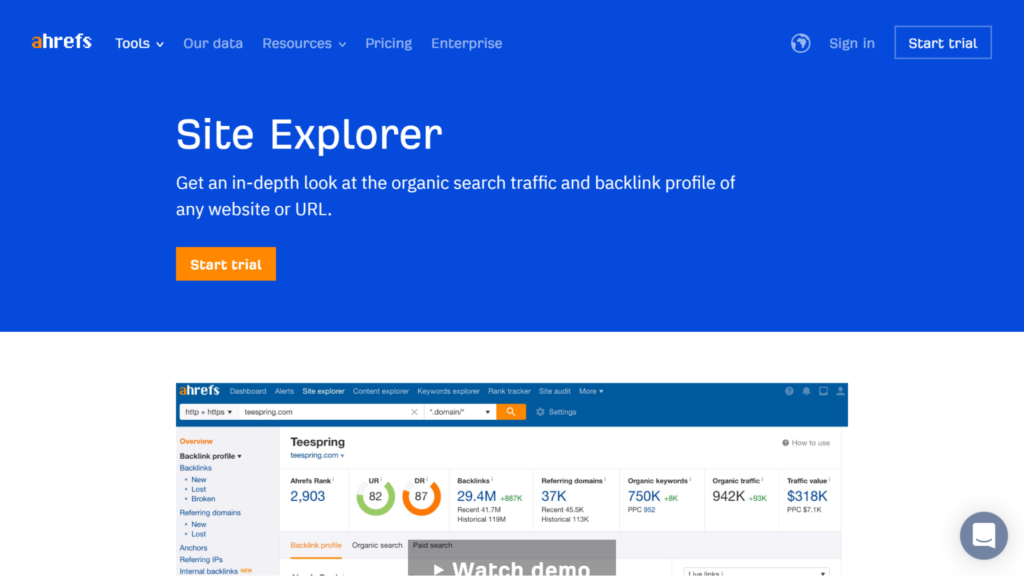 The company offers a 7-day trial that can help you gauge the suitability of the tool for your keyword research. Before we draw this article to a close, there are some noteworthy mentions. These are tools you can use for competitor keyword research and keyword ranking research:
Rank Math: It's one of the best WordPress SEO plugins that can allow you to measure and track your keyword ranking. See it here.
SE Ranking: The keyword rank tracker claims to offer 100% accuracy in keyword rank tracking with real-time ranking positions across all the major search engines.
Bottom Line
Conclusions are typically tricky to write. But let's sum up what we have discussed:
Google Search Console is a powerful way to perform a keyword research and track your ranking keywords across your website's pages;
You can integrate Search Console with Zenbrief to spot opportunities to enhance your existing content and get more organic traffic from Google;
Rank tracker tools can offer more robust features when tracking keywords. And some of the best include SEMRush and Ahrefs;
You can also do things the old-fashioned way by conducting a manual keyword research to see ranking keywords.
Congrats! You're now fully capable of finding keywords your website ranks for.
I've found keywords my site ranks for. Now what's next?
Once you have found keywords your site ranks for, you can focus on the keywords that get you the most conversions, whether you are trying to sell a product, collect leads or generate ads revenue. From there, you can look a variety of 
on-site and off-site SEO techniques
 to increase your organic traffic, such as 
updating your existing content
, building backlinks and creating new content on related keywords. You may also want to use a tool like Zenbrief to analyze your competition on search results and discover new keywords and topics that you haven't covered. This will increase your content depth and help you capture a larger share of search results. 
Happy SEO and see you in the next one!
Was this helpful?
Let us know if you liked the post. That's the only way we can improve.