This is an in-depth guide on Google Business Profile(formerly Google My Business or "GMB") and on how you can use it to boost your business's local SEO strategy. 
It's 6,000 words + strong, but with a light touch. 
You'll make it to the end without knowing it. 
We've written it for beginners setting up a new listing with actionable insights on: 
Basics of Google Business Profile
How to start a new listing 
Tips for adding photos & videos 
Verifying your Google Listing
How to optimize your Business Profile for local SEO 
Is your business on Google?   
Check out chapter 5 for the best optimization tricks to boost your business's SEO using Google Business Profile
Well, then.
Let's start:
---
Chapter 1: Basics of Google My Business
Google Business Profile is crucial for any business with a physical location and is essential to your local SEO strategy. 
Let's see what it is, how it helps customers, and the benefits of getting listed:
What is Google Business Profile (formerly Google My Business)
It's a free dashboard provided to business owners by Google.
They can use it to create, update, manage and monitor their business listings shown on Search and Maps.
Google Business Profile replaced GMB in late 2021, marking a cumulation of many upgrades. 
For instance, Google My Business was an improvement on Google+ Local— launched in 2014.
Before that, business owners utilized Google Places Pages.
And…
Places was preceded by Google Local Business Center, and so on.
Google's main goal has not been waived as they have launched the profile management tools.
They want business owners to have full control of their business info, allowing them to provide quick and accurate details to customers.
This BlueTrain infographic tracks the evolution of Google Business Profile over the years.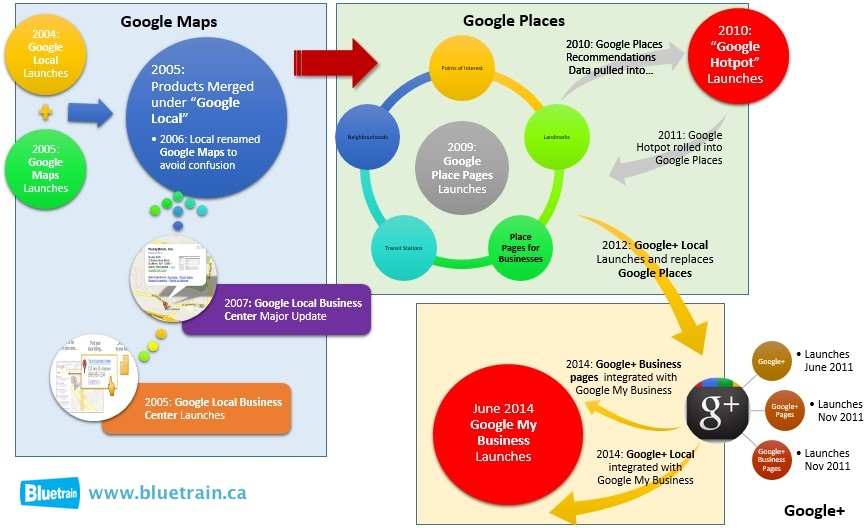 Why is Google My Business Important?
Google Business Profile is important for two reasons that both aim at better addressing your audience's search intent 
#1: GBP aids in local business discovery 
Assume, it's 10 something, and you're feeling hungry.
So, you head over to Google, and search for "Pizza restaurants near me." 
Based on your location, Google pulls nearby businesses, and the local business SERP is the top result on the page: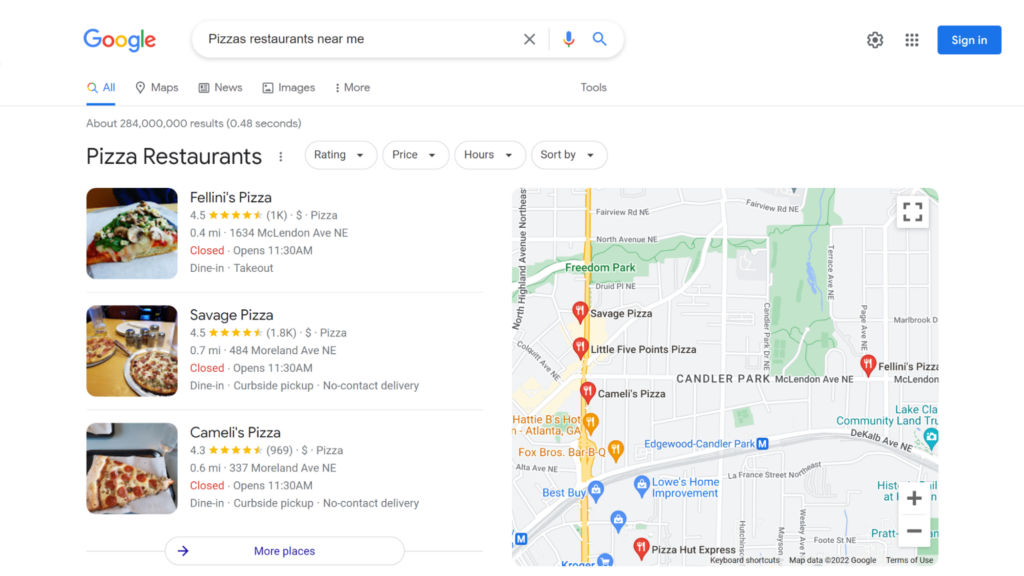 It lists Pizza restaurants and highlights their location on a map.
Additionally —Google shows: 
How far the business is (the 3 listings show 0.4 to 0.7 miles) 
Ratings (based on Google Reviews)
Delivery options and opening time 
You can expand the list by clicking on "More Places."
Or select a specific business such as "Fellini's Pizzas" to get more info.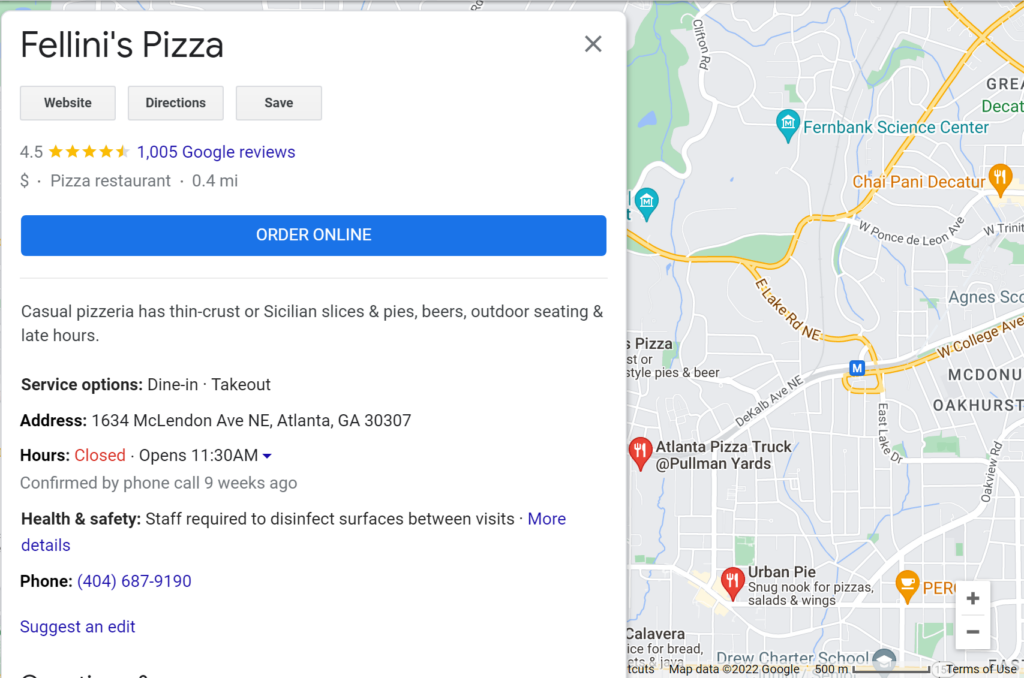 Customers can easily call, order online, or request directions.
#2: Business Profiles give searchers more information about local businesses
Let's say you're remodeling and ask about the best place to buy a touchless kitchen sink faucet.
The plumber recommends the local "Intown Ace Hardware on Northland Highway Avenue." 
Okay, great.
You're not so sure if they can just deliver. No problem. You can search for the store on Google. 
And this is what you'd see: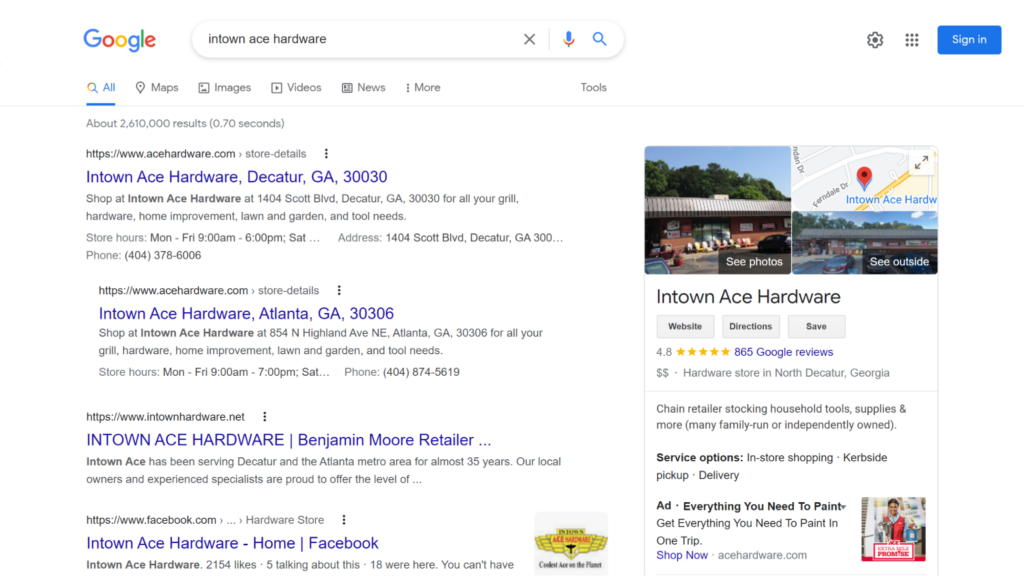 On the right, there is a local knowledge panel sharing vital info, including service options, the store's current Google Search ad, reviews, map, store photos, etc.
The local knowledge panel is one of the types of knowledge panels on Google, along with branded knowledge panels.
Which Businesses Can Get Listed on GMB?
To be eligible for listing, businesses should make in-person contact with customers during specified business hours.
The business should either maintain a physical storefront for customer visits or travel to the customer's location to render services. This allows businesses such as plumbing to get a listing.
As part of the rules, businesses with a physical location must provide an accurate verifiable address. Service businesses must accurately define their service area.
Now, online-only businesses such as artists or brands don't qualify for a listing.
What if a business maintains a physical location but does not make in-person contact with customers?  
Google makes an exception for video rental kiosks, mail drop boxes, ATMs, and delivery-only food services — operating as Virtual Food Brands. 
It also permits seasonal businesses like ice rinks, but owners should have permanent signage throughout the year.
Can you get listed on Google Business Profile without a physical location?
Yes, it's entirely possible for businesses that deliver their goods and services to customers to have a Google Business Profile listing.
During the profile creation process, there's an option to select.
While Google will not show the business address, it will display the business's service area and may request a mailing address for verification.
Does Google My Business Help SEO?
Yes. Claiming a Business Profile is critical for local SEO.
That's because Google prioritizes local business results for discovery searches revolving around products and services.
The search engine intuitively determines the user's location from their IP address or device location.
For instance, if you search for "Web development companies" after Google determines that you're based in Atlanta, it will automatically show nearby businesses, which is why local SEO is critical.
This helps customers find services and products in their town, city, state, or country —improving the search experience.
So, when your business shows up on top of the search results, you receive a huge boost in search visibility and new customers.
Google My Business does help search engine optimization (SEO).
5 Benefits of Google My Business
Google attracts billions of searches every day.  A sizable percentage of the searches will be for local businesses and services.
Search engine watch estimates that 50% of people who use their mobile phones to perform local searches end up visiting the storefront in person.
Now, using Google My Business will guarantee your business the following benefits:
1) Get Found on Google Maps
Claiming your Business Profile is the fastest way to get featured on Google Maps, which is great for several reasons:
It's a great source of highly targeted traffic. 
Customers can quickly contact your business and get directions straight in their navigation app. 
Businesses can showcase their services and location with images on Google maps.
2) Enhance your business's visibility by getting featured on Google Local Pack
Okay, what is Google Local Pack?
Great question.
It's a  SERP feature displayed on the top of the results page for searches with local intent. It contains a short list of local businesses with an option to view more places.
For instance, if you search for "Wellness center near me," Google displays the local pack.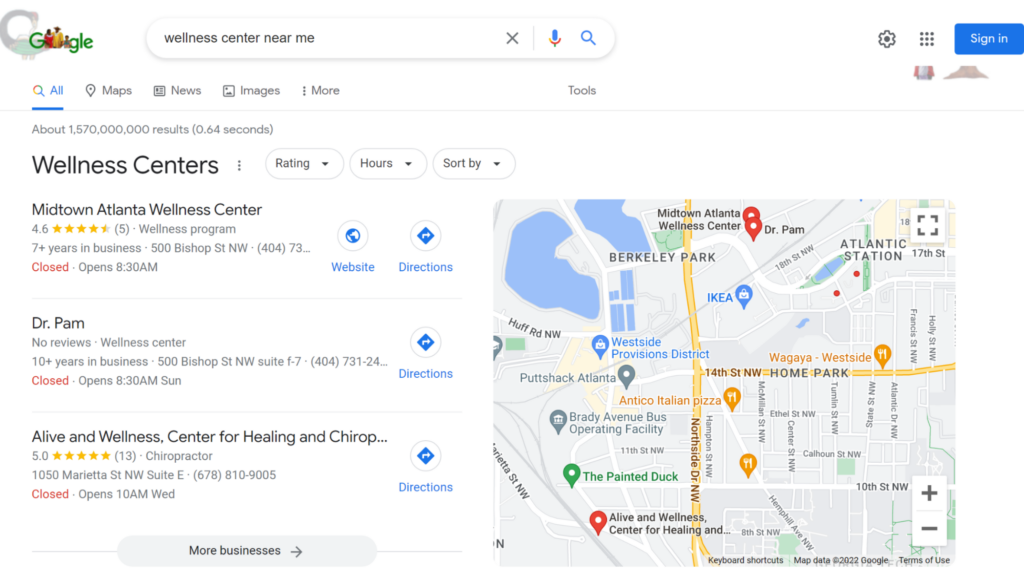 It will occasionally list three businesses. That's why the feature is sometimes referred to as the Google local 3-pack.
In the past, the search engine displayed five or seven businesses hence the terms Google local 5-pack and local 7-pack.
If you do things right, your business may feature among the top three businesses.
You'll enjoy enhanced visibility, more profile clicks, and consequently, more business.
Is there any way to increase the chances of a business appearing on Local Pack?
Yes, there are ways to optimize the chances of claiming a Local Pack slot:
Ensure that your Name, Address, and Phone Number (NAP) Information is consistently accurate across local business directories; 
Provide a local phone number;
Maintain an accurate Google Business Profile listing;
Create a business website and keep it regularly updated (you can even create a free Google business site);
Add your social media pages and keep them well integrated with your website;
Make it clear what your business does, its location, and target customers;
Build your authority in the relevant business category; 
Ask customers to leave reviews on third-party independent review sites such as Yelp or Google reviews; 
Maintain an updated Google Business Profile with store photos, opening store hours, prices, etc.
3) Build trust with reviews
One of the prominent things that customers will see on your local business panel is a cumulative score on Google Reviews, ranging from 1 to 5 stars.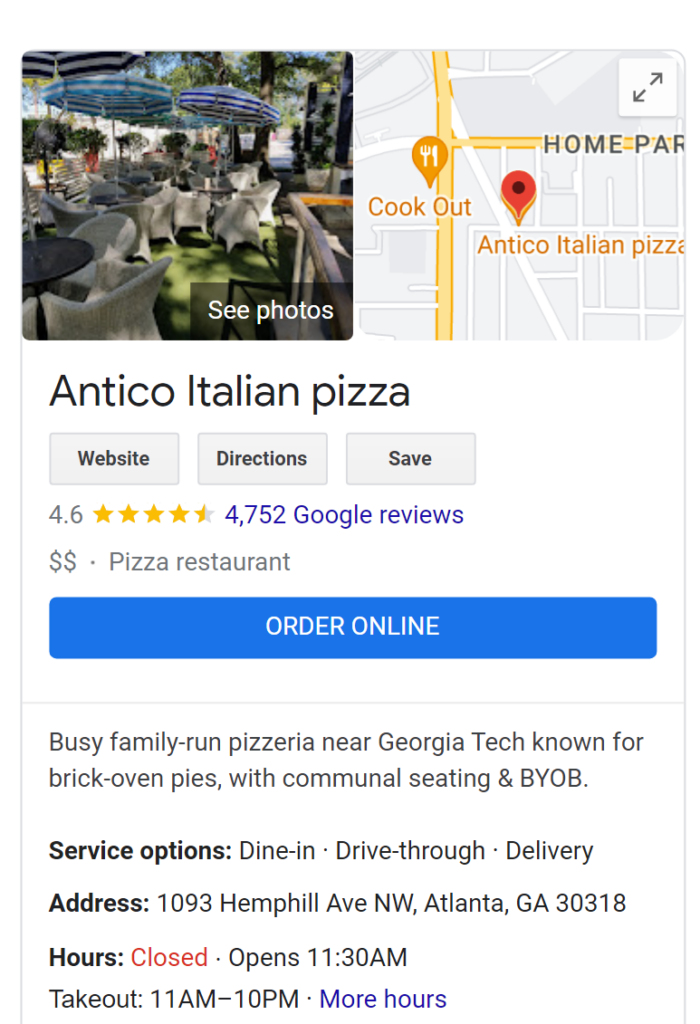 Now, reviews are integral to building social proof – because people look for what others have said about a business before making their decision.
The better reviews you get, the higher your social proof and the better your chances of customers choosing your business.
Google makes gathering reviews easier.
From your Google Business Profile manager page, you can share a link to the Review Form on Facebook, WhatsApp, Twitter, or by email.
4) Get stats and insights to improve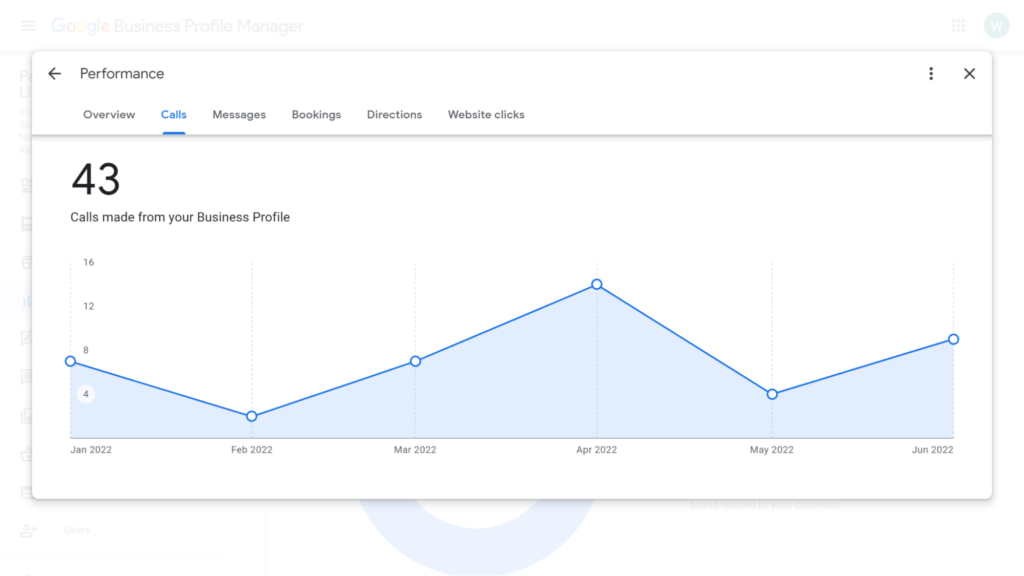 You can track your performance on Google Search by logging into the Google Business Profile Manager.
Here, you'll see metrics such as: 
Search views; 
Map views (over the past 28 days; 
Direct and discovery searches; 
Activity (Website visits,  calls,  photo views,  and Direction requests).
The stats and insights can be quite instrumental when it comes to improving your visibility and performance. 
For instance, decreasing direct searches can signal an issue with your local marketing efforts, customer retention, etc.
5) Maintain an online presence for free
Don't want to go through the hassle of spending thousands of dollars creating a professional website and the extra effort of maintaining it?
Thanks to the Google Business Profile page, you don't need a website to maintain an online presence.
Just create your Google Business Profile account. You can add your contact information, store photos, videos, offers, ads, products, opening hours, social media links, posts, etc.
Of course, you may miss out on other benefits of a professional website, such as the chance to have individual pages or custom features.
But you can still make up for the loss by having a free Google business site.
6) Keep customers abreast of any new developments
Have you moved to a new location or changed your operating hours?
You can easily update your Google business profile with new information.
Right around special holidays, Google will even send alerts asking if your opening hours may be affected.
They even responded during the COVID-19 pandemic, allowing owners to update their business hours, send special offers, and set up automatic email replies to respond to common customer questions.
---
Chapter 2: How To Create a Google My Business Listing?
Let's look at how to create a Google Business Profile listing.
We will talk about signing into GBP manager, adding a new business, listing your location, providing contact information, and verifying your business.
Let's get started:
---
Step 1: Login into Google Business Profile
Just visit the Google Business Profile page, and select "Manage Now."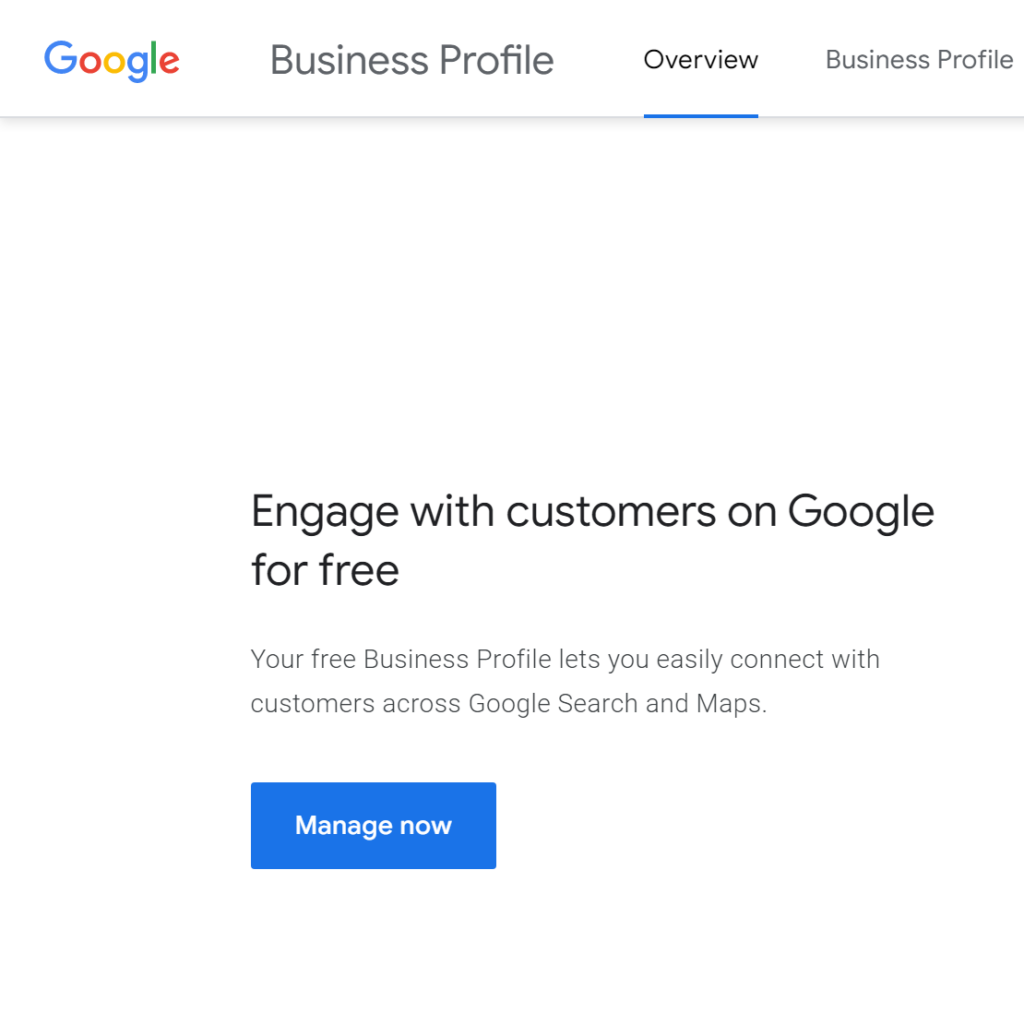 You'll need to sign in to your Google account by providing your email and password.
Choose "Add new business," and type in your business name.
Step 2: Build your business profile
Google will ask you to choose the business category.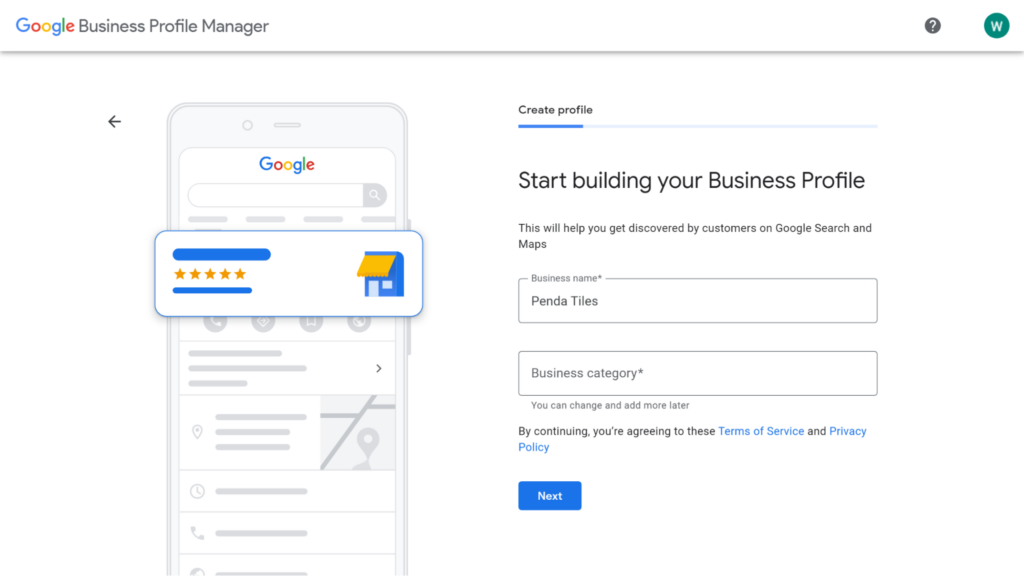 It will ask if you need to add a location (a storefront or office) customers can visit.
Provide the accurate physical address and postal code as requested.
If Google can't automatically find the address, you may get a map and a marker that you can drag to mark your actual location.
Answer other questions as required, including: 
Choosing if you provide deliveries and office visits; 
Adding areas where the business provides deliveries or personal visits;
Adding contact info (phone number or website).
Step 3: Choose a way to verify the business
During the profile creation process, Google will ask you to verify your phone number, mailing address, or physical address.
For phone verifications, you can choose text or call.
Now, it's not a requirement to verify the business details during the initial profile creation.
Just select more options and "Verify later."
P.S. Chapter 4 addresses how to verify your business and what to look out for.
Step 4: Finish customizing the profile (Specific business hours + business description)
Google will ask for additional information to complete the profile.
You will need to specify your business hours and choose whether to accept messages from customers on Google.
It's also important to add a business description that tells customers about what your business does. It's displayed on search, map, and other Google services.
Now, here are some tips to write a great description:
Keep the description under 750 characters;
Focus on key details about the business, limiting promotional messaging on prices, sales, or offers:
Write about products, services, unique selling points history, and other helpful info;
Avoid URLs or HTML code.
Step 5: Add photos of your store
The setup wizard will ask you to add photos of the store that showcase the products and give our customers an inside peek.
Google may also ask if you want to publish a search ad,  but you can skip this for now.
All the profile changes will become visible once you are verified.
Let's cover the best ways to add photos to the store in the next chapter.
Chapter 3: Photos & Videos for Your Google My Business Listing
It's absolutely necessary to have photos of your shop showcasing products and giving your customers a behind-the-scenes look before they visit.
But you'll need to verify your profile for the photos to show up on Google.
Let's talk about the types of photos to add and recommendations when it comes to adding photos to your Google Business Profile.
Types of photos to add to the Google Business Profile
Business owners can add three types of photos to their profiles:
1) Logo
Users will typically see the logo on the local knowledge panel shown for direct searches.
It's an extra addition to your business profile listing that presents a branding opportunity and makes the business identifiable to users searching for the business name.
Google shows the logo if the business profile contains basic info about the business, including the phone number and business hours.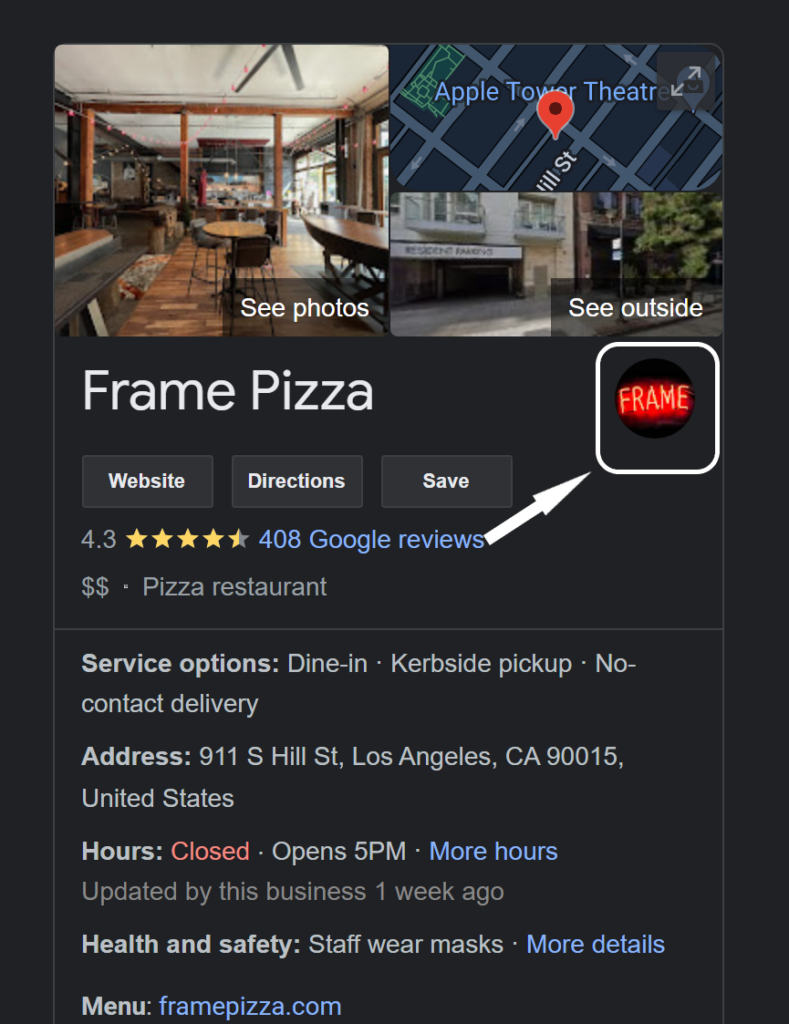 Logo requirements:
The logo file should have a minimum resolution of 250 x 250 px, with an aspect ratio of 1:1. 
Tips for a great logo for Google Business Profile:
Do you need to create a logo for your Google Business Profile?
Well, here are some tips to follow: 
Keep the logo design clean by having empty space;
Choose the right colors;
Ensure that the logo is memorable and relevant; 
Choose an appropriate logo type for your industry (Available types include a logotype, logomark, combination mark, or mascot logo);
Draw inspiration from other memorable logos.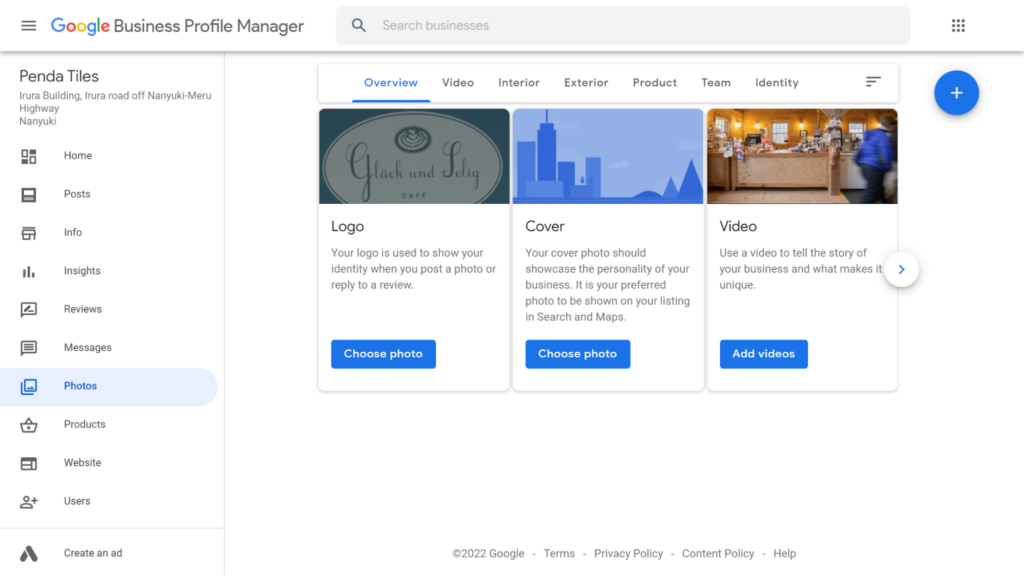 2) Cover photo
Google allows you to set a cover photo that serves as the main profile image on Search and Maps. 
It's the first image that people will see of your business. Give careful thought to it.
While it's possible to set the cover photo, Google doesn't guarantee that it will use it.
It may use an image it finds from other sources such as Wikipedia or a user-generated photo.
For instance, the cover photo for Chester Zoo in Cheshire, England, is a photo taken by a visitor.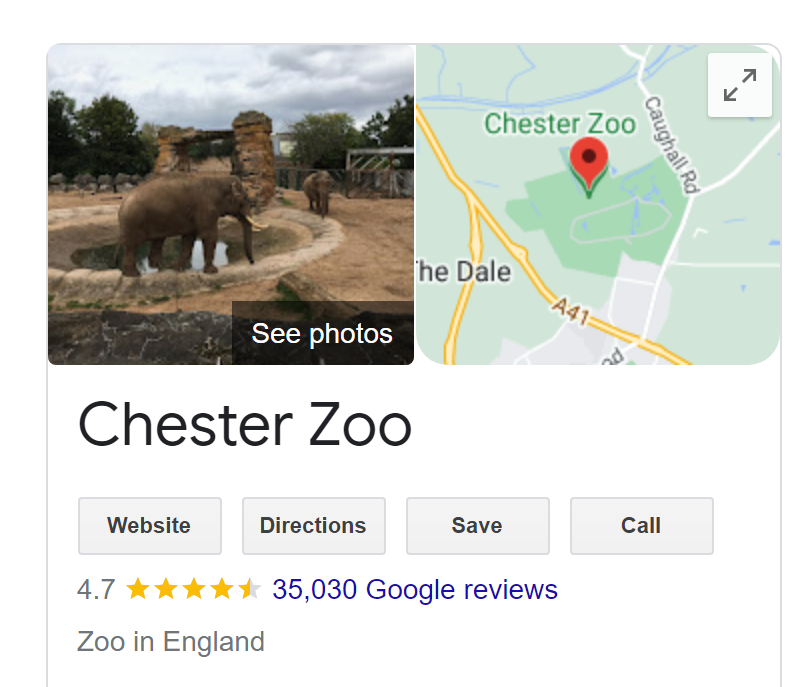 Cover photo recommendations 
The ideal cover photo size is at least 1024 x 576 px with an aspect ratio of 16:9.
The file size can range from 10KB to 5MB.
*Upload a high-quality photo because Google will forgo a low-quality image in favor of a better image in your catalog, even if it's user-generated or on a third-party site.
Tips for a great cover photo for Google Business Profile
Because the cover photo is so prominent, you need to give it careful thought. So, follow these best practices:
Choose a cover photo that showcases your personality;
Select a photo that also looks great as a thumbnail displayed during mobile searches; 
Choose a photo with a central focus or theme; 
Pick a photo that shows your brand or team in action;  
Make an emotional connection with the right picture; 
Ensure that the cover photo is not deceptive or misleading;  
Avoid stock images. Instead, provide a genuine photo that relates to your brand and products; 
Stand out with an eye-catching, vivid, and colorful photo.
Google Business Profile cover photo ideas
Don't know what you upload for your cover photo?
Try the following ideas: 
Upload an image of your office (front desk, boardroom, etc.)- This is suitable for businesses that accept office visits, such as consultancy firms,  law firms,  insurance, etc. 
Showcase your team to build trust with clients. It's a great idea for a family-owned business.
Make your cover photo a product image, for instance, an image of a yummy pizza for a restaurant; 
Showcase your products in action or context, for instance, guests having breakfast in your establishment or kids enjoying rides at an amusement park; 
Update your cover photo based on the season, for instance, a Christmas or Halloween themed store;
Take a clear image of your storefront with your signage (This helps customers identify your location when they arrive).
Business photos
Google Business Profile allows users to add category photos to highlight different aspects of the business.
In fact, your Google Business Profile will contain categories such as exterior, interior, or product photos.
Don't miss the chance to upload business photos. For instance, product images will be quite instrumental in aiding an undecided customer in arriving at the final purchase decision. It can contain different shots showcasing the product features.
You can also show buyers that you stock the right items and even hint at their quality.
Here is a breakdown of must-have business photos and tips to make them great:
Exterior photos
Photos of your storefront exterior will help customers recognize your business when approaching from different directions.
Tips for exterior photos 
Google recommends at least three exterior photos from different angles; 
Provide a photo for each direction the customer may use to approach the business; 
Take exterior photos during different times of the day, for instance, an evening photo of a restaurant from the sidewalk;
Capture your business signage and any other signage that gives direction; 
Provide an exterior photo of the main building where your business is located, as this helps clear a lot of confusion.
Interior photos
The photos, taken inside your premises, give potential customers a feel of the ambiance, decor, and atmosphere.
Tips for interior photos
Google recommends a minimum of three interior photos showcasing what the business looks from the inside; 
Capture photos from the customer's perspective of what they will see once they visit (standing in a queue, visiting the washrooms, sitting at the table, looking at the menus, etc.); 
Avoid staged shots as much as possible but try to capture the natural flow of things; 
Use photos to tell customer stories; 
Have clear subjects in each photo; 
Take advantage of natural lighting; 
Be creative with your angles and perspectives to create intrigue.
Product images 
Taking product shots is the best way to showcase the items your business sells. They can also help drive sales of the service or product as they will entice the customers.
You can experiment with different product photos, for instance, individual shots, detailed shots, lifestyle shots, and in-context images.
Let's look at some best practices:
Tips for product photos:
Upload at least three product images at a minimum; 
Don't overwhelm customers. Take photos of the most popular items on sale;
Ensure that the product images have even lighting; 
Use a scale to showcase the real size of products (for instance, a florist shop can have a spade in each image showcasing the different sizes of their pots)
Consider group shots to quickly visualize colors, varieties, and styles of similar products;
Don't just have white background product images. Provide in-context and lifestyle photos as well.
Photos at work 
You can quickly show customers the kind of work you do with photos at work. The photos are quite instrumental for service-based businesses, for instance, landscaping or plumbing.
Tips for photos at work
Provide at least three photos showcasing how you provide your services —or more if your business is predominantly service-based;
Take photos of your team in action as they serve real customers;
Determine what you want the images to convey before taking them; 
Ensure that the lighting is fairly consistent;
Avoid using photos that look staged and fake; 
Take lots of photos and pick the best ones; 
Showcase specialty services that allow you to stand out from the rest of the competition.
Food and drink photos 
If you're a food and drink business, it's paramount to provide customers with photos of the meals and drinks you serve. This helps them plan where to dine or get a feel of your menu.
Google includes this as a special category that you can add to your listing.
Tips for food and drink photos
Upload at least three pictures at a minimum;
Pick foods and drinks that are popular at your establishment; 
Capture photos of your food delivery packages and what comes in the box; 
Include pictures of the order menu to help customers quickly find foods; 
Find the best lighting as it can make or break your food photos; 
Have an uncluttered and simple background with the food as the main subject of the image; 
Experiment with different angles; 
Add individuality and personality by showcasing people eating the menu items.
Common area photos 
Google recommends common area photos,— spaces available for use to more than one visitor. It's important to have photos for hotel-based listings that help customers plan their business or leisure travel.
Tips for common area photos
Google recommends having at least one photo of the common area;
Get one photo from each separate space, for instance, the gym, hallway, lobby, driveway, etc.;
Capture the atmosphere of the common areas; 
Shoot vivid photos during times when there is a lot of light, and this makes for interesting shadows; 
Portray an honest representation of the common spaces; 
Find things that customers may find interesting, for instance, stationary bikes or treadmills that are popular in gyms.
Team photos
Google recommends businesses upload team photos featuring employees and management.
It's a great way to humanize the brand and add a human touch to the Google business listing.
Tips for team photos
Capture at least three photos that show staff members and senior management; 
Showcase your team in an informal setting to humanize your brand;
Include headshots of key staff to build a friendly connection with customers; 
Highlight your team's different personalities; 
Capture a group portrait, but be a little creative with your approach.
5 Tips for Videos for Google Business Profile
You can add a video to your Google Business Profile, and it's quite straightforward.
You only need to log in to your dashboard and select add photos > upload video. 
Adding a video can help tell your brand story and highlight things that make it unique.
But why go through the extra effort of publishing videos? The format is more engaging than images and text combined. Videos also receive 1,200% more shares compared to images and text.
Here are some tips when using video on GMB:
Tip 1: Stick to Google's video guidelines
Google recommends that video should have a resolution of up to 720p and a file size of 75 MB. 
The video should be up to 30 seconds long. 
Tip 2: Don't get overwhelmed
Taking photos of your store is easy.
But producing a great 30-second commercial can seem expensive and difficult to get right.
But what if you have it wrong. It's actually quite easy to create a simple video to capture the user's attention, and there are many ideas you can try: 
Produce a first-hand testimonial from a happy client; 
Create a 30-second how to video relating to a product your business sells;
Film a walk-through video of your premises; 
Provide a behind-the-scenes scoop, for instance, how your pizzeria makes pizzas in its authentic brick oven; 
Share the step-by-step process of how you offer a service or produce a product; 
Quickly demonstrate how to use a popular product you sell;
Introduce your team; 
Do an unbox video; 
Showcase day-to-day activities at your store front;
Share a story of your company's history;
Offer a office tour from the front desk to the corner office;
Introduce your business, its location, services, and unique selling points;
Share tips and tricks to help customers resolve a particular problem that they have; 
Produce a before-and-after video suitable for businesses such as landscaping, building construction, damage repair, car detailing, etc. 
Tip 3: Have it professionally done
It's tempting to offload the task of producing a 30-second video to an intern or an employee with some decent IT skills.
Go the extra mile, and have the video professionally done. 
You may save on costs by taking the footage and hiring a freelance video editor and voice-over artist to finalize the production. 
Tip 4: Be authentic. You got it.
Producing a video for your Google business profile is not complicated — do you and be authentic. 
The video should not impersonate or mislead.
It should share accountable statements and opinions. 
Be original rather than reusing third-party content.
How to upload photos to your Google Business Profile
Uploading photos to your Google business profile is downright easy:
1) To quickly add photos from Google Search
Search for your verified business on Google.
Click on Edit profile —> Photo — Select images to upload from your device.
P.S. You can use the same steps on your mobile device.
2) To add photos from the main dashboard
Search for Google Business Profile, click on the website link, and "Manage Now."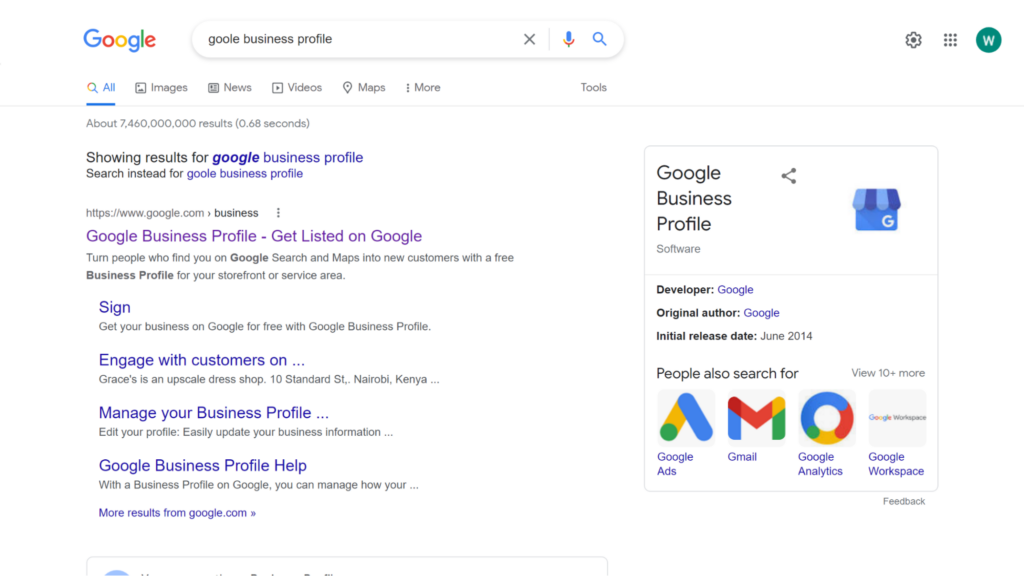 Or, access the dashboard by clicking on the following link and selecting "Manage now."
Once you've logged in, select "Add photo."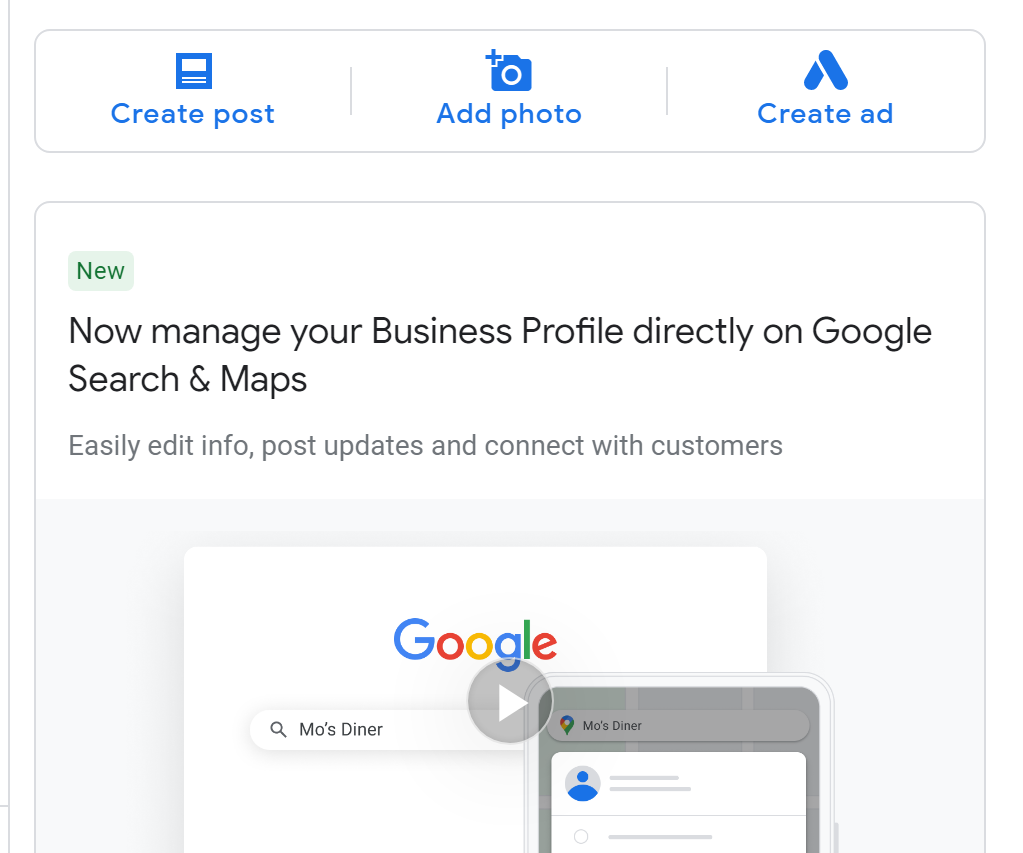 3) To add photos from Google Maps
On a desktop browser, find your business on Google Maps. Under "Photos", click on "Add a photo."
Chapter 4: Verifying Your Google My Business Listing
Are you adding a new listing for a new business? Google requires you to verify that you own or manage the businesses before it makes the profile public.
At times, Google may have already included your business on Google Maps. You need to get verified before claiming the business profile and making edits.
Let's talk about available verification methods, physical address requirements, and how to overcome common challenges.
Google Business Profile address guidelines and requirements
You need to follow a few guidelines when adding your physical address to Google. Adhering to these recommendations will allow the verification to proceed smoothly: 
Provide the full and exact physical address of your business location; 
It should include the relevant unit information such as the suite number, floor level, and building number; 
If the physical address does not exactly pinpoint your business location, include other pertinent information such as nearby landmarks and cross streets; 
If the system can't pinpoint the street number or actual physical address, pin the accurate location on the map.
How to verify your Google business profile
Providing the correct physical address will help prevent delays when it comes to verifying your business on Google. To verify your business for the first time: 
1) Start by picking the verification method or choosing the provided one
Available methods include phone or text, video call, postcard, video recording, or email; 
The available verification method may depend on your business category, customer volumes, operating hours, or region; 
2) Verify your profile using the selected method
For text or phone verification – Enter the code sent to your mobile phone number;
Email – Follow the provided steps;
Video recording verification – Capture video of the current location, business equipment, and proof of management; 
Postcard – Enter the unique code that you receive through postcard at your address to complete the verification. 
You can find more information about how to verify your profile using the selected method from the Google verification guide. 
3) Wait for the verification to complete
With some verification methods, it will only take a few minutes to have a verified profile. For instance, phone and text verification is performed automatically after providing the code.
Note that Google may have to manually review submissions with methods such as video calls or video recordings. 
4) Re-verify the business again if requested
Google sends a notification if it verifies your business profile successfully, and if the verification fails, the "Get Verified" button may show up again. 
5) Make edits
After a successful verification, it may take a couple of weeks before your Google Business Profile shows up across Google products. 
You'll now add photos and videos and connect with customers through messages, reviews, and new posts.
Can I verify Google My Business listing without a postcard?
Most of the time, you will have to use the requested verification method provided by Google. But you can still try to see if the system can allow you to use another verification method; 
Just log into your Google business profile;
Under pending verification, choose, "I don't have a code."
Check out the alternative verification methods provided; 
Select another convenient option and complete the verification; 
Alternatively, try to verify the business through Google Console; 
If you can't find any alternative verification method, try contacting the support team.
How to instantly verify your Google business profile listing with Google Console
At times —though a bit difficult—Google can quickly identify that a particular Google account owns a corresponding business profile.
For instance, after verifying that you own a specific website in Google Console, the system may instantly verify your business profile, mainly if you use the same email address and list the same website on the Google Business Profile.
Do you want to get instantly verified using Google Console?
If you've already claimed your Google business profile, verify your website on Google Console, and click on the "Get verified button."
Google may perform an instant verification if the details match.
Chapter 5: Google Business Profile: How to Completely Optimize Your GBP Listing for Local SEO
You want to get the best out of your Google Business Profile, right?
Well, increased visibility is wonderful. Every extra view or click may directly contribute to your bottom line.
The good thing is that there are strategies and measures you can implement to maximize the impact of your Google Business Profile on your local SEO strategy.
You'll have the chance to increase your revenue, get more reviews and boost your business's credibility.
So let's get underway with chapter 5:
9 Effective Ways to Optimize Your Google Business Profile for SEO
Here are some of the best ways to optimize your Google Business Profile for better visibility on search engines and improved local ranking:  
1) Increase your prominence by focusing on SEO, gathering reviews, and doing newsworthy things. 
Google determines local rankings using three factors:

Relevance: It's a measure of how well your Business profile matches what a customer is searching for.  A highly detailed profile is recommended to increase your relevance. 
Distance: Google prioritizes the nearby businesses, and it may calculate distance based on the location term in the search phrase or based on the customer's location from their IP address. 
Prominence: It's a measure of how well-known your business is. Google can gauge prominence from online or offline information. For instance, it may give more prominence to famous museums or brands.
So, how can you increase your prominence?
Let's first understand a few basic facts:
Google will use the information it has on your business to gauge its prominence. The information may be drawn from articles, directories, links, and other information sources on the internet. 
Google looks at your position on search results. Better rankings mean that more people know you.
Additionally, they look at the number of reviews and positive ratings to determine your prominence.
Based on this, follow these best practices:
Adhere to the best SEO practices on your website, such as writing well-reached and long-form content on topics your customers care about. If you are into advanced SEO, you can further try keyword clustering to build the relevance of each page for a particular keyword; or more easily, just use Zenbrief to find relevant keywords for your business and optimize each page for it using Zenbrief's content optimization editor.  
Encourage users to leave reviews; 
Deliver the best services to earn more positive ratings; 
Do newsworthy things to get featured in the local press; 
Contribute to other news sites or blogs with guest posts.
2) Provide complete, accurate, and up-to-date information
Google shows a profile completeness score as you edit your listing.
Use it to ensure that you've provided all the details as requested as Google. The information allows Google to perform more accurate matches.
Understandably, your business will change as you introduce new services or new locations. The information should always remain up-to-date.
Make edits to your business hours during different times of the year, such as holidays.
It's also good practice as it lets customers know that your business will be open during specific hours, minimizing frustrations.
3) Add eye-catching photos and videos
Google recommends businesses add as many photos as possible.
That's because they showcase what your business offers and provide a better match to their searches.
Eye-grabbing images can also result in more click-throughs.
What's more, creative and original images may also show up on Google Image Search.
4) Optimize product listings
Your Business Profile has a product section that users see as they scroll down the listing. 
Take maximum advantage of your Business Profile by adding products to your listing.
You can add a photo, product name, category, price range, product description, and button.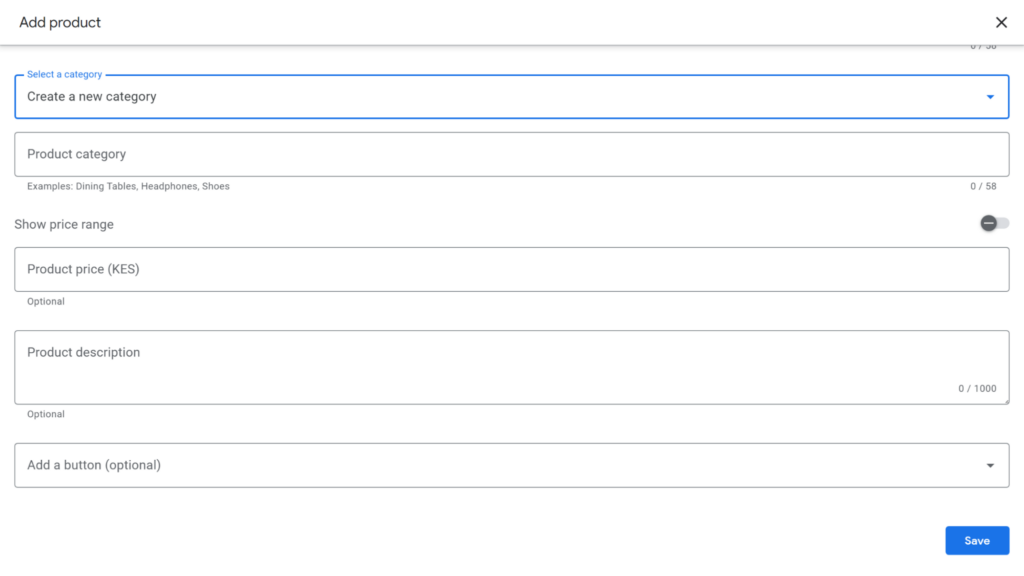 Note that your product listings can target local searches for specific products, for instance, "Voice-activated electric doorbells in Phoenix, Arizona."
To optimize the product listings:
Provide a detailed product name with keywords users may use to discover the products; 
Write a detailed but concise description; 
Choose a high-quality image to boost click-throughs.
5) Optimize your business description
Google gives you a limit of up to 750 characters that you can use to furnish sufficient details about your business. And this presents a chance for SEO optimization.
Consider the following tips when it comes to writing your business description:
Present information in the order of importance, using the first 250 characters to share key information; 
Think of phrases or keywords that a potential customer used to find your business on Google,  and include these phrases in the description; 
Use the limited opportunity to present what's unique about your business, taking care not to repeat information that found elsewhere in the profile such as your location or business hours; 
Consider re-writing or summarizing information in your about page and homepage.
6) Improve accuracy by choosing the right business category 
When completing your Google Business Profile, it's customary to select the business category.
Choosing the right category is highly important if you want to get featured in discovery searches that generate up to 84% of Google Business Profile views, and of course match your potential customer's search intent.
It's also essential to select the right categories, particularly if your business name does not indicate the kind of services you offer. 
When defining the category, start by selecting the primary category. It's basically your main service or activity,  for instance, a hardware shop or nail salon.
You can go back and add secondary categories. For instance, a hardware shop can add sub-categories such as a paint shop or building material supplier to get more hits on searches.
After editing the categories, Google may need up to 3 business days to review the edits.
Ok, remember not to overload your business profile with multiple categories or misrepresent what your business offers.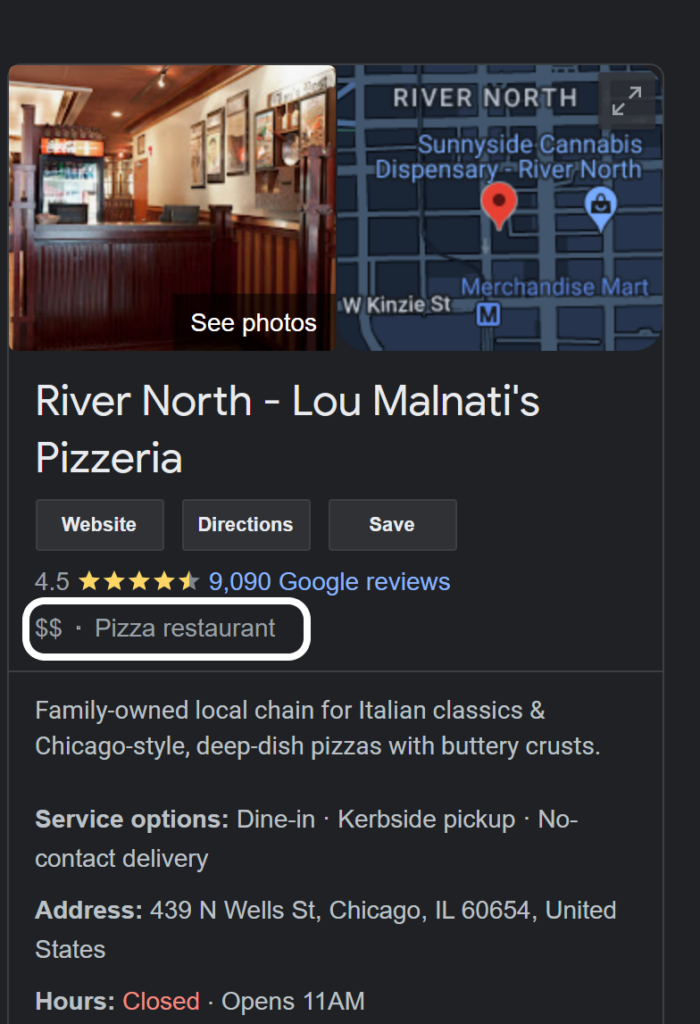 *Google does not list each individual category but suggests options when you start typing. For a full list of options, check out the following list from PlePer Tools.
7) Encourage users to leave reviews and respond
Do Google reviews help SEO and improve search rankings? Well, the uncomplicated answer is "Yes."
And there are many answers provided as to why reviews positively impact SEO: 
Many positive reviews show Google that you are one of the most trusted businesses around, and this may earn you a better spot on the Google local pack; 
Favorable reviews fosters trust and actually draws people to perform searches for your business, visit your pages, and improve your page views. They may stay longer, reducing the bounce rate;
Reviews, where their customers mention your services, may increase your relevance in a particular business category; 
User-generated content can even show Google that a business is active, and this may be used when assessing how to rank the website; 
Many reviews can show Google that the business holds a prominent position in the industry as an authority figure. It can consequently improve its performance across other areas.
So, the consensus is that positive reviews can significantly improve your local SEO and general search engine rankings.
Now let's separate fact from fiction on Google's review policy —what you can do and not do to increase the number of reviews. 
Don't make the mistake of buying Google Reviews; 
Google discourages businesses from offering incentives to customers such as free coupons, free meals, etc. The incentives can alter their perception and judgment;
Reviews should not contain any restricted or prohibited content, but Google will do a good job filtering the reviews;
It's okay to ask and encourage customers to leave reviews. Take advantage of the review page link in your Google Business Profile and share it through email, WhatsApp, or Facebook. 
Respond to all reviews and provide additional context to negative reviews and show customers that you care;  
Businesses should not practice review gating. It's a technique that involves surveying to see which customers had a positive experience and asking the happy customers to leave reviews on Google. Value all reviews, either positive or negative.
8) Choose the right business name for new ventures
Your business name gives search engines hints about what your business does and the services it provides.
It's well-established that a carefully selected business name and the domain name can directly impact rankings.
So, if you have the benefit of hindsight when creating a new business, the business name should ideally reflect what you do. For instance, naming your shoe store "Success Sneaker Store" instead of "Success Soles."
9) Create posts on your Google business profile (Think mini-blogs)
Take full advantage of posts to communicate to local customers. Google advises businesses to write about offers, promotional sales, what's new, or events.
Now, posts may not exactly rank on search results as normal blog posts. They get featured as part of the listing when it surfaces in the results.
Still, they can offer SEO benefits in other ways: 
Regular updates show Google that your business is active; 
You can add buttons and redirect traffic to other website pages; 
Posts may encourage new customer interactions; 
You can link forms to collect user info. 
GBPposts (still called "GMB posts" by some) may increase your overall relevance for certain search terms. And you can incorporate a bit of SEO by writing about interesting topics and including important phrases and keywords that customers may use to find your business.
Keywords research and optimization can be done via an NLP content optimization tool like Zenbrief to make sure the content has sufficient topical authority.
Send-off
So that's all.
Going forward, check the health and performance of your Google business profile by tracking your insights.
You should also create a system to reply to customer messages and reviews.
Don't let your listing go stale. Publish posts on a regular basis, whether it's to tell customers about your new offer or just say hi.
Was this helpful?
Let us know if you liked the post. That's the only way we can improve.