The last time you Googled your favorite TV show, celebrity, or politician you probably saw a knowledge panel. It was quite useful as it summarized essential facts about the person, place, or company.
You saved time as you didn't need to navigate to multiple websites to find quick facts about the entity. Probably, the Google knowledge panel linked you up with great resources, such as the company's social media pages. 
You have seen its potential, and perhaps you also want a spot on the knowledge panel for your business or brand. Like other SERP features such as the People Also Ask box and the Featured Snippets, the Google Knowledge Panel is a powerful tool. 
We will be taking a deeper look at the knowledge panel and what you can do to get listed.
Let's get started:
What Is the Google Knowledge Panel?
According to Google, knowledge panels are "information boxes that appear on Google if you search for entities that are in the Knowledge Graph."
Before explaining more about the knowledge panel, it's expedient to understand how the Google Knowledge Graph works. It's a database that contains billions of facts on people, places, and things.
Google built this database to quickly answer factual questions that users ask on search. For instance, if you type "Who founded Apple?" you get the following rich results.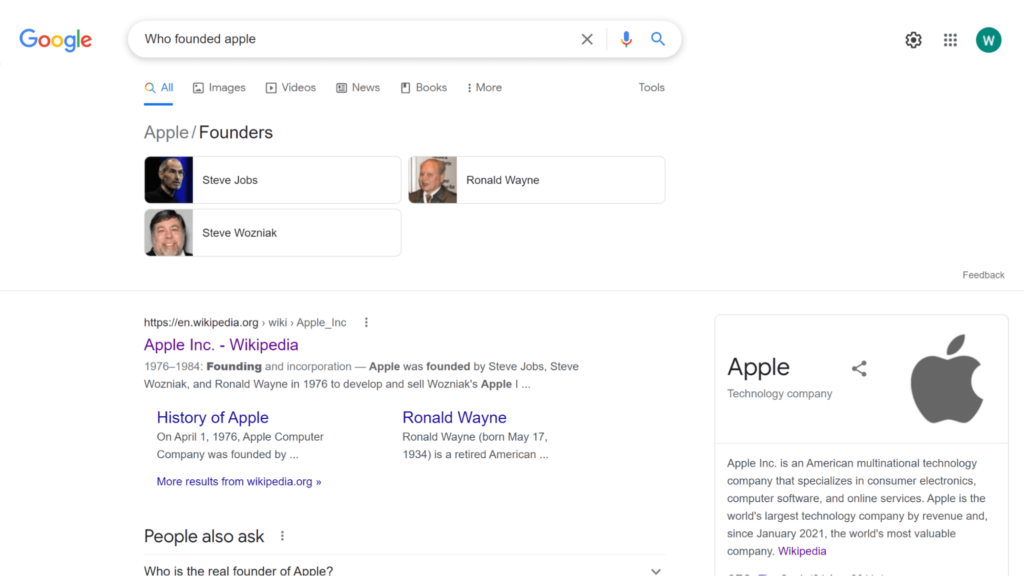 That's the knowledge graph database at work.
Where does Google get all the facts? How does it confirm the accuracy of the information? Google collects and collaborates information about entities from multiple trusted sources. At times, it relies on partnerships for data such as sports scores or weather forecasts.
Google recognizes that its system cannot be perfect. They rely on public reporting to identify nonfactual information. You can leave feedback on their featured snippets.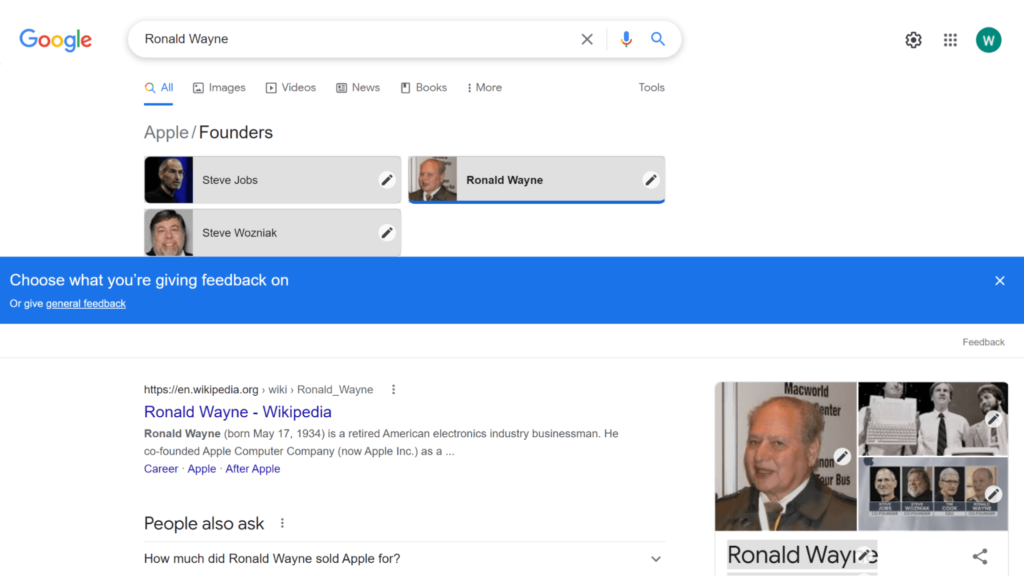 If you want your business to have an information box, it should be in the Knowledge Graph.
There are various types of entities found in the Knowledge Graph, including:
Books
Book Series
Educational Organization
Event
Government Organization
Local Business
Movie
Movie Series
Music album
Music groups
Music Recording
Organization
Periodical
Person
Place
Sports teams
TV Episode
TV Series
Video Game
Video Game Series
WebSite
Google cannot realistically compile facts about all entities. There seems to be a baseline that must be met to get featured. We have to infer what these requirements are, as there is no official communication from Google.
Okay…
First, the entity must have relevancy. That means many people are trying to find information about the entity. For instance, your favorite celebrity probably gets a lot of hits on Google. Therefore, Google is more motivated to offer quick facts about them.
Second, there must be enough information about the entities for Google to draw connections and verify the data. Additionally, the entity must have prominence. That means that many third-party sources contain information about the entity or actively cover it. That's why it may be quite difficult for an ordinary person or a business to land a spot on the Google Knowledge Panel.
Types of knowledge panels on Google
You'll typically encounter two main types of knowledge panels on Google:
Branded knowledge panel: it typically relates to a single individual, company, brand, or place.
Local business knowledge panel: it contains information about local businesses, with quick links to the website, map location, or phone number.
Now, here is a branded knowledge panel example: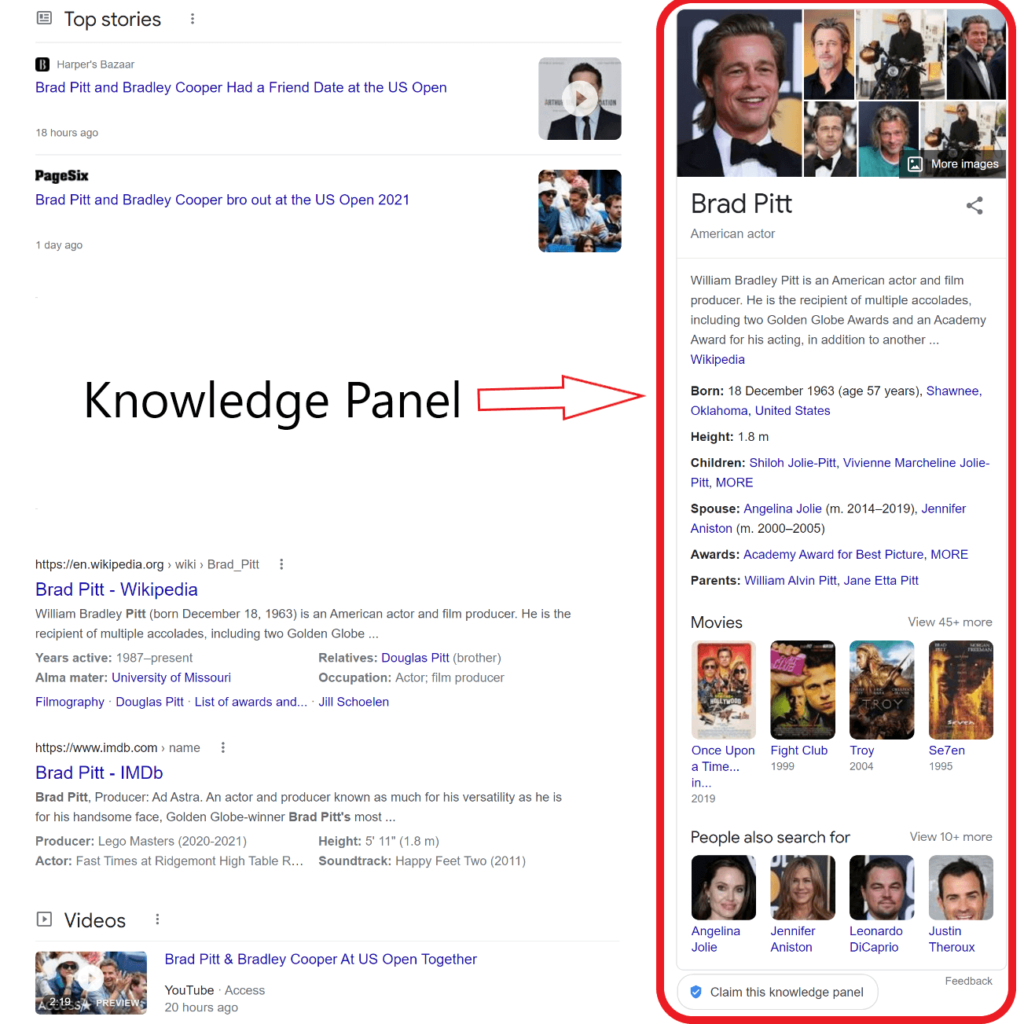 On desktop, it appears on the right-hand side of the main SERP results.
If we viewed the knowledge panel on a mobile device, it would look like this: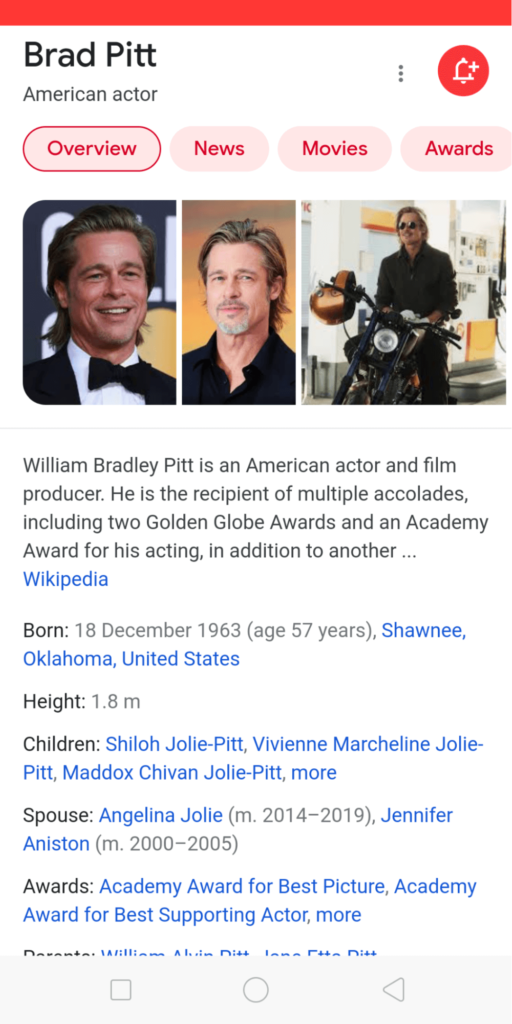 The pictures featured in the knowledge panel are previews from Google image results.
And a local knowledge panel may look something like this: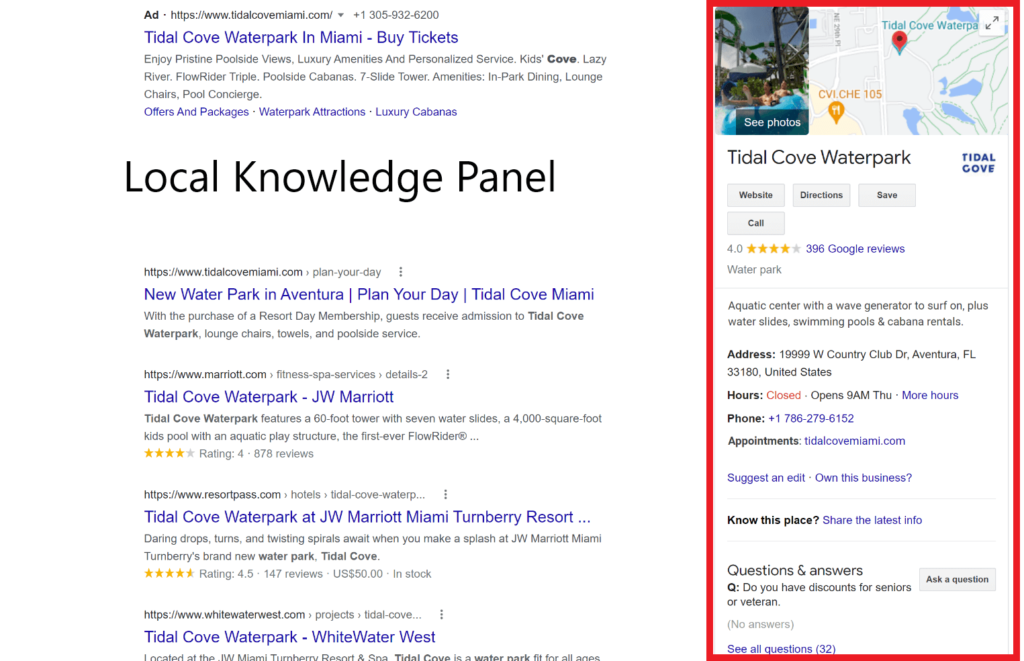 How Do You Get on the Google Knowledge Panel?
There is no exact formula to use to get featured on the branded Google Knowledge Panel.
Google will make that decision independently. However, there are several steps you can take to increase your likelihood of getting featured. 
For local listings, it's quite straightforward. You'll only need to add your business to Google (more about this below). 
1. Create a Google Brand Account
Aleksey Weyman of Millennial Moderator used this very technique to get a knowledge panel for his music brand, Lowsh. You may similarly give it a shot for your brand.
Aleksey first created a Google Brand Account, but the rules concerning these accounts changed on August 4, 2021.
At the moment, brand accounts may be linked to YouTube Channels only. Their purpose is to allow the owners to use a different name on YouTube than their Google account. Additionally, branded accounts may be managed by more than one user.
The procedure for creating a brand account has also changed. You'll first need to sign in to YouTube and create a new channel. You then fill out the details about your brand and have the account verified. Here are the detailed instructions for creating brand accounts on YouTube.
After creating the brand account, Alexey provided detailed information about his social profiles, website URLs, and bio.
Google may look at this information and add it to their knowledge graph. His optimization attempts did not end here.

He increased his visibility across different channels, allowing Google to make connections during its fact-finding mission. Additionally, he kept the information consistent by using the same bio across his social media platforms and music-discovery sites such as SoundCloud.
2. Create a Wikipedia Page
It's no secret…
Google heavily relies on Wikipedia and Wikidata for the majority of the information presented in knowledge panels.
Here is some proof: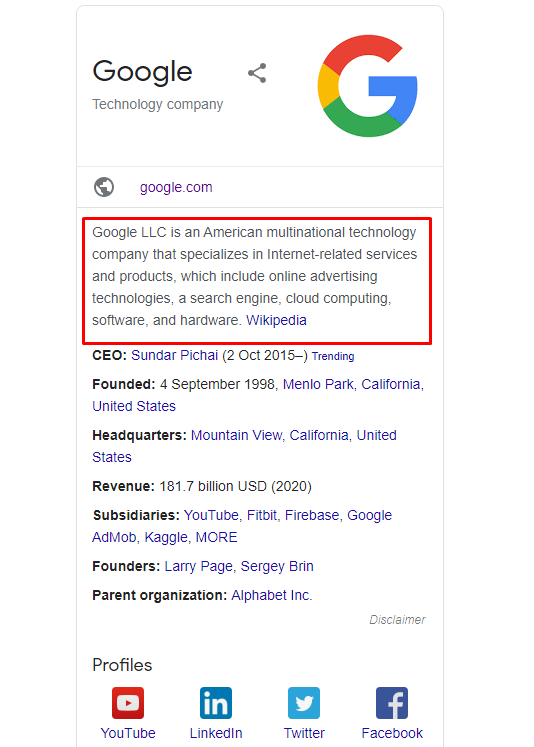 And here is another example featuring a place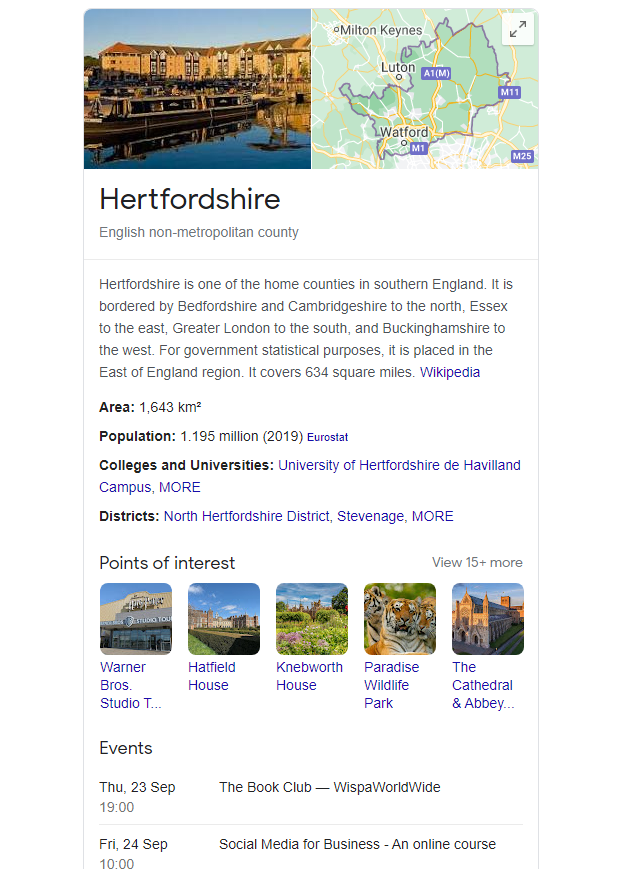 But the snippet doesn't always come from Wikipedia, for instance: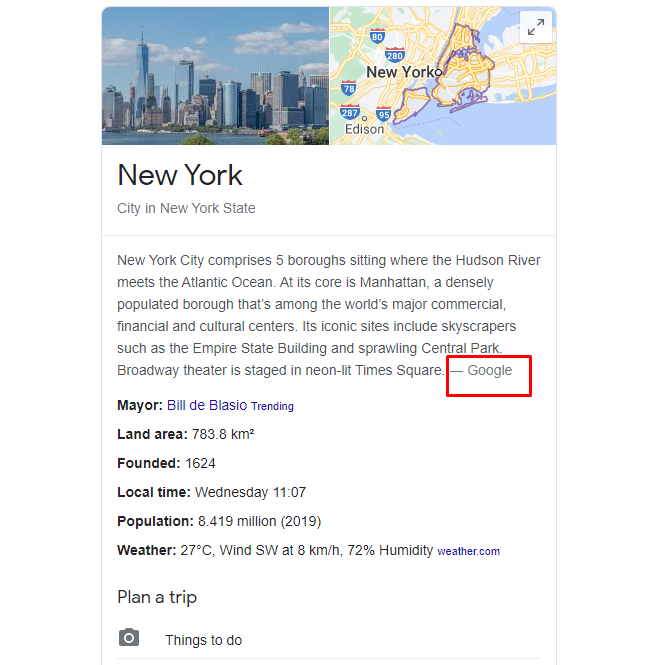 For this knowledge graph, the information is taken from a sites.google.com website.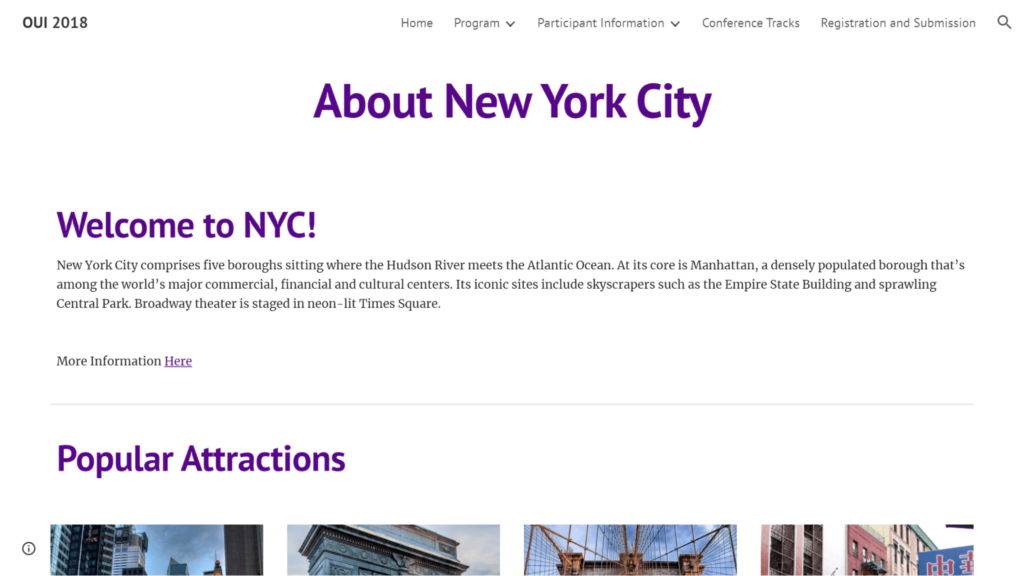 Having a Wikipedia page for your company or personal profile may actually increase your chances of getting a branded knowledge graph.
The process of creating a new Wikipedia page entails:
You first sign up for a new account; 
You make edits to existing pages and improve them to make them better. This may allow you to become an autoconfirmed user, giving you the privilege to create new Wikipedia pages.
You then create a new page for your company.
As a recommendation, research company or professional pages in your niche before creating your own. Check for the style of writing or the different sections.
Users had to wait for up to one month to become autoconfirmed. Nowadays, accounts that are at least 4 days old with a minimum of 10 edits may become autoconfirmed.
Wikipedia requires that all articles must be verifiable, and most company pages get removed for lacking quality references. Acceptable sources must have traceability to the author, authenticity, and relevance.
While Wikipedia has a requirement for published sources, it doesn't mean that you cannot use online sources. Many editors use websites or online journals. Generally, avoid any links to your website pages, personal blogs, or press releases.
Once you have a Wikipedia page, you can consider creating a Wikidata entry. Wikidata pages are highly structured with facts listed under defined entries. This makes the data easily accessible to both machines and humans.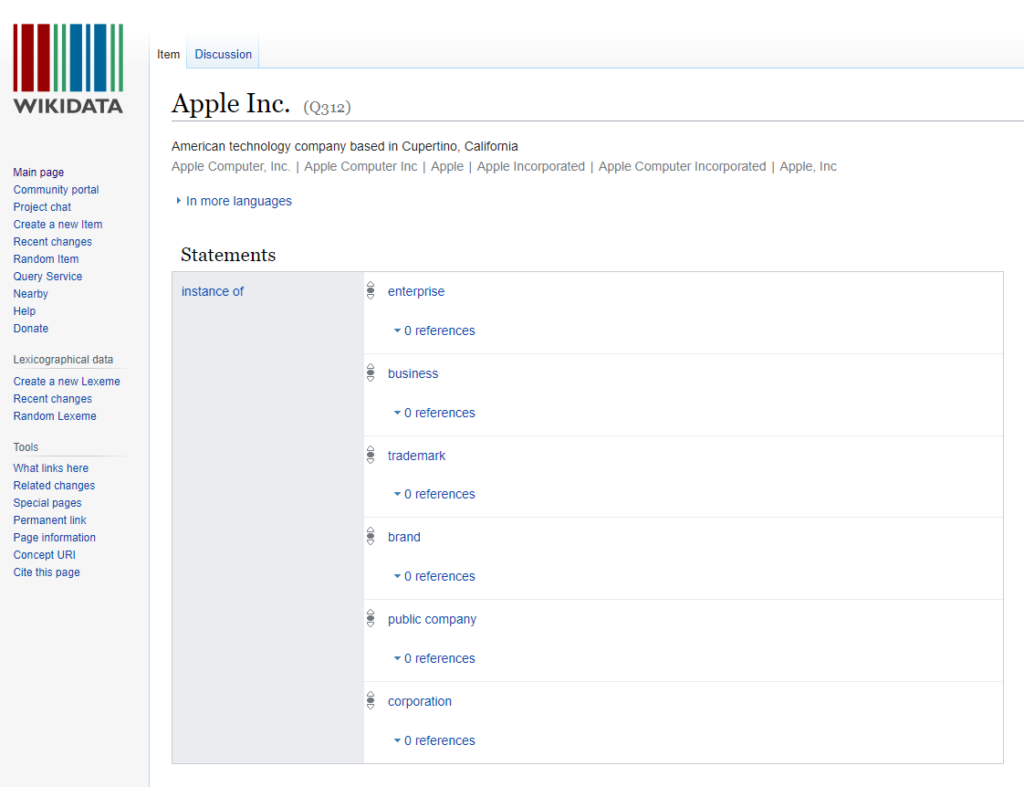 You may similarly hire Wikipedia Specialists from sites such as Fiverr or Upwork.
Note that if your Wikipedia page keeps getting deleted, you can also consider Wikipedia alternatives.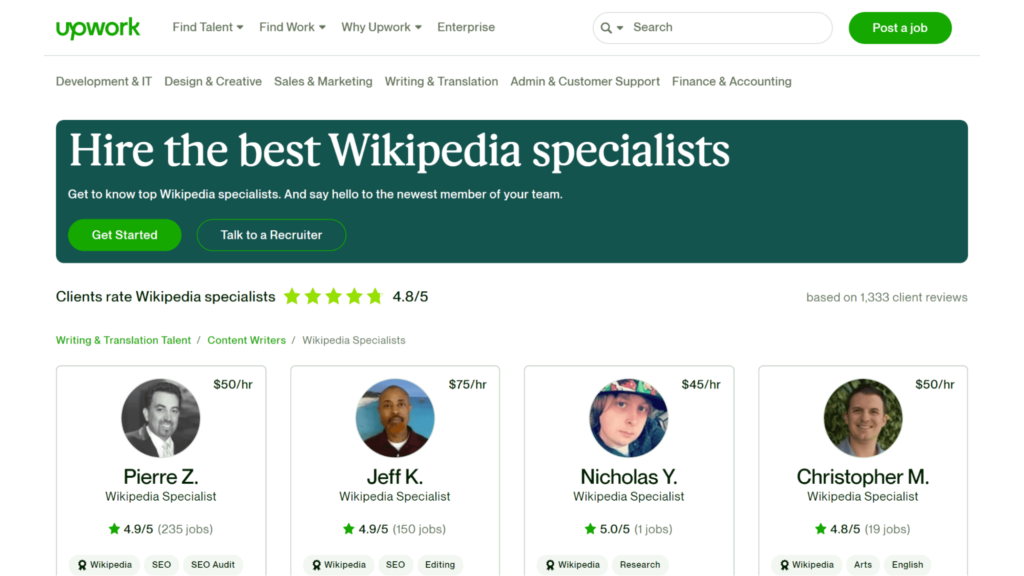 3. Have a Google My Business Profile
Not leveraging local search can be a costly strategic SEO mistake.
Get a local business listing on Google by creating a Google My Business (GMB) account
It's the surest way to increase your visibility on Google Maps and Google Search. Your business profile panel will show up when users search for your business name.
People who don't know about you can also encounter your business from "People also search for" recommendations, within the Google search results pages.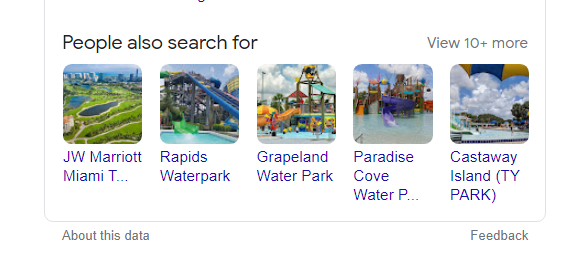 It's now easier to get on Google My Business. You don't require a physical storefront location to request a postcard to verify your address.
Local businesses can get on Google with or without a physical address. That's because Google has added other ways to verify local business such as over the phone or through SMS.
Get started with Google My Business here. Make sure to enhance your listing by adding your contact information, website link, and photos.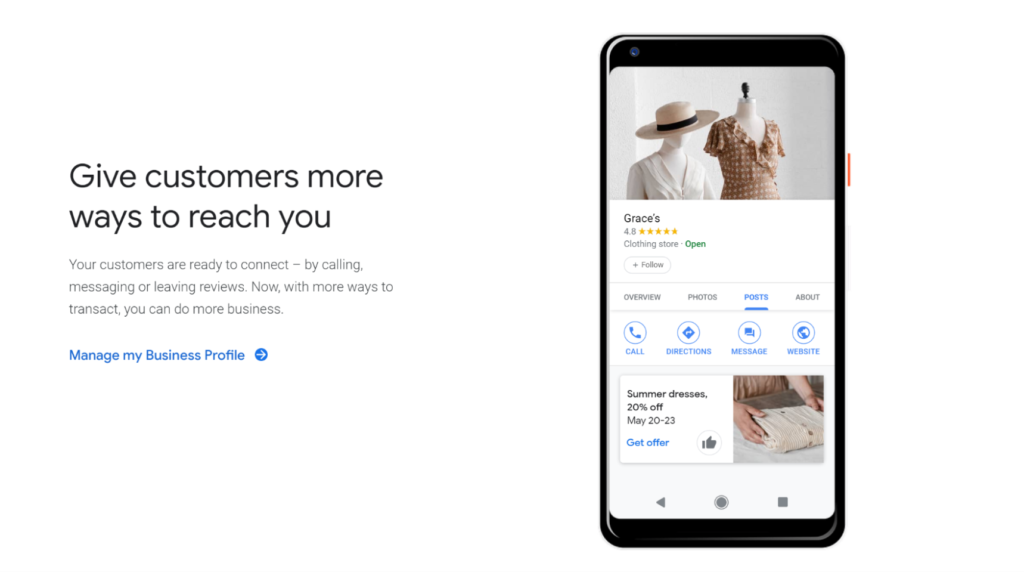 Implement Schema Data for Pages
Also called schema markup, it's extra information you add to your existing HTML pages to identify entities such as recipes, movies, books, local businesses, organizations, etc.
You should consider implementing structured data to help Google classify the page's content better.
Implementing structured data is too comprehensive a topic to cover in just a few sentences. So, here are additional resources where you can learn more about the topic:
You will not necessarily need a developer to help you implement schema markup for your pages. If you're using WordPress, you may download one of these plugins:
Build Up Your Domain Authority and Increase Your Relevance
Domain authority is a term coined by Moz.com to describe the likelihood of a website ranking on search engine pages results. It's now widely used to refer to the quality of a domain or its strength.
There are several ways to increase your domain authority, allowing your organization to appear more credible in the eyes of Google. First, ensure that your website is set up properly, for instance, by optimizing your site for on-site and off-site SEO, having a Privacy Policy page, an About Us page, and a Contact Us or physical address listing.
You should also add your website to Google Search Console. That's because the process allows Google to verify the ownership of the site, which can increase the site's trust score. Not to mention that using Google Search Console can dramatically improve your SEO strategy.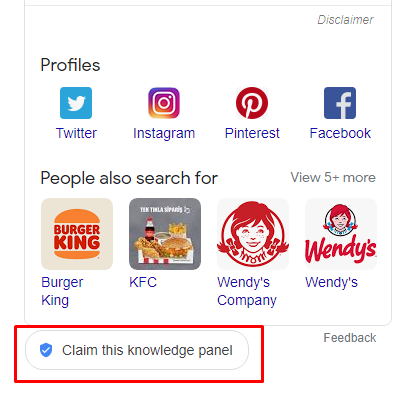 If you try to claim a knowledge panel, one way to verify ownership entails logging into the search console account associated with the brand.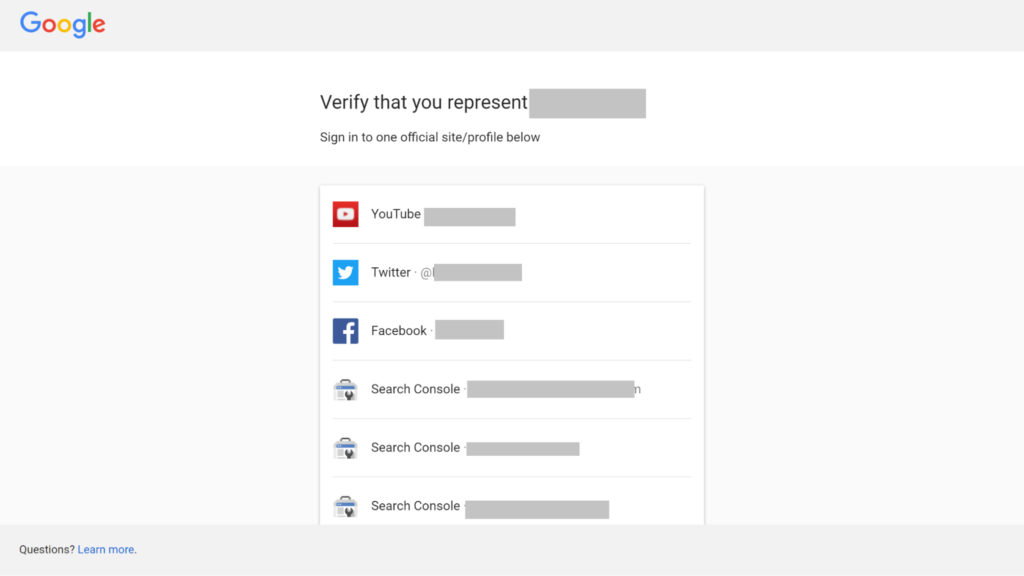 Consider building high-quality backlinks through techniques such as guest-posting on authoritative blogs or creating link-worthy content.
You also need to increase your relevance for Google to establish that you deserve a brand knowledge panel. One way to do so, for example, is to publish original research on your industry, that gets featured in several publications.
Additionally, increase your visibility and give Google more data points to collect by having several social media profiles. You can create Twitter, Linkedin, YouTube, or Facebook accounts.
Bottom Line: What It Takes to Appear on the Google Knowledge Panel
There is no exact formula as to how Google selects entities to be featured in the Branded Google Knowledge Panel. But that doesn't prevent you from stacking the odds in your favor. For instance, build up your online presence, get a Wikipedia page, or create a brand account.
For local businesses, creating a Google My Business account might be enough.
Was this helpful?
Let us know if you liked the post. That's the only way we can improve.